Posted
06-12-2009 09:49 GMT-12
by
F-Train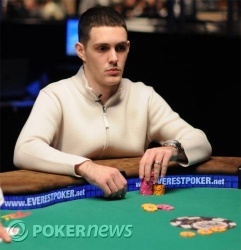 Justin Smith re-raised all in after an open-raise from David Benyamine. Benyamine called, taking us to he draw. Each player drew one card, then opened:
Benyamine: 9-6-5-3
Smith: 9-7-4-2
Benyamine caught a deuce to leave Smith drawing dead. Smith opened a jack anyway, then left the feature table area as the 9th place finisher.
Tags: David Benyamine, Justin Smith.