Schulman Pressing
Posted
06-12-2009 15:09 GMT-12
by
F-Train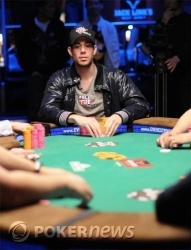 Ville Wahlbeck can ill afford any 200,000-chip swings. He gave up another one to Nick Schulman. It was a 75,000-chip pre-draw raise by Wahlbeck that was called by Schulman. Schulman drew one card before Wahlbeck took two.
After the draw, Schulman made it 120,000 to go. Wahlbeck called and mucked when Schulman turned over a ten perfect, 10-5-4-3-2.
Comments
No comments yet. Be the first to post one!