Asian Gambling Games: Play Oriental Games Online!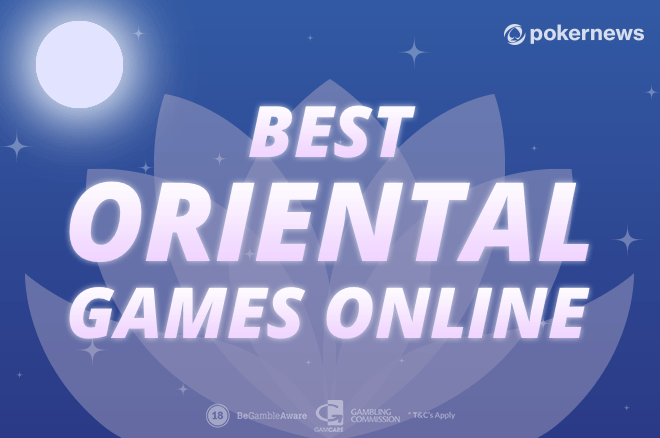 It shouldn't come as a surprise that the Oriental culture is an inspiration for many games online. It's becoming popular everywhere, not only in the games. But that's what you'll read about in this article – the best Asian gambling games you can play online.
Let's take a minute think about Asia. How many different symbols and things do you picture?
I bet – a lot. And I'm not talking only food here.
Just think about it.
Mangas, anime, karaoke, feng shui, martial arts, calligraphy, lanterns, lucky coins, ninjas, dragons – there are so many things we connect to Asian culture.
Are Video Slots one of them?
Maybe not. But after reading this article about popular Asian gambling games, you might add it to the list.
So, let's get to it and observe the best Oriental gambling games that we can find at online casinos.
Chinese Gambling Games – Gold and Dragons
If we had to remember any motifs that are extremely popular in Slots, gold would definitely be one of them. Naturally.
But when checking Chinese Gambling games you can also find dragons. Why? Dragons symbolize power, strength, good fortune, and good luck.
And who doesn't want a bit of good luck when playing Slots? Or power and good fortune which come with winning a jackpot?
So, which dragon-themed Chinese gambling games should you try? Let's see.
8 Dragons
Here's a Slot dedicated not to one but eight dragons! The Slot was developed by Pragmatic Play. This fact alone promises quality, neat bonuses, and smooth mobile play. But there's more.
8 Dragons Slot has five reels and 20 paylines. Its background music will take you where it's supposed to – to the East. The symbols bring luck, especially the dragons, fish, and Chinese lucky coins. And, typically, everything shines like gold.
And there's a bonus. Stacked wild symbols appearing on the middle reels trigger a Good Fortune Bonus which can help you win and double the winnings.
The Slot has medium variance (balanced wins – not too rarely and not too small) and RTP of 96,4%, which is a decent number.
Try 8 Dragons Chinese gambling game now at Omnia Casino.
Dragon's Luck
Dragon's Luck is a Slot by the Red Tiger Gaming and even the name of the provider has a hint of Asian culture in it.
It's a five-reel three-row Slot with 10 paylines. The reels are framed within a Chinese temple with dragons whirling around its columns.
The dragons here seem a bit less friendly as they breathe fire. But embrace it – fire-breathing dragons increase the wins. The icons include Dragon coins, lotus, fish – all the symbols of prosperity and good luck.
There are no bonus games in this Slot, but special symbols bring more than enough to it. A Coin 138 pays out 1,380 if there are five matching symbols. Mega Coin adds new extra symbols to make a big win. The Dragon uncovers the hidden symbol underneath that can lead to more cash, too.
Play Chinese gambling game Dragon's Luck here!
Dragon Shrine
Dragon Shrine is another Oriental gambling game featuring dragons as the main symbol. Instead of gold, this Slot has diamonds and shrine symbol is the one that packs a bonus.
Even though the Slot was developed by one of the leading software providers Quickspin, the colors and symbols are simple. This adds up to an overall minimalistic design. Calm Oriental melodies will take you far away while flowing bubbles of light behind the reels make it a very relaxing Slot.
But it doesn't mean that the Slot isn't exciting, because it is. Once the Dragon Stack Re-Spin, 10 free spins, or wilds show up, you can indulge in the big wins.
Contrary to other Slots, it has a unique reel structure – five reels with first and fifth having three rows, and four rows in between. There are 40 paylines in this Slot. Dragon Shrine has an RTP of 96,6%.
Try your luck awakening the dragon at Dragon Shrine now!
Double Dragons
The last but not least dragon-themed Asian gambling game is Double Dragons Slot. Developed by Yggdrasil, it has five reels, three rows, and 25 paylines.
The game features two dragons – the Fire Dragon and the Ice one. The Fire Dragon triggers random wilds while the Ice Dragon gives your wins a 2x multiplier. Collecting nine heads of one of the dragons rewards you with five free spins.
Once you hit the winning combination, the winning symbols disappear, opening you a way for a new win.
Even though it's one of the Oriental gambling games, Double Dragons Slot incorporates some modern pop culture elements. For example, the style, colors, background music, and even the dragons can remind you of Game of Thrones TV series.
Meet the Fire and Ice dragons at Double Dragons Asian gambling game.
Other Chinese Gambling Games
Even though it's the most popular one, the dragon theme is not the only one in Chinese gambling games. To get to know more lucky Chinese symbols, you can try these Slots.
Chinese Treasures
Chinese Treasures is a video Slot by Red Tiger Gaming. The Slot will not only take you to China but also to the old times.
Smoky mountain peaks fill the red background. Chinese lanterns light the reels spinning Chinese animals and artifacts, for example, koi carp, dragons, and lucky coins.
Oriental music will only lead you while you spin the reels. There's no ongoing soundtrack in this Chinese gambling game.
Chinese Treasures has wild symbols that can double all the wins. The dragon symbols can turn the reels into the wilds. There are symbols for Free Spins, too. I don't have to explain what they can trigger, do I?
Enjoy the Chinese Treasures in this Asian Gambling game![/B]
Golden Lotus
Chinese theme is perfect for games of chance as many Chinese symbols represent luck. In a way so does the Lotus flower. Tracing its importance from Buddhism, this flower is treasured in many Eastern cultures.
And Red Tiger Gaming celebrates it in their Slot Golden Lotus.
The Slot has five reels framed in gold and 20 fixed paylines. Like the Lotus flower, the reels are floating on the pond. The whole picture is aesthetically appealing. Calm tunes reach your ears while spinning, other times the Slot is calm and peaceful.
It features symbols we've already seen – a temple, koi fish, card symbols, and of course, the golden lotus flower.
The latter one acts as a wild. Once it appears on your reels, it gets locked there for up to 10 spins to increase your chances of winning. The number depends on the magic petals that fell on the reels while the flower was landing.
Collect the magical petals playing Golden Lotus Chinese gambling game!
The Legend of The Golden Monkey
Monkeys show up in many cultures and Chinese is not an exception. In Chinese folklore, a monkey is not a minor character, it's a hero.
That's why Yggdrasil dedicated the whole Slot to the Legend of the Golden Monkey.
The Legend of the Golden Monkey has five reels and three rows framed within a Chinese temple. Once again you can see the Chinese lanterns and other typical symbols. The Slot focuses on the Golden Monkey. It's the king of all the other monkeys, thus, it has to protect their treasure.
Contrary to some other Chinese gambling games, music doesn't stop after your spin finishes. Less calm and more inspiring soundtrack accompanies you along the adventure.
This Chinese gambling game has features such as three modes of free spins, sticky wilds that stay as long as you win, and treasure chests.
Explore the Legend of The Golden Monkey and play the Slot now!
Hidden Valley
You may have heard the legend of Shangri-La or even played some Chinese gambling game based on it. Quickspin takes on the same legend in their Hidden Valley Slot.
Two travelers have found the entrance to Shangri-La valley and are heading there now. Will you join their journey to this undiscovered paradise on Earth?
Hidden Valley Slot has five reels with 3-4-4-4-3 rows, making 40 paylines possible. Even though you can't change how many paylines you bet on, it's possible to choose a Multiplier Bet.
Fascinating graphics have the Himalayas in the background and adventures along with the wild mountain animals as the main symbols of the game. Dramatic background music creates the atmosphere which makes you think that anything can happen.
And it can. Free spins, wilds, multipliers, and features that will take your breath away fill this Slot.
Discover Shangri-La at Oriental gambling game Hidden Valley.
Popular Japanese Gambling Games
There is no way I could skip Japan when writing about popular Asian gambling games. The country has a rich culture and symbols recognized all over the world.
And while some Slot providers mix Chinese and Japanese symbols into the same Slot, I tried to find a few that would be completely Japanese. Here are my favorite ones.
Matsuri
If you are planning to go to Japan, add Matsuri to your dictionary. This word means festival. And it's a perfect name for a Slot game because playing Slots often feels like participating in one.
Matsuri Slot by Play'n Go features not one but many Japanese festivals in this oriental gambling game. They are all represented by symbols. Fireworks, delicious food, lanterns, masks, flowers, festively dressed girls, and many more.
Traditionally, the Slot has free spins and wilds. And a bonus game fitting the theme of this Asian gambling game to the fullest.
Kingyo Sukui Bonus Game will let you feel like you're in a Japanese festival yourself. To get more prizes you need to scoop fish from the water with a net, before the net breaks. The more fish you manage to get – the bigger the bonus will be.
That's a very typical activity at many Japanese Matsuris. It's only one way Play'n Go proves they take their Slot themes seriously.
Join the festival at Asian gambling game Matsuri!
Rising Sun
Unlike Matsuri, I don't think I need to explain what a Rising Sun stands for.
Sushi, Bonsai trees, Japanese hieroglyphs, calligraphy pen and ink, sakuras, geishas, shrines, maneki-neko cats… If any oriental gambling game is swamped with Japanese symbols – Rising Sun is the one.
All these symbols alongside the Japanese tunes will take you to the land of the rising sun. And they'll give you an idea of what to see when you visit it for real.
Talking about technical peculiarities, the Slot has five reels and 20 paylines. But these are not fixed, thus you can choose between one to 20 win lines to bet on.
Geisha is a wild symbol while the golden fish and white cat (maneki-neko) are the scatters. Even if you are a dog person, look out for the cats. They can trigger free spins.
Saucify developed this Oriental gambling game and even though the provider is not as known as some other ones, they did a great job. You should check it out for yourself.
Visit Japan in the Asian gambling game the Rising Sun!
Samurai Ken
If I asked you to write a list of things that remind you of Japan, I bet Samurai would appear somewhere in the top 10. Samurai don't need an introduction. And I won't give you one.
But have you ever seen a Samurai that's also a white tiger? That was new even in the vivid Asian gambling games world.
But that's exactly what Samurai Ken Slot from Fantasma Games (Microgaming) is all about. The white tiger-Samurai Ken fighting against the green dragon.
Both the graphics and the soundtrack make the Slot a complete piece of art. The five-reel three-row 20-payline structure and features like Sticky Wins and Free Spins are the necessary ingredients that make up a good video Slot.
Join Samurai Ken adventure in this Japanese gambling game!
Tanzakura
Remember the Hidden Valley in the Himalayas? Well, Tanzakura Slot is based on a similar place. But it's hidden on the shores of a peaceful lake in Japan. A place where Samurai gather to improve their sword fighting and other skills.
Tanzakura is an Oriental gambling game by Genii. The Slot has a classic five-reel three-row structure and 50 paylines. But you can bet on as little as one if you like.
Symbols include Japanese flowers and animals, Maiden, Samurai, and their weapons. The graphics of this game will remind you of anime.
They're just as good.
You will hear spinning and winning sounds, and Samurai screams when you land them on the reels. Also, adventurous Japanese tunes lead you along the way in this Slot journey.
The Slot has wilds, scatters, free spins, and a Pick a prize feature. If you admire Japanese culture and love slots, you won't be bored here.
Learn the secrets of Samurai in this Asian gambling game Tanzakura!
Other Asian Gambling Games
Even though Chinese and Japanese cultural elements dominate Oriental gambling games, there are many Slots offering you an insight into other Asian countries, such as India.
Let's take a look at some of them.
Bollywood Story
Bollywood is as popular as ever and this Slot by NetEnt proves it.
Bollywood Story Slot has an exciting Bollywood-ish storyline about a young Indian couple and the challenges they face to stay together. These challenges include an evil stepmother.
This reminds us of fairy tales, doesn't it? Bollywood tunes will make you feel as if you're already in one.
The Slot has five reels, three rows, and 25 paylines. Wild Floating Flower Garlands is a unique feature that can make any symbol fit the winning combination. At least two of these garlands stay on the reels at each of the spins.
The game also has sapphire symbols as scatters which can trigger a free spins bonus. All the features in the game are designed to help the lovebirds live happily ever after. You can help them too.
Play Bollywood story and make love prevail in this Asian gambling game.
Nirvana
If you are expecting a Nirvana band themed Slot, you're wrong. Nirvana band has little to do with popular Asian gambling games. But it has everything to do with Indian religious traditions.
Nirvana Slot by Iggdrasil introduces you to three goddesses of Nirvana. To reach Nirvana, the ideal peaceful state, that is, you need to find the goddesses. Each of them presents a special feature: Wild seeds, Mega reel, and Nudge reels.
When you combine all these features, you reach Nirvana.
The Slot has five reels and 20 paylines and the symbols represent Nirvana as a place. Which is a pretty weird place if you ask me. Rabbits with horns, jewelry loving snakes, golden phoenix, a hybrid of a cat and an eagle, and shining gold framed crystals in the form of card suits.
Play this Oriental gambling game and reach Nirvana!
Pearls of India
Play'n Go pops up again in this list of popular Asian gambling games with their Slot Pearls of India.
If you love Rich Wilde, the adventurer showing up in many Plan'n Go games, such as the Book of Dead, this is a Slot for you.
Visit the Golden Temple and help Rich Wilde collect Ancient Indian artifacts. In exchange, he will reward you with bonuses. And there are many of those hiding in this five-reel, three-row, and 20-fixed-payline Slot.
There's also a gamble feature after every win where you can guess the suit of the upcoming playing card.
Rich Wilde adventures in Slots are popular for a good reason. Try this Slot now if you don't know that reason yet.
Find the hidden Pearls of India in this magnificent video Slot!
Prosperity Palace
The last Slot in this list happens to be by Play'n Go as well. This Slot is all about Buddha.
Like many other Slots on this list, it has five reels and three rows, accompanied by 10 paylines. The reels are within the Prosperity Palace – a beautiful gold-framed shrine where Buddha resides.
If you land three Buddhas on your reels, you'll get 10 free spins. The symbol also acts as a wild.
Other symbols are children riding magical luck-bringing Asian fish, Chinese coins, dragons, and the typical playing card ones.
This Slot, which finishes our list of Oriental gambling games, features symbols of more than one Asian country. Right now, you can say that you're an expert of Asian cultural symbols. And all it took was playing a couple of gambling games.
Visit Prosperity Place and meet Buddha at Omnia Casino!
Conclusion
Asian gambling games are calm and relaxing. Thus, if you want to rest from the fast-paced and full-of-everything modern video Slots, this is the right choice for you.
Plus, you have no idea how much you can learn about the Asian culture while spinning the reels of Oriental gambling games.
Enjoy!
Be sure to complete your PokerNews experience by checking out an overview of our mobile and tablet apps here. Stay on top of the poker world from your phone with our mobile iOS and Android app, or fire up our iPad app on your tablet. You can also update your own chip counts from poker tournaments around the world with MyStack on both Android and iOS.