Asian Gambling Games: Play Oriental Games Online!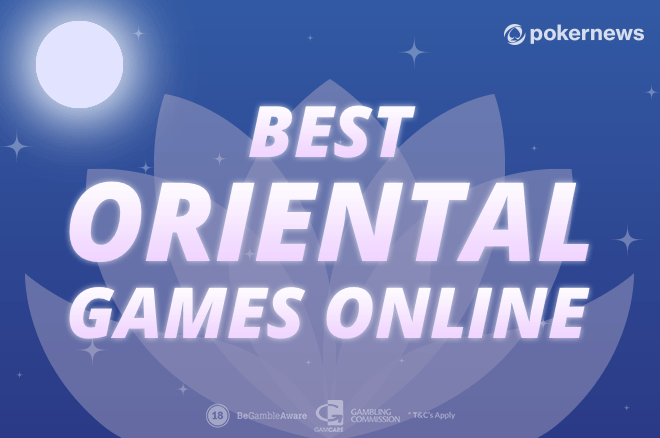 Gambling is deeply rooted in Asian Culture
According to a report by Dr. Amritha Soburn-Maharaj, "Asians are more susceptible to gambling" (Source: Yale Tribune)
This page lists all the best Asian gambling games you can play online
It shouldn't come as a surprise that the Oriental culture is an inspiration for many games online. With gambling being so rooted in Asian culture, it's just natural for more and more Casino game developers to turn East as they look for inspiration.
This article offers you a complete overview of the most popular Asian gambling games you can play online in 2019.
From breath-taking Chinese gambling game to Japanese 3D Slot machine games, this is the most complete list of Asian gambling games you can play online.
As a casual gamer, you'll find games with state-of-the-art graphics and impressive gameplay to enjoy both free-to-play and real money gambling.
As a hardcore fan of Asian culture, you get an unmatched resource of the very best Asian gambling games out there.
If you think I missed something, do leave a message in the comments to suggest even more Asian gambling games to feature on this list!
But — enough. Let's get to it and see what are the top Oriental gambling games you can play online in 2019.
Top Chinese Gambling Games - Gold and Dragons
Gold and dragons are two of the most recurrent themes in Chinese gambling games, and I am sure that does not come as a surprise to you.
With the gold being the universal symbol of wealth and the dragon being the image that best represents power, strength, good fortune, and good luck, the combination of these two elements is just ideal for a gambling game.
See it for yourself. Try any of the dragon-themed Chinese gambling games below and check out why so many players put their wishes (and money) in the mouths of flaming dragons.
8 Dragons
Why limit yourself to one dragon when you can enrol a squad of...eight of them?
This great game by Pragmatic Play is available for desktop and mobile and you can play it for free and for real money.
The 8 Dragons Slot machine game features five reels and 20 paylines. The Chinese background music creates a great atmosphere that matches its graphics to perfections.
Land the stacked wild symbols on the middle reels to trigger the game's Good Fortune Bonus, a special feature where all your wins get a 2x multiplier applied to them.
8 Dragons is a medium variance (balanced wins – not too rare and not too small) Chinese gambling game with a Return to Player (RTP) of 96,4%.
Dragon's Luck
Dragon's Luck is perhaps the best Chinese gambling game created by Red Tiger Gaming, the leading Casino game developer behind blockbuster Slots like Esqueleto Mariachi, Three Kingdoms, and Jester Spins.
This game is a five-reel and three-row online Slot with 10 paylines. The reels are located right in the middle of an inspiring Chinese temple with dragons whirling around the columns.
The dragons here are a bit less friendly than in most Slots (yes, there are flames coming from their mouths!), but don't let first impressions deceive you.
Fire-breathing dragons are a good sign because the more fire they produce...the more you can win!.
There are no hidden bonus games in this Slot, but there are special combinations that help you unlock Dragon's Luck largest wins.
Dragon Shrine
Dragon Shrine is another Oriental gambling game where you'll be shoulder-to-shoulder with flying dragons.
Coming from the Quickspin kitchen, this is the Chinese gambling game that most resembles a classic Slot machine.
Despite the theme, the graphics are simple, the colours are easy to the eye, and the minimalistic design makes sure you can put all your focus where it matters most: the game.
But this doesn't mean that the Dragon Shrine isn't an exciting Slot machine! Just trigger the Dragon Stack Re-Spin feature or enter the 10 free spins bonus round to see what this dragon is capable of.
Dragon Shrine comes with a slightly unusual structure, too. The game features five reels, with the first and the last ones having three rows and not four like the ones in between.
The game counts a total of 40 paylines and an RTP of 96,6%.
Double Dragons
The last dragon-themed Chinese gambling game on the lust is Double Dragons, a Slot developed by Yggdrasil with five reels, three rows, and 25 paylines.
The game features two dragons – the Fire Dragon and the Ice Dragon.
The Fire Dragon triggers random wilds while the Ice Dragon gives your wins a 2x multiplier. Collecting nine heads of one of the dragons lead you to a special round of five free spins.
Double Dragons is the least traditional Oriental gambling game in this part of the list - since it combines elements of traditional Asian culture with some that are definitely more modern and pop.
Just pay attention to the soundtrack — wouldn't it be perfect for an episode of Game of Thrones?
More Chinese Gambling Games
Chinese gambling games are not all about dragons. Although these flaming and gigantic beasts are deeply engraved in Asia's traditions, China's passion for gambling and luck generated a whole series of great games you can play online.
Chinese Treasures
Chinese Treasures is a video Slot by Red Tiger Gaming that brings you back to a China that no longer exists — the spiritual and rural world that existed before today's skyscrapers changed the country for good.
Smoky mountain peaks fill the red background while Chinese lanterns shed light on reels populated by Chinese artefacts, koi carps, lucky coins...and yes, there are a few dragons too.
The wild symbol of the game acts as a 2x multiplier while the Dragon symbols act as expanding wilds and turn entire rows in whatever you need them to be.
Golden Lotus
The lotus flower is one of the most important symbols in Buddhism and one of the most recurrent ones in the immense Asian continent.
Symbol of purity and modesty, the lotus flower is also the hero of Golden Lotus, an evocative game coming from the Ret Tiger Gaming kitchens.
This Slot machine features five reels framed in gold and 20 fixed paylines. Like the Lotus flower, the reels are floating on a pond, creating a beautiful and calming appearance.
Relaxing tunes follow every spin of the reels making this one of the most 'zen' experiences in gambling.
The golden lotus flower is the game's wild and gives you access to a series of special free spins rounds.
The Legend of The Golden Monkey
The monkey is one of the 12 animals in the Chinese zodiac and is one that symbolizes cleverness. To be exact, in Chinese mythology the monkey god is almost an all-pervading and all-powerful god.
To celebrate this figure, Yggdrasil decide to create an entire monkey-themed Slot, the Legend of the Golden Monkey.
This game features five reels and three rows framed within a Chinese temple — home of the Golden Monkey.
Filled with traditional Asian symbols like Chinese lanterns and coins, this game gets particularly interesting when you trigger one of the three special features included in it: the free spins bonus round, the sticky wilds, and the treasure chests.
Explore the Legend of The Golden Monkey and play the Slot now!
You may have heard the legend of Shangri-La and you may have even played some Chinese gambling game based on it.
If you haven't, don't miss the Hidden Valley Slot machine game released by Quickspin in August 2018.
The game tells the story of two travellers who have found the entrance to the Shangri-La valley and are about to discover the wonders and riches this hides from prying eyes.
Hidden Valley Slot is a five-reel online Slot machine with a layout of 3-4-4-4-3 rows, making 40 paylines possible.
The number of paylines is fixed, so your best way to size each bet is to modify the value of the in-game coins.
Hidden Valley is more than a Slot machine; it's a window on an enchanted world not many get to see. With the beautiful Himalayas mountains in the background, it takes you on an adventure where wild animals and riches will never leave you alone.
Popular Japanese Gambling Games
It's time to pack your bags now. There's just one ferry boat to cross the East China Sea and I am not sure the Shanghai Ferry will wait for you if you are late!
If the 45-hour trip from Shanghai to Osaka scares you, let me take care of it.
I prepared a tremendous list of Japan-inspired Asian gambling games that will keep you busy and introduce you to some of the most important cultural elements you need to learn before you meet a "Nihonjin."
Matsuri
The first Japanese Slot machine on this list is not only a game you need to try at least once — it's also a word you need to write down on your travel notebook.
Matsuri (Festival, in Japanese) is an online Slot machine by Play'n Go that catapults you right at the heart of a colourful and explosive Japanese celebration.
Fireworks, delicious food, Asian lanterns, masks, flowers, and beautiful girls in traditional girls are all there to welcome you and make sure you have the time of your life.
Just make sure you check this article about Japanese etiquette first - a good bow can go really far in Japan!
Hopefully, it will bring you as far as to discover the Kingyo Sukui Bonus Game, a special feature where you'll be asked to fish your prizes out of a pond. Literally!
Rising Sun
Sushi, Bonsai trees, Japanese ideograms, pens, Sakura princesses, geishas, shrines, pagodas, and maneki-neko cats are all the beautiful symbols you find on Rising Sun, a gorgeous Japanese Slot by Genii.
Rising Sun is a 20-payline Slot machine with five reels and three rows. The active paylines aren't fixed, meaning you can alter them to adjust the size of your bet and make sure you always play an amount you can afford.
The beautiful Geisha is the game's wild symbol while the golden fish and white cat (maneki-neko) are the scatters you need to trigger free spins bonus round.
Samurai Ken
Samurais are one of the most recognisable and popular elements of Japanese culture around the world, so it's obvious that some Slot machine developers decided to build gambling games around them.
Samurai Ken is an online Slot by Fantasma Games ( part of Microgaming) where you are asked to put on the clothes of a brave Samurai who fights an evil green dragon alongside his loyal companion: a white magic tiger.
Both the graphics and the soundtrack make the Slot a complete piece of art. The five-reel three-row 20-payline structure and features like Sticky Wins and Free Spins are the necessary ingredients that make up a good video Slot.
Tanzakura
Remember the Hidden Valley in the Himalayas? Well, the Tanzakura Slot machine is based on a similar story — just this one takes places along the shores of a peaceful lake in Japan.
A place where Samurais gather to improve their sword fighting and train for the bloodiest battles.
Tanzakura is an Oriental gambling game by Genii. The Slot displays a classic five-reel three-row structure and 50 paylines. But you can bet on as little as one if you like.
Symbols include Japanese flowers and animals, Maidens, Samurais, and weapons. A lot of weapons.
This Slot machine comes packed with wilds, scatters, free spins and a Pick a prize feature. If you admire Japanese culture and love Slots, you won't be bored here.
More Asian Gambling Games
Even though Chinese and Japanese cultural elements dominate the world of Oriental gambling games, there are many Slots offering you insight into other Asian countries.
'Small' countries like India, for example.
Bollywood Story
In 2019, Bollywood is as popular as ever and this Slot by NetEnt proves it.
The Bollywood Story Slot machine revolves around the exciting story of a young Indian couple that needs to fight to keep their relationship alive.
You know, an "evil stepmother" meets Romeo and Juliet kind of thing.
Bollywood Story is a five-reel, three-row Slot machine with 25 paylines. It features also the Wild Floating Flower Garlands, a unique feature that will help you hit more winning combinations than ever.
The game also has sapphire symbols that act as scatters and can trigger the free spins bonus.
All the features in the game are designed to help the lovebirds live happily ever after. Keep that in mind — because the success of their relationship is fundamental for your success, too!
Nirvana
The Nirvana Slot by Iggdrasil introduces you to the three goddesses of Nirvana and one of the most important parts of Buddhism.
To reach the Nirvana, a transcendent state of pure quietness, you need to find the goddesses — and since each one of them presents a special feature (Wild seeds, Mega reel, and Nudge reels), each goddess is linked to special rewards, too.
The Nirvana Slot online features five reels and 20 paylines, comes from the Yggdrasil kitchen and has an expected theoretical RTP of 96.2%.
Pearls of India
Play'n Go pops up again in this list of popular Asian gambling games with their Slot Pearls of India.
If you love Rich Wilde, the adventurer showing up in many Play'n Go games, such as the Book of Dead, this is a Slot for you.
Visit the Golden Temple and help Rich Wilde collect Ancient Indian artefacts. In exchange, he will reward you with bonuses. And there are many of those hiding in this five-reel, three-row, and 20-fixed-payline Slot.
There's also a gamble feature after every win where you can guess the suit of the upcoming playing card.
Rich Wilde's adventures in Slots are popular for a good reason. Try this Slot now if you don't know that reason yet.
Prosperity Palace
The last Slot in this list happens to be by Play'n Go as well and it is a pure hymn to Buddhism.
Like many other Slots on this list, it has five reels and three rows, accompanied by 10 paylines. The reels are within the Prosperity Palace – a beautiful gold-framed shrine where Buddha resides.
If you land three Buddhas on your reels, you'll get 10 free spins. The symbol also acts as a wild.
Other symbols are children riding magical luck-bringing Asian fish, Chinese coins, dragons, and the typical playing card ones.
The promotion presented on this page was available at the time of writing. With some Casino promotions changing on daily basis, we suggest you to check on the site if it still available. Also, please do not forget to read the terms and conditions in full before you accept a bonus.