Play Your Cards Right with PokerStars Play & the Right To Play Campaign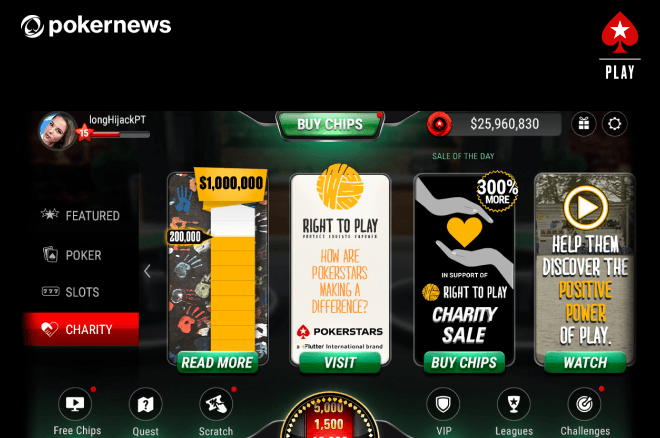 How would you like to play some online poker, and give to charity at the same time?
Following on from their 'Save Her Seat' campaign last year, the social games team at PokerStars Play have launched a new campaign, hoping to raise $1m for Right To Play, a charity that protects, educates and empowers children around the world using the power of play.
On the last Saturday of every month, the 'Thanks a Million' campaign PokerStars Play customers will have the chance to buy larger number of chips at a discounted price with all proceeds supporting Right To Play's vital work.
On eligible weekends, you'll see a fantastic new lobby so you can take advantage of this offer, as well as read more about Right To Play and the impact of their play-based programmes.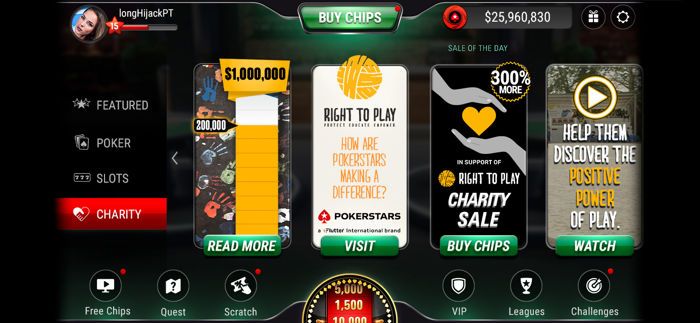 Since 2015, PokerStars has raised over £3m ($3.8m) for Right To Play to date, and they're hoping to do better this time round!
More about Right To Play
Right To Play is a global organisation that protects, educates, and empowers children to rise above adversity using the power of play. Through powerful play-based programmes, they reach millions of children each year, helping them to stay in school and graduate, resist exploitation, overcome prejudice, prevent disease, and heal from the trauma of war. They do this by harnessing play, one of the most fundamental forces in a child's life, to teach children the critical skills they need to dismantle barriers and embrace opportunities, in learning and in life.
Last year, Right To Play supported 2.78 million children to engage in play-based programme activities and equipped more than 101,500 educators and coaches with the skills to support children's learning, development, and wellbeing.
- Right To Play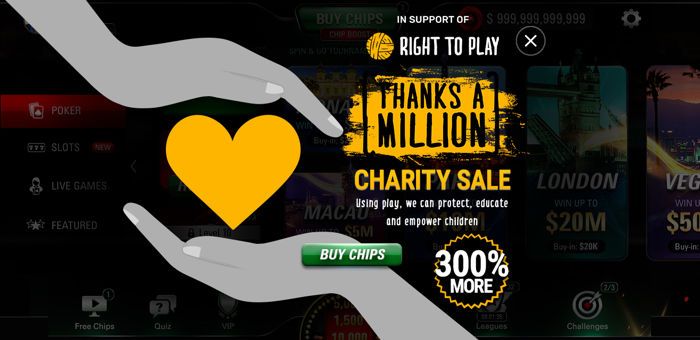 Right To Play's story began in 2000, when Norwegian Olympian Johann Olav Koss met a group of children on a humanitarian trip to Eritrea. After witnessing the harsh realities of life in a country ravaged by the effects of war, he was moved to see the children playing with a shirtball and enjoying football games amid the rubble. This incredible resilience and creativity in the face of devastation inspired Koss to found Right To Play.
Since then, Right To Play's pioneering approach to experiential learning and development has expanded to 15 countries in Asia, Africa and the Middle East. By using play in a variety of forms to provide safe, positive and engaging learning experiences, they are empowering children to learn and succeed, and transforming the lives of children inside and outside the classroom.
Read more about Right To Play >
PokerStars Play
PokerStars are well known across the globe as one of the biggest and best online poker providers. But did you know you can also play online poker & slots for free with their PokerStars Play App?
The PokerStars Play platform brings all the thrills of online poker into your hands and includes Texas Hold'em and Omaha Poker options, as well as a great selection of casino games, all for free.
PokerStars Play is available worldwide, including in the United States and Australia. Still, you should know that real-money gambling isn't included, and there's no opportunity to win real money or prizes.
---
The promotion presented on this page was available at the time of writing. With some Casino promotions changing on daily basis, we suggest you to check on the site if it still available. Also, please do not forget to read the terms and conditions in full before you accept a bonus.