Free Roulette: Top 4 Games You Need to Try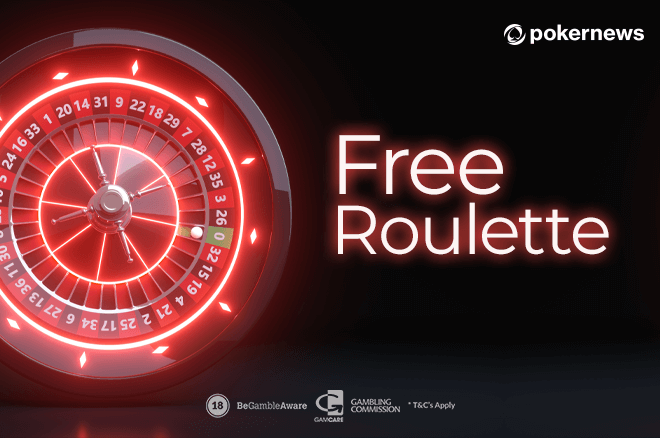 You can play free Roulette games at online casinos.
Only a sign-up is needed - no deposit or payment cards involved.
It's time to discover the best roulette games and where to play them for free.
Roulette is a popular casino game played in most casinos worldwide.
But no brick-and-mortar casino has free roulette games for you to enjoy - only roulette for real money. However, online casinos do.
There are plenty of free casino games, including dozens of roulette variants. And you can play them all for free online.
In this article, you'll find out which roulette games are the most worthy of your time. And where you can play online roulette free of charge.
Before you begin, please remember that you need to play responsibly, even if you only get on the free games of roulette. Gambling is never to be treated lightly, even when money isn't involved.
| | European Roulette | American Roulette | French Roulette | Multi Wheel Roulette |
| --- | --- | --- | --- | --- |
| Editor's Rating: | 9/10 | 7/10 | 9.5/10 | 8.5/10 |
| Key Difference: | Most popular (classic) variant | 0 and 00 pockets on the wheel | Extra rule, lowest house edge | Betting on 8 wheels at the same time |
| Min/Max Bets: | 0.5/2,000 | 0.5/2,000 | 1/2,000 | 8/3,200 |
| RTP: | 97.3% | 94.74% | 98.65% | 97.3% |
| House Edge: | 2.7% | 5.26% | 1.35% | 2.7% |
| Free Roulette: | Play Here | Play Here | Play Here | Play Here |
| Roulette Bonus: | Activate Here | Activate Here | Activate Here | Activate Here |
Free European Roulette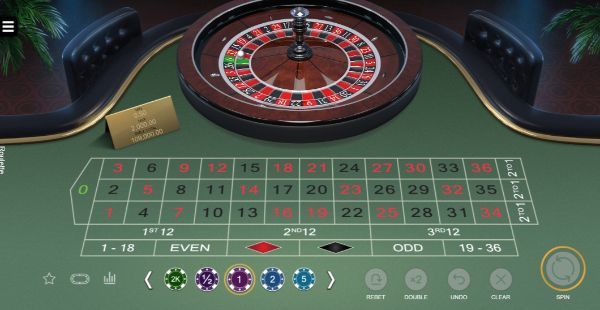 European Roulette is the most classic Roulette game of all.
It features original roulette wheel with 37 pockets with numbers from 0 to 36.
It's also the most popular variant, so you'll find the European Roulette table practically at any casino in the world.
It's the easiest game to learn online roulette for beginners and a go-to game for most of Roulette players.
You can make all the usual Roulette bets: straight-up, split, street, square, line, dozens, columns, high/low, red/black, and odd/even.
All types of bets start at 0.50. Max bets for even-money bets (high/low, red/black, odd/even) are 2,000.
There is also a table for neighbor bets in case you feel like making bets on adjacent numbers or their groups:
tiers du cylindre (numbers furthest from zero)
les voisins du zero (numbers closest to zero)
les orphelins (numbers in between)
There are no extra rules involved, so the payouts are classic, too:
| | | | |
| --- | --- | --- | --- |
| Straight-up | 35 to 1 | Line | 5 to 1 |
| Split | 17 to 1 | Column | 2 to 1 |
| Street | 11 to 1 | Dozen | 2 to 1 |
| Square | 8 to 1 | Even-Money | 1 to 1 |
Free American Roulette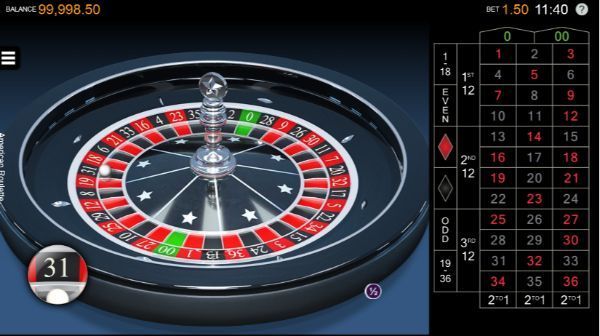 Let's get one thing straight.
I wouldn't advise playing American Roulette for real money.
It's the Roulette game that has the highest house edge, thus, making you losre in the long run.
But it's a very popular game in the United States. So, if you're planning to visit Las Vegas Casinos, knowing a thing or two about American Roulette can come in handy.
Plus, losing when playing for free doesn't hurt that much either. You can play both European and American Roulette and compare the games yourself.
Other than having an extra 00 pocket, the wheel looks the same.
Apart from the usual bets, 00 pocket adds an extra 5-number basket bet (on 0, 00, 1, 2, and 3).
It's the worst bet you can make in roulette.
Seriously.
Avoid it even for the sake of saving your demo mode credit balance.
Other bets and payouts are exactly the same as in European Roulette. Minimum and maximum bet sizes don't change as well.
Learn more about the differences between European and American Roulette.
Free French Roulette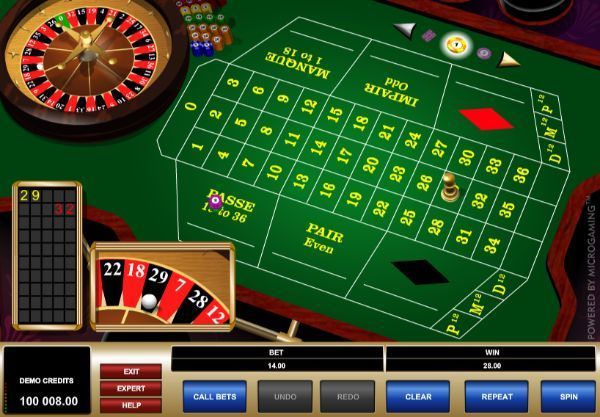 French Roulette looks and works the same way as European Roulette.
It has only one zero pocket, no horrible basket bets, and the same payouts as other roulette games.
With one significant twist in the rules.
When you make even-money bets (high/low, red/black, odd/even), la partage rule is in play.
It means that if the ball lands in the 0 pocket, you'll get half of your wager back.
It's a really minor detail but it cuts the house edge on even-money bets in half: from 2.70 to 1.35%.
And if you know your roulette strategy well, you will use some of the even-money bets on every spin. So it does make a difference in the long haul.
Bets at French Roulette table online starts at 1 for all types of bets. The maximum bet for straight-up bets is 250, for even-money bets - 2,000.
Free Multi Wheel Roulette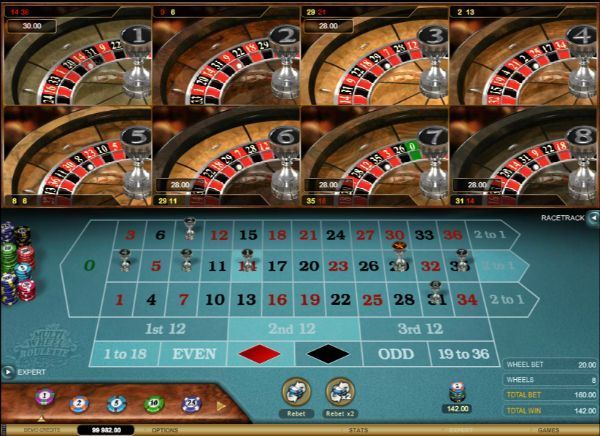 Multi Wheel Roulette is a perfect variant for those who like fast-paced games and don't change their bets too often.
James Bond, for example. He has his strategy and always places the same bets.
If you have a similar system in place, consider playing Multi Wheel Roulette.
You place your bets like you usually would. Except you make that bet on eight roulette wheels at the same time.
Obviously, your bet size will be eight times higher.
But if you'll also find out the outcomes of eight wheels at the same time. And you'll see if your chosen bets tend to lose or win more often.
Multi Wheel Roulette is the same European Roulette except the wheels and bets are multiplied by eight times. And you get eight different outcomes.
Payouts, bet types, and betting table layout follows the classic (European) Roulette style. Min bets for all types of bets start at 8. Max for even-money bets is 2400, for straight-up - 200, for other bets - in between.
Free Roulette with Casino Bonuses
Free online roulette games have one major disadvantage in comparison to playing for real money: you can't win real money playing free roulette.
Not if you play in demo mode, at least.
What you can do, is claim a casino welcome bonus (remember that T&Cs apply) that includes extra money for Roulette, Blackjack, Video Poker, or other online casino games.
And use that money for playing roulette for free, yet with a possibility to eventually cash out your winnings later on.
ONLINE ROULETTE BONUS
Check the roulette bonus on this site, and start playing!
Terms & conditions apply.
Read our other Roulette Guides for more tips!