Top 20+ Yggdrasil Slots to Play Online in 2019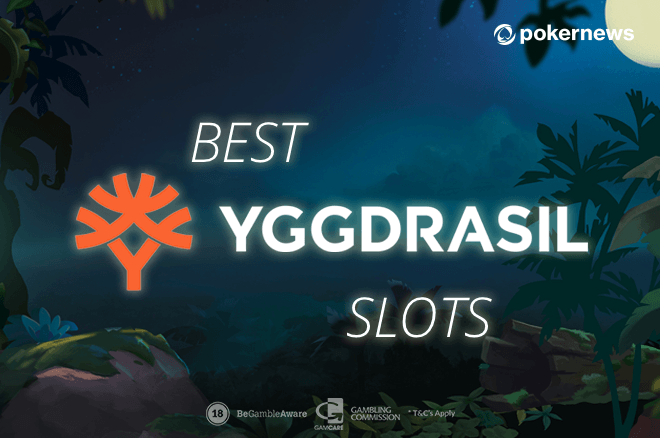 Today, you will play some of the greatest Slot machines the internet has ever seen. How come? Because we have updated our list of the best Yggdrasil Slots to play in 2019!
In this article, you will:
Read about the top 22 Yggdrasil Slot machine game
Find out the exact RTP of each game
Get a bonus to play Casino games online
What is Yggdrasil Gaming?
Yggdrasil is a real money Casino game developer that produced some of the most compelling Slot machine games online. Yes, their games are so d*mn good.
From the Beauty and the Beast to Vikings Go to Hell, Yggdrasil offers Slot machines for every tastes, players, and pockets.
Use this list to enter a world full of free spins, hidden mini-games, and multipliers. Good music and wonderful artwork included!
List of the Top Yggdrasil Slots to Play in 2019
Are you ready for some quality online gambling experience? Then, choose an Yggdrasil Slot machine from this list and play!
Believe me - these Slots are among the best real money games you can find on the internet.
Jackpot Riders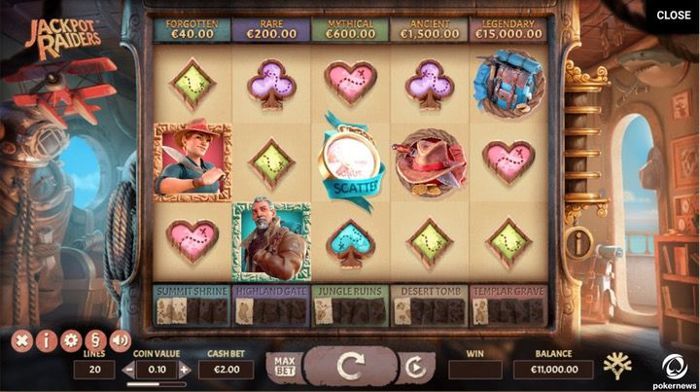 Launched in May 2019, Jackpot Riders is not only the newest game to come out of Yggdrasil's kitchens — but also one of the most interesting ever released by this company.
Available for desktop and mobile (iOS and Android included), Jackpot Riders is a thrilling Slot with 20 paylines and an RTP of 96.3%.
In this game, you play as an explorer who is ready to face all sorts of adversities to find the hidden riches of the legendary Sunken City.
Your mission is not going to be an easy one but, know this: should you succeed, you'll be in for a max. win of 164,000 credits.
Niagara Falls
Travel back in time to the 1930s with this 96.2% RTP Slot experience released on the day of the European Union, May 9, 2019.
Available in a multitude of languages (27 to be exact), this exciting game wants you to face your fears and discover all the riches hidden at the bottom of the famous waterfalls.
Hop on dangerous looking whiskey barrels and hold your breath — because the fall might not be sweet.
Yggdrasil launched this game promising a Slot machine that would give players "an adventure of a lifetime," and they worked really hard to deliver.
This fast-paced online Slot machine is one of the best ones that we have seen come out in 2019.
Champions of Rome
I hope you have been training lately because this game wants you to fight for survival in an arena that would put your local gym to shame.
Champions of Rome brings you right at the core of the bloodiest action in Rome's Colosseum and unless you used to sleep during history class, you should know your opponents are not going to be very welcoming.
Released in February 2019, this fast-paced Slot machine is a true hymn to ancient Rome and one of the largest empires in history.
As usual, this 96.4% RTP Slot is available on iPhone, Android, and desktop. In this case, Yggdrasil recommends playing on Internet Explorer, Firefox, or Google Chrome.
Vikings Go to Hell
Vikings Go to Hell is one of the most popular Yggdrasil Slots games. It is similar to their another game about Vikings called Vikings Go Wild.
This time, the brave Vikings are going to hell - and they're not ready to die. They are ready to kill as many monsters as possible and collect lucrative rewards along the way.
The most impressive features of this Yggdrasil game online are Demon Fights, Rage Collection, and Berzerk Free Spins.
Beauty and the Beast
Beauty and the Beast is one of the best games developed by Yggdrasil.
You won't forget this Slot that easily. And not only because of the beautiful art and good music. You see, the game is packed with bonuses that you don't see in other Slot machine games by Yggdrasil.
The bonus feature that impressed me the most was the Golden Bet bonus. It lets you trigger more Free Spins and win more while in the Free Spins mode.
And before your reels spin for free, you can choose two of the three bonus features to help you win more:
To nudge the reels for the best result
To sync the three middle reels
To create two to four random Wilds
Cazino Zeppelin
If you love the steampunk genre, then Cazino Zeppelin is the best Yggdrasil Slot for YOU.
Even though the game's mechanics are simple (your usual five reels and 20 paylines), this doesn't mean that there are no interesting features to look out for.
The Free Spins symbol, of course, gives you extra spins to enjoy. Collect three of them to receive 10 free spins. However, if you collect five bonus symbols, you will enjoy a set of 20 spins.
You can also play Casino Zeppelin by Yggdrasil at mobile Casinos, as it is suitable for Android and iPhone devices.
Alchymedes
Alchymedes is one of the most bonus-filled Slot games from Yggdrasil. For example, it has more than 15,000 spreading Wilds. And that's only the beginning!
No wonder - the game's theme is alchemy, and this allows for endless possibilities to combine bonuses and get something interesting.
As you play, you complete game levels. After each level, you have to choose which bonus you want to go for in your next level. You get to pick between more Wilds and more multipliers.
Of course, you also get a cash bonus after you complete a level!
Chibeasties 2
After the immense success of the Chibeasties Slot, Yggdrasil released its sequel called Chibeasties 2. And it's even better than the first one!
Before you play with the cute colorful creatures, you have to select the realm you want to visit. The most interesting part? Each realm has different bonus features when it comes to the Wild symbols. You can choose from Expanding, Spreading, Teleporting, and Mirroring realms.
The Dark Joker Rizes
The Dark Joker Rizes is one of those games featuring the Joker symbol. However, it's not your usual Vegas Slot machine. That's because the Dark Joker Rizes puts a dark twist on your regular Slots that feature cherries and diamonds.
On the bright side, the bonuses of this Slot machine will put you in a good mood. Your every win triggers the Jokerizer mode. You can either collect your winning or spin the reels one more time in hopes for a Mystery Win.
Easter Island
Easter Island is a fun Yggdrasil Slot for a hot summer afternoon.
As soon as you open the game, you are greeted by two massive (and a bit creepy) moai statues. Here, every win is followed by a respin and the more you win, the higher the statues grow!
Fruitoids
Fruitoids by Yggdrasil puts an interesting twist on the classic Vegas fruit Slots. Yes, it's a fruit Slot machine… set in space!
I particularly like the Slot's graphics and music. However, the bonuses also play a big part in the game's appeal. Especially the respins and multipliers!
Gem Rocks
Gem Rocks is one of the most exciting Yggdrasil Slot machines. Why? Because it offers 4,096 ways to win!
Also, the game uses the Dropdown Wins tactics. This means that after you win, all the lucky symbols disappear, letting new ones take their place. In this way, you have multiple chances to win with a single spin.
Double Dragons
Double Dragons truly deserves a spot on the list of the best Yggdrasil Slots online.
Epic music, high-quality art, and lucrative bonus features won't let you get bored. Here are some of the bonuses you should look forward to:
Double Dragons feature. Activated after four consecutive wins, this feature will add two Highstack Wilds onto your reels.
Dragon Heads. The Fire Dragon Head converts up to three symbols into Wilds, while the Ice Dragon Head gives you a x2 multiplier.
Free Spins. You have to collect nine dragon heads to activate five free spins.
The maximum win in this game is €100,000.
Holmes and the Stolen Stones
Who doesn't love to solve a mystery once in a while?
Today, our beloved detective Sherlock Holmes needs your help in solving the mysterious case of stolen precious gems.
Along the way, you can trigger some pretty good bonuses. My favorite one is the Jackpot Spins. During a round of these special free spins, you can win one of the game's five jackpots.
Holmes and the Stolen Stones also features an exciting bonus mini-game. Here, you have to pick boxes that reveal secret prizes.
Legend of the Golden Monkey
Legend of the Golden Monkey by Yggdrasil is a beautiful Chinese-themed Slot with an outstanding soundtrack. It's one of those Casino Slots that I can play for hours without getting tired.
The most interesting thing about this game is its paylines. Or, the absence of them. That's right - instead of boring old paylines, here we have the Win all Ways feature that allows for some unexpected winning combinations.
Jungle Books
Jungle Books is one of my favorite Yggdrasil Video Slots. You should try it at least once if you care about online gaming.
The Slot features our beloved book and movie character, Mowgli. While you play the game, he travels through the jungle and reveals new and exciting settings while you just sit there and spin the reels.
This animal-packed wild ride of a Slot offers some juicy jungle bonuses like the Honeycomb Bonus and Spreading Wilds.
Legend of the White Snake Lady
Legend of the White Snake Lady is one of the most beautiful Slots by Yggdrasil Gaming. Each symbol on the reels is a work of art - just take a look for yourself.
As for the gameplay, the Slot offers regular respins and 243 ways to win.
Here, five of a kind symbols will pay you 100 times your bet. However, the special symbol of the White Snake Lady is a bit different, as it pays 1,000 times your bet.
Lucha Maniacs
Lucha Maniacs is an Yggdrasil Slot for hardcore wrestling fans.
And just like in the world of wrestling, here we get a set of creative combos that will keep you on the edge of your seat. It comes without saying that the bonus game of the Lucha Maniacs Slots impressed me. So, what does this Yggdrasil Slot have to offer?
When you land three Bonus symbols, you get seven free spins and three Bonus features to choose from. These features include random Wilds, extra free spins, sticky Wilds, stacks, multipliers, and other interesting choices.
Nirvana
Nirvana is a wonderful Yggdrasil Slots game with good music and interesting bonus features.
Now, here's how the most lucrative bonus of the game works:
Collect at least three Free Spins symbols to trigger the Free Spins feature. You will also have to choose the bonus mode of these spins. The game will either give you extra Wilds, create three synced reels, or nudge the reels for lucky combinations.
You might not reach the Nirvana state by playing this Slot, but it will be a great experience nonetheless.
Ozwin's Jackpots
One of the most interesting Casino games by Yggdrasil, Ozwin's Jackpots has to offer the most when it comes to prizes. Featuring five progressive jackpots, this real money online Slot will appeal to those who are after big wins.
The game is set in a faraway fantasy land that looks like something straight out of a video game. The charming Ozwin won't hesitate to reward you with free spins crystals, jackpot orbs, and multiplier scrolls.
The most interesting feature is the Spellbook bonus game. You'll love all the special rewards the game will give you once you trigger the bonus mode.
Super Heroes
Super heroes is a popular theme for movies and video games. And now, thanks to Yggdrasil, we have a hero-themed Slot machine!
Play the Super Heroes Slot online and meet a bunch of colorful characters who are ready to save the world from menacing villains.
However, the pretty symbols are not the only thing that's cool about this Yggdrasil Slots game. Just look at all the bonus features of this real money Slot:
The Super Hero Feature
Free Spins Mode (up to 7 extra spins)
Up to x5 total win Multiplier
Whether you prefer to play Slots on your PC or mobile, Super Heroes will be a great choice.
Tut's Twister
Are we bored of Egypt-themed Slots? Yes. But this doesn't mean we should skip Tut's Twister by Yggdrasil.
Tut's Twister is one of those Egypt Slot machines that I actually enjoy. Here's why:
It has an RTP of 97.1 percent
You can trigger a lot of bonuses
The animation is top-notch
The best feature here is the Twister Feature. King Tut will reward you with expanding Wilds, respins, and multipliers.
It is one of the newest Slots on this list - the game was released in June 2018.
The promotion presented on this page was available at the time of writing. With some Casino promotions changing on daily basis, we suggest you to check on the site if it still available. Also, please do not forget to read the terms and conditions in full before you accept a bonus.