Utilize Slotomania's SlotoCards for Even More Coins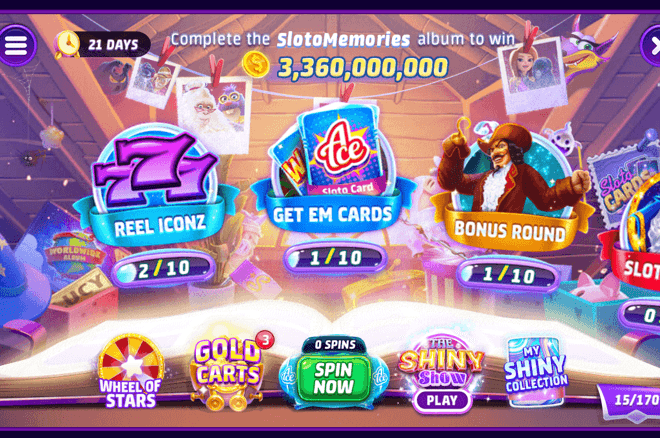 As you level up and unlock different slots, being able to increase your coin balance is one of the goals whilst indulging yourself into the games.
For the chance of winning millions up to hundreds of millions of coins, here's how you can utilize Slotomania's SlotoCards!
What is Slotomania SlotoCards?
The usage of 17 different sets brings the collection of 170 cards which are able to be collected and complete within the whole album.
In the midst of different themes which are available within the whole SlotoMemories album. As you collect these slotocards and complete each set, this is when the coins can start to build, enabling you to play even more slots on Slotomania.
Starting with sets arriving at 1,500,000 coins which then brings incremental steps throughout the 17 different sets, this then arrives at the final set of cards which brings the level and achievement of the prize containing 300,000,000 coins!
As you're reaching the final sets, you can win more than 100 million coins for each set! You can also find the cards which are presented as goal cards, ace cards, and shiny cards – this brings you part of completing the set and gaining more experience points.
How to Collect More SlotoCards?
In the mission of collecting Slotomania Slotocards, there are 5 ways to be able to collect these coins, which brings you on the way to completing the sets and gaining the prizes of millions of coins.
With this being said, what are the five ways that you're able to utilize to be able to gain cards and complete sets?
Spinning Slots
Arguably the easiest way to be able to gain the SlotoCards as this is the reason you're playing Slotomania in the first place, for the continuation of different slots.
As you unlock more and more slots, this gives you even more advantages to be able to unlock more cards, enabling you to complete even more sets.
Whilst you're playing each individual slot, in partnership with the number of coins which you bet, this is another way in which you're able to progress by winning more slotocards – which comes in addition to more coins and experience points and leveling up!
Leveling Up
On Slotomania, there are many ways of being able to level up, whether this is through playing games, through the daily dash, and other rewards which enable you to level up.
Through each level of which you progress on Slotomania, there are gifts which are gained on this differentiates through each level which you reach.
In addition to the coins and experience points, you are also able to gain the cards towards the sets in the SlotoCards. So, this means that the more you're able to level up, this brings up the chance of gaining more and more coins – including the higher stars of cards that you can gain!
Completing Challenges
Whilst you're leveling up and immersing yourself into the experience of Slotomania, there are also additional challenges which can be utilized to gain even more cards to build up your set.
Through the dash rewards, through each slot which you play and the amount of XP which you build up, this is when you're able to complete and unlock the prizes through the dash season.
As you progress up the ranks this is when you're able to gain the cards which have the higher stars, in addition to the coins and additional XP which you can progress even further with.
Through the additional XP, this is also creating the loop of additional prizes in the dash rewards and season – the season which is approximately 7 days.
Gifts From Friends
Whilst you're playing among the different slots which are offered, and if you're playing with friends, maybe competitively or casually to understand who can unlock more slots or gain the most rewards.
However, in the civil realms of being able to play with friends and family is that you can send gifts to each other. From gold which can be used to unlock the different cards in your set, to the different which are offered on Slotomania – this is where you can play with friends to ensure that you all win and unlock all the cards and sets together.
As you progress with your friends to the different sets within the album, especially because of the limited time of around 30 days, if you work with friends, you can unlock the set quicker and gain millions of coins!
Purchasing Cards
On Slotomania, in addition to being able to play and explore to be able to win more cards towards your progress of completing the SlotoMemories album and the future albums which are presented.
However, although you're not able to directly purchase these cards from Slotomania, there is a way to be able to give you the chance of gaining the cards and unlocking the sets and albums – this will then unlock millions of coins.
Through the Gold Carts, this gives you the ways of choosing the gold pieces which gives the prizes of cards and gold coins – through each level of the mine this progresses the number of coins you can gain.
To unlock, you are able to receive the free version which brings 3-star cards every 20 minutes, then this progresses to 4-star cards, at only $0.99, and then finally to 5-star and the top level of cards and better prizes at only $1.99.
Where to Play for More SlotoCards?
If you're wanting to start playing the Slots and start your progress through the challenges and missions, which also includes this goal of completing the different albums, this is all available on Slotomania.
To get started, which also includes your bonus of 1,000,000 coins, you can register and sign up through PokerNews, and start your journey for album completion!