Win More Free Spins with TNT Tumble on Global Poker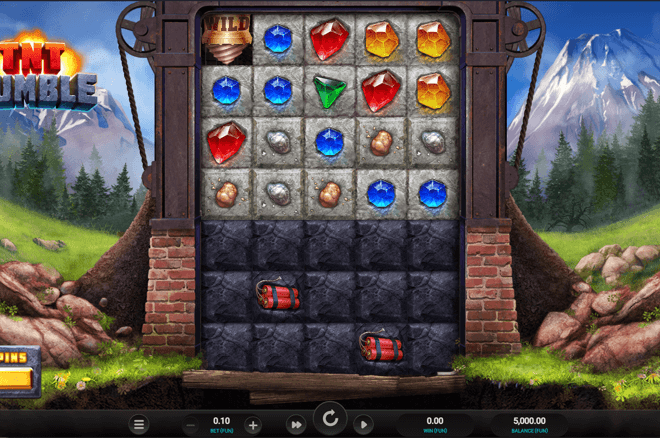 Introducing a brand new slot which has been brought to Global Poker – being the best way to earn additional multipliers and free coins.
Throughout this article you'll understand more about the TNT Tumble slot, the game rules, how to gain free spins and most importantly, where you can play the slot for yourself!
How to Play TNT Tumble?
Being able to play TNT Tumble couldn't be simpler, through the use of a few clicks you can get involved in spinning this slot and winning free spins!
As you get started with this slot, ensure that you select a play amount, then press the Spin button to begin in the TNT Tumble slot.
Within this slot, there is also an autoplay feature, through the Autoplay button, this is where you can select the desired number of rounds. For this feature, this is started and stopped by clicking the autoplay icon where it is applicable.
Whilst you're spinning, you are always available to see how many autoplay spins which you have left!
What are the Game Rules of TNT Tumble?
Across the TNT Tumble slot, this is a slot machine that includes 5 reels and 7 rows – for the players, this is a game that brings a theoretical return to play of 96.11%.
For each given symbol, if you manage to win, only the longest matching combination will be awarded.
When you're playing the slot, for the wild symbol, this will substitute for all symbols on the reels. Across the other winning combinations and prizes, these are made according to the win table.
Once a spin across TNT Tumble has been initiated, the play level for that round is locked and cannot be changed. Additionally in the slot, the winnings are presented in the user's coin type – this will be either Gold Coins or Sweeps Coins.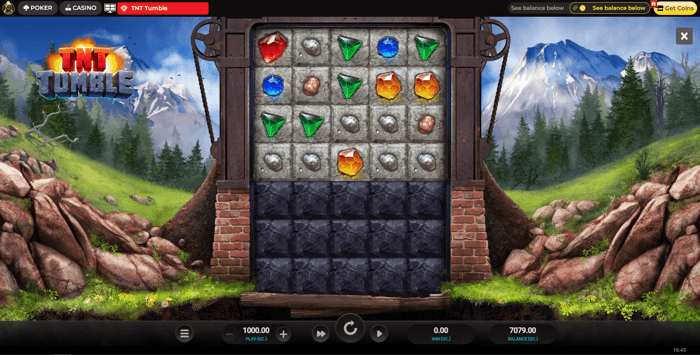 All winning symbols, excluding the wild symbol, are additional to the stone blocks directly to the left of, right of, above, or below winning symbols, which get destroyed and disappear. For the remaining symbols these fall down, and new symbols fall into fill the gaps which are presented for new ways to win!
In the beginning of a round dark stone blocks and 0-2 TNT blocks, these are placed on the 3 lowest rows. However, when a TNT block is destroyed, it will also destroy the other dark stone blocks on the same row.
Whether it is awarded throughout the TNT blocks or alternative methods, if all the dark stone blocks are destroyed during a round, 6 free spins are awarded.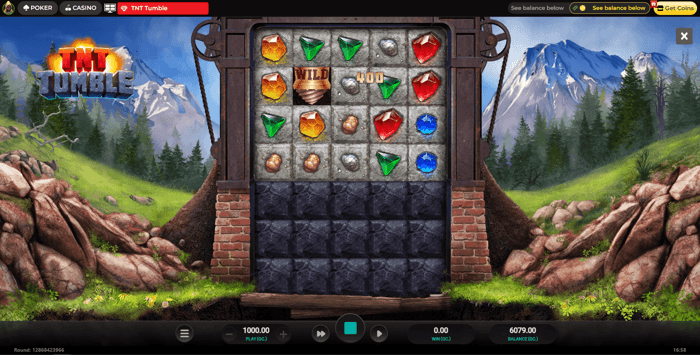 Within the bonus which you'll be able to win across the Global Poker TNT Tumble slot, in the free spins, some of the stone blocks are special and contain either added multipliers or extra spins.
The player gets to choose across the 3 different modes, which are presented:
Multipliers – Where all special blocks contain added Multipliers
Extra Spins – Where all special blocks contain extra spins
Multipliers & Extra Spins – Where special blocks may contain either added Multipliers or extra spins
How to Gain Free Spins in TNT Tumble?
Whilst you're indulging yourself in this slot, there is an additional bonus of being able to gain free spins – so why wouldn't you want to take advantage of this?
In the main game, if all the dark stone blocks are destroyed, this is when the Free Spins feature is awarded. In the midst of the Free Spins, some dark stone blocks are special and contain extra spins or additional multipliers.
Throughout the TNT Tumble, there are three choices of different Free Spin modes:
Multiplier
Throughout the slot which you're playing within, being the first mode for the opportunity to gain the free multipliers where you can earn even more.
For this mode, this is where you'll be presented with purple ores to be able to unlock the special stone blocks which contain 1 time, 2 times or 3 times added multiplers to ensure you win even more!

Multiplier & Extra Spins
If you're wanting to unlock even more and wanting to earn more than multipliers for your coined winnings, this is an advantage to take and gain those winnings you really want.
Through being able to unlock extra spins, this is where you are able to gain both multipliers and extra spins – through the addition of the blue ore blocks, these special stone blocks contain either Multipliers or extra spins.

Extra Spins
In the midst of the blue ore special stone, this will give you the chance whilst you're spinning the TNT Tumble slot to be able to 1, 2, 3, 5 or 10 extra spins across the reels.
Throughout all the different modes, as you clean every third full row of dark stone blocks, this is regardless of whether it is regular or special blocks, this will award two extra free spins.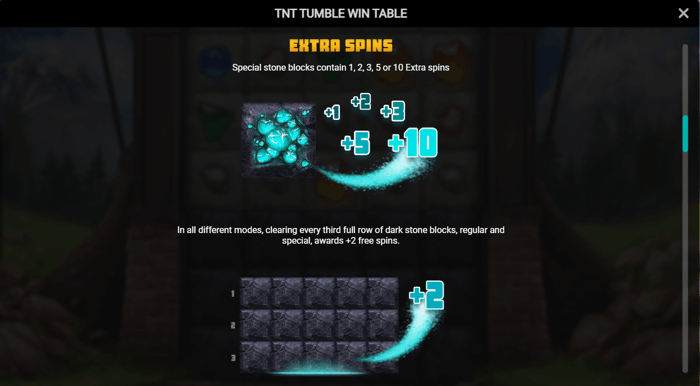 Where Can You Play TNT Tumble?
Introducing the new slot on Global Poker, TNT Rumble enables you to gain even more free spins and win even more coins to continue your streak on playing with the coins.
Across a range of different games, if you want to test your poker skills and learn even more whilst collecting coins, including sweeps coins to redeem even more prizes, take advantage of this when you sign up via PokerNews!