WSOP Free Chips: Find Out All the Ways to get Free WSOP Chips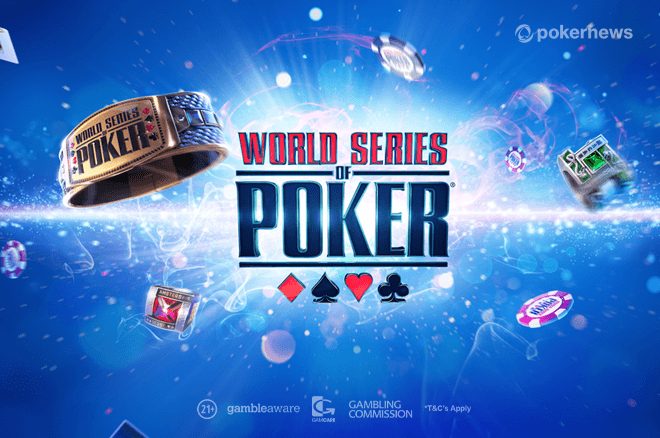 This article has been updated since its original publication.
If there's one thing all poker players can agree on, it's that they love free things - even more so when you get free things frequently.
That's why the official WSOP app offers players a number of ways to get their hands on free chips to boost their bankrolls, in order to play in their exciting promotions.
Thousands of chips are just a click or tap of the finger away, depending on if you play on desktop, iOS or Android. New players who sign up to the WSOP Free Poker Game will get a whopping 1m FREE CHIPS to start playing with!
Get 1m Free Chips with the WSOP Free Poker Game
Sign up to the WSOP app today and receive 1,000,000 free chips
Free Chips Every Four Hours
Depending on what Club you are in, just log onto the WSOP app and you will receive free chips every four hours. This ranges from up to 54,000 if you're in the Jacks Club, all the way to a cool 1,000,000 if you're in the Grand Masters Club.
| Club | Free Chips |
| --- | --- |
| Jacks | Up to 54k |
| Queens | Up to 68k |
| Kings | Up to 96k |
| Aces | Up to 200k |
| Masters | Up to 500k |
| Grand Masters | Up to 1m |
Introductory Rewards Bonus
As you join the WSOP social app, with the introductory rewards bonus through the WSOP rewards scheme which is in place for you to be able to gain free chips and additional XP.
In addition to the other bonuses, you can gain an additional 20,000 chips to be able to continue your journey through the games of Texas Hold'em and Omaha to be able to increase your chip count!
Like the WSOP Facebook page
If you're on the lookout for free WSOP chips, then make sure you've liked the official Facebook page. The page has lots of up-to-date information on the latest offers, events, promotions and deals for you to get the most out of the WSOP app.
The WSOP's Facebook Lounge has a vibrant community that band together to discuss strategy and share their thoughts about the game with like-minded poker-loving players. If you are a fan of the WSOP, you simply have to head to the Facebook WSOP Lounge and become a valued member of this incredible community. You'll make friends, and your poker knowledge will increase exponentially.
WSOP Free Poker Game - Get Free Chips
Invite Your Friends
Poker is better with friends, so by inviting them to the app you'll be able to play with them at the same table and compete against one another. As you increase your Club, you gain extra chips for every new player you invite to the game.
| Club | Invite Bonus |
| --- | --- |
| Jacks | 50k |
| Queens | 75k |
| Kings | 100k |
| Aces | 200k |
| Masters | 500k |
| Grand Masters | 1m |
Receiving Gifts
You can also gain more free chips by receiving gifts from other players. Whenever a gift is sent to you, the number of free chips you will receive depends on your Club. From 10.8k if you are in Jack Club, up to 54k per gift if you're in the Grand Masters Club.
| Club | Gift Bonus |
| --- | --- |
| Jacks | 10.8k |
| Queens | 13.5k |
| Kings | 18k |
| Aces | 22.5k |
| Masters | 36k |
| Grand Masters | 54k |
WSOP Poker Academy
Every poker player who reaches the top continually improves their poker skills and knowledge. WSOP helps you do this for free via the WSOP Poker Academy, a free-to-use learning tool that helps you get better at poker. The WSOP's motto is "Don't get mad, get better" and we fully agree. Try it out today and help take your poker game to the next level.
---
Download the Official WSOP App Today!
By signing up to WSOP today through PokerNews you'll get your hands on 1,000,000 chips absolutely free! Play the Champions Circuit as well as exciting events like Caribbean Hold'em, Executive Deal and Cash Dash!
By playing hands and winning pots in any one of these games - or indeed at the Hold'em or Omaha cash games - players earn Bracelet Points which players then use to complete collections and earn WSOP bracelets!
Will Shillibier is based in the United Kingdom. He started working for PokerNews as a freelance live reporter in 2015 and joined the full-time staff in 2019. He graduated from the University of Kent in 2017 with a B.A. in German. He also holds an NCTJ Diploma in Sports Journalism.

Senior Casino & Gaming Manager