Pigskin Diaries: Poker Pro Bowl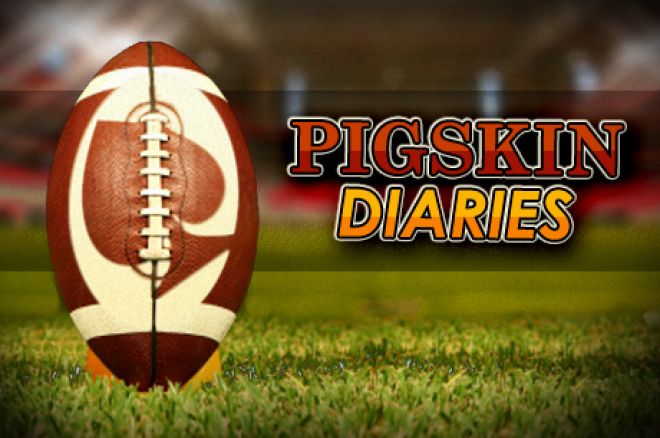 The National Football League is holding its annual Pro Bowl this weekend, but, despite going 0-2 picking the Conference Championship games last week, we're not big enough degenerates to bet on the game. You know you have a problem when you're betting on an exhibition football game where neither team can blitz, but the players can Tweet during the game.
It's a shame Chad Ochocinco is in the Super Bowl — he finally had a chance to be productive on the football field.
We're still going to talk football this week, however, because PokerNews' very own Donnie Peters had a brilliant idea: "We should draft Pro Bowl teams using poker players."
So, without further ado, it's time for the first ever Poker Pro Bowl draft! Each person must select a poker player for the following positions: quarterback, running back, wide receiver (2), tight end, defensive lineman (2), linebacker (2), defensive back (2), kicker/punter, head coach, and owner. Mr. Peters won the virtual coin flip (don't ask), so he will have the first selection. This is a snake draft.
Team Peters
1. Phil Ivey (WR), Comparison: Calvin Johnson
Phil Ivey is the best in the game and everyone knows you need a stud at wide receiver if you're going to have a team that competes. Who better to fill this spot than Phil Ivey? He's on the taller side of poker players and looks like he'd be able to hold his own on the field using his size and running tough routes. Also, everyone knows wide receivers tend to be the prima donnas in the league and rumor has it that Ivey is a bit of one within his inner circle.
We all know Ivey isn't very outspoken and doesn't seek the spotlight of the media, so we needed to find someone to compare him to that is the best at what he does without needing attention like Terrell Owens or Chad Ochocinco. Calvin Johnson fits the bill. He's an amazing talent on the field, just as Ivey is on the felt. His raw ability stands out above the rest and allows him to excel in all areas of his position.
Team Ryan
2. Erik Cajelais (LB), Comparison: Brian Cushing
Erik Cajelais is an absolute monster, and if any of Donnie's players roam over the middle, then they're going to get their heads taken off. Seriously, have you taken a look at this guy? If I put a bad beat on him, I'd be tempted to muck my hand to save myself from getting killed. Hopefully his attitude is on par with his physical attributes – I need someone as crazy as Brian Cushing on my roster.
3. Jason Mercier (DB), Comparison: Deion Sanders
I played basketball with Jason Mercier at the PokerStars Caribbean Adventure, and he's fairly athletic for a poker player, but I don't care about that. The reason Mercier is on the roster is because we need his good charm. The guy's won over $7.6 million since 2008, is engaged to a very lovely girl, and in the summer of 2010, the best basketball player on the planet decided to take his talents to Mercier's hometown team. Must be nice, right?
The comparison to Deion Sanders has nothing to do with football either, but there's no other poker player I'd want on my team in "prime time."
Team Peters
4. Erick Lindgren (QB), Comparison: Tom Brady
Like Tom Brady, Erick Lindgren simply looks like a quarterback. He's a good-looking guy and one of the best in the game, which makes him an easy fit for quarterback. We all know he absolutely loves sports and the guy can probably throw one heck of a football. He also fits the part in that he has a gorgeous wife in Erica Schoenberg, something all quarterbacks need to have.
5. Sam Trickett (DB), Comparison: Darrelle Revis
Sam Trickett used to be a pretty good soccer player a couple years ago before he really got into poker, so we know he has to be quick and good with his feet. All cornerbacks need to be quick, agile and have great footwork in order to cover the receivers on the opposing team. Trickett is a great fit for this position, both with his build and skill set, and, just like Darrelle Revis, he will shut down Team Ryan's best receiver.
Team Ryan
6. Jason Koon (RB), Comparison: Bronko Nagurski
Bronko Nagurski was the biggest player in football back in the day, and took pleasure in plowing people over. Jason Koon seems to have a motor like Nagurski – and that's when he's sitting at a poker table! If you gave him a football and told him to run forward as fast as he can, I don't think an NFL player would be able to tackle him, let alone a poker player. Koon is fearless, in shape, and is a great motivator. What more could you possible ask for out of a running back?
7. Patrik Antonius (DB), Comparison: Troy Polamalu (except the whole hair thing)
Neither Patrik Antonius nor Troy Polamalu seem to say much, but both of them are absolute studs. At the 2011 World Series of Poker, Antonius had a tennis prop bet against Brandon Adams, which he won handily, and Antonius looks like he could put a big hit on a defenseless receiver. Not that Team Ryan would ever do such a thing, we just want to set the tone early.
Team Peters
8. Nick Schulman (WR), Comparison: AJ Green
Nick Schulman can play all the games, which we'll equate to running all sorts of routes. He's tall and long, which really helps at the wide receiver position. I was going to compare him to Randy Moss, but he's a bit old now so we'll go with AJ Green. Similar build, and he's young and driven.
9. Eric Stocz (TE), Comparison: Rob Gronkowski
This is easy. Eric Stocz used to play tight end for the Detroit Lions before moving into poker. Enough said.
If you've ever seen Stocz in person, the guy is a beast. A true specimen. We'd have to say he'd be very similar to Rob Gronkowski because of his build, although his hands would probably be a little less sure. Tight ends do a lot of blocking, though, and we know Stocz could really overpower just about any other poker player in the world he'd have to block.
Team Ryan
8. Huck Seed (WR), Comparison: Tony Gonzalez
Tony Gonzalez doesn't play wide receiver. However, just like Huck Seed, he has a background in basketball. Seed is the ultimate possession receiver because he's a giant. One time at the WSOP, he was in the Pavilion Room during a Day 1, and tried to jump and touch one of the flat screens hanging from the ceiling. He missed, so he took his chair from the table and placed in under the screen. Just before he ran and jumped off of it, a floor person stopped him. That's the kind of dedication we want on Team Ryan.
9. Greg Mueller (TE), Comparison: Jason Witten
Remember when Jason Witten had his helmet ripped off against Philadelphia and proceeded to run 30 yards down field with blood dripping from his nose? The only poker player I can think of that would do the exact same thing is Greg Mueller. Mueller, a former professional hockey player, is as crazy as he is big, and there isn't a poker player in the world that can cover him. Hopefully he can catch, but if not I'd have no problem using him as a blocker.
Team Peters
10. Nenad Medic (RB), Comparison: Peyton Hillis
Nenad Medic is big, tall and strong. He's a solid, but aggressive poker player and we really see him doing nothing else but running over his opponents on the field much like he does at the poker table. Like Peyton Hillis, he may not be able to cut left and right with the best of them, but he has power to overcome that and can switch gears if he needs to.
11. Michael Mizrachi (LB), Comparison: Brian Urlacher
Michael Mizrachi's big and looks like he'd love to crush some people. We also know he loves to plays tons of pots and linebackers get involved in nearly every play on defense, which makes Mizrachi seem like a solid fit here. Mizrachi has a solid build and can captain the defense, much like Brian Urlacher. He has plenty of experience on the felt as Urlacher has on the field. He also has power, although not the best speed in the world, but enough to get the job done.
Team Ryan
12. Ashton Griffin (WR), Comparison: Wes Welker
Ashton Griffin ran 70 miles in ONE DAY. All he has to do is run drag routes and slants — a la Wes Welker — and create after the catch. Too easy.
13. Lex Veldhuis (LB), Comparison: Ray Nitschke
Instead of pummeling players like Ray Nitschke, Lex Veldhuis will just kick them in the face.
Team Peters
14. Carter Phillips (LB), Comparison: Clay Matthews
Carter Phillips would make a great running back, but we've already got Medic slotted in there so we like Phillips at the linebacker spot. He's also a little smaller than Medic and quicker, so we feel his skills would be better on the defensive side of the ball hawking the offense. Phillips would be like Clay Matthews on the field - fired up for every play, agile, aggressive and powerful. Matthews is also an intelligent player and so is Phillips on the felt. He'd be ball hawking all day long giving the offense fits.
15. Eric Baldwin (DB), Comparison: Dashon Goldson
With this being a draft, I knew Rich would love to have Eric Baldwin at quarterback given his baseball background, so I went and snatched him up for the defensive back position. With Baldwin's background in sports, he'd be athletic and be able to correctly adapt to a lot of things he would see on the field, as most athletes do. Not to mention, if Lindgren goes down as quarterback we have a back up set.
Dashon Goldson seems like a good comparison. He's a solid player on one of the best defenses in the league. We all know Baldwin has world class caliber and has the skills to back up his game.
Team Ryan
16. Bill Perkins (Owner), Comparison: Mark Cuban
Before I talk about Bill Perkins and why he's my favorite person in the world, let me tell you that I was devastated when Donnie grabbed Baldwin. He knew I wanted him as my quarterback, and swiped him from me just before I could grab him. So sick.
It's OK though, because Perkins will fill any and every need Team Ryan has. Perkins is so baller that he flew down to the PCA for the $100,000 Super High Roller, flew back to the states, and then flew back to the Bahamas for the $25,000 High Roller! Who takes two trips to the same PCA? Bill Perkins, that's who.
17. Jean-Robert Bellande (DL), Comparison: Albert Haynesworth
Every team needs a rebelling, badass player, and Jean-Robert Bellande is a perfect fit. Bellande, a former Survivor contestant, is tall enough to bat passes down, big enough to stop the run, and broke enough that if there is a prize for winning the game, then he'll bust his ass until the final whistle.
Team Peters
18. Jerry Buss (Owner), Comparison: Jerry Buss
He owns the Los Angeles Lakers, need we say more?
19. Andreas Krause (DL), Comparison: Jared Allen
Have you ever seen Andreas Krause in person? The guy is a beast and looks like he could move mountains, which is exactly what you're looking for in a defensive lineman. He's built like Jared Allen, and would be great at both pass rushing and run stopping.
Team Ryan
20. Brandon Adams (QB), Comparison: Peyton Manning
The aforementioned Adams may have been owned by Antonius in tennis, but he's still a super computer that can dissect a defense in the blink of an eye. As long as he doesn't have neck problems, Adams would be very Peyton Manning-like, calling players at the line of scrimmage, rather than in the huddle.
21. Phil Hellmuth (DL), Comparison: Ben Wallace
I know that Ben Wallace never played in the NFL, but Phil Hellmuth has one job: knock the ball down! Hellmuth has to be drafted - even if he struggles on the field, he's going to fill the seats.
Team Peters
22. Teddy Sheringham (K), Comparison: Morten Anderson
Teddy Sheringham used to play professional soccer in Europe at the highest level in the world before moving towards playing poker. Who else would we want to have kicking our field goals? Sheringham scored nearly over 350 goals professionally and played from 1983 to 2008, which is very similar to Morten Anderson, who holds the record for most points in the NFL and played from 1982 to 2007.
23. Erik Seidel (Head Coach), Comparison: Bill Belichick
Erik Seidel is a mastermind. He could easily figure out the game of football and set his team in the winning direction. He and Bill Belichick are both very unemotional, yet at the top of what they do professionally. They both have uncanny genius that can't even be explained in words.
Team Ryan
24. Haralabos Voulgaris (Head Coach), Comparison: Mike Leach
No, I don't think Haralabos Voulgaris would stash any of my players away in a closet, but, like Mike Leach, Voulgaris is extremely bright. His tweets about the NBA show he knows a lot about strategy, and would definitely be able to put my players in a position to succeed.
25. Faraz Jaka (K), Comparison: Steve Weatherford
I've never seen Faraz Jaka kick a football, but one of his good friends, Steve Weatherford, will be punting next Sunday for the New York Giants in the Super Bowl. Jaka and Weatherford became good friends at the University of Illinois, and I'm sure Big Blue's punter can teach The Toilet a few things. Worst-case scenario, I'll have a flashy punter to keep things interesting on fourth down.
Team Peters
26. Artur Wasek (DL), Comparison: Vince Wilfork
Just like Krause, the guy is a house and would stuff up the inside to block the opponent from running all day long. Wasek is a bit bigger, but that's what you'd be looking for as an inside lineman. Plant this guy in the middle of the defensive line, and gobble up anything that tries to run within arms length.
Team Peters
| Position | Player |
| --- | --- |
| Owner | Jerry Buss |
| Head Coach | Erik Seidel |
| Quarterback | Erick Lindgren |
| Running Back | Nenad Medic |
| Wide Receiver | Phil Ivey |
| Wide Receiver | Nick Schulman |
| Tight End | Eric Stocz |
| Defensive Lineman | Andreas Krause |
| Defensive Lineman | Artur Wasek |
| Linebacker | Michael Mizrachi |
| Linebacker | Carter Phillips |
| Defensive Back | Sam Trickett |
| Defensive Back | Eric Baldwin |
| Kicker | Teddy Sheringham |
Team Ryan
| Position | Player |
| --- | --- |
| Owner | Bill Perkins |
| Head Coach | Haralabos Voulgaris |
| Quarterback | Brandon Adams |
| Running Back | Jason Koon |
| Wide Receiver | Huck Seed |
| Wide Receiver | Ashton Griffin |
| Tight End | Greg Mueller |
| Defensive Lineman | Jean-Robert Bellande |
| Defensive Lineman | Phil Hellmuth |
| Linebacker | Erik Cajelais |
| Linebacker | Lex Veldhuis |
| Defensive Back | Jason Mercier |
| Defensive Back | Patrik Antonius |
| Kicker | Faraz Jaka |
Which team is better? Who would you have drafted? Let us know in the comments below!
Don't forget to follow us on Twitter and like us on Facebook.