Think 'long term' when you're playing video poker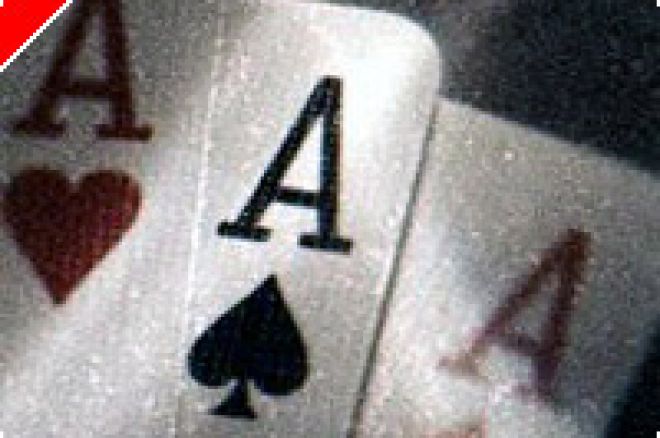 We're going to try to wrap up our discussion of video poker basics today. Last week, we talked about the differences between a video poker machine and a slot machine: a slot machine's return is a hidden secret, but a video poker machine's return is decipherable from information on the screen.
But we also learned that not even video poker games are created equal. You do have to be diligent and know what to look for.
Let's start with 9/6 Jacks or Better. You probably already know that a 9/6 Jacks game pays nine coins for a full house and six coins for a flush for every coin played. You also know to make sure that two pair pays two coins.
9/6 Jacks, although not a positive game, is considered "full pay," mainly because it is the norm by which other generic jacks games are compared. Its expected return is 99.54 percent; 9/5 and 8/6 versions will return only 98.45 and 98.39 percent over the long term.
Now, I've used "long term" a lot, and you're probably tired of hearing about it. It might even be one of those esoteric terms that don't mean diddly to you. But, basically, what a 9/6 versus 9/5 or 8/6 comparison means is more bullets to sustain you between royal flushes. Full houses and flushes happen often enough that they keep you in the game; they extend your bankroll so that you'll still be around to take advantage of the royal flush when it pops up.
But most casinos that don't offer 9/6 Jacks games will often offer 8/5; this game is really, really bad and ugly. It drops your return down to 97.30 percent. Don't play it. You may get lucky and hit a royal, but if you keep playing, the house will eventually get it back. What's the point?
What we've been talking about so far is a plain ol' generic Jacks or Better game that pays 25 coins for any four-of-a-kind. There are games out there that pay a bonus and a double bonus and a double double bonus for four-of-a-kind.
The basic bonus poker game will pay 25 coins for four 5s through kings, 40 coins for four 2s, 3s or 4s, and 80 coins for four aces. Also, look for two coins paid back for two pair. The main difference among bonus poker machines is the payout for full houses and flushes. If you find a 8/5 Bonus Poker machine, then you've found a machine with 99.17 percent expected return.
The volatility is not too much worse than a 9/6 Jacks game, so it's a good game for players looking for a thrill when they hit some quads. Combine it with decent cashback, free room and meal comps and you've got yourself a vacation that almost pays for itself.
Then there's Double Bonus Poker. As the name implies, it pays double for all the above four-of-a-kinds. Even though it pays back only one coin for two pair, the expected return of the best version is 100.17 percent, a full percent over and above 8/5 Bonus Poker. The secret is in the payback for straights, flushes and full houses: 5, 7 and 10.
Whereas Double Bonus pays 160 coins for four aces, Full Pay Deuces Wild pays back 200 coins for four deuces. FPDW also has a much less daunting strategy chart, a smoother roller coaster ride and almost .6 percent higher return, but there are still a lot of players out there who, when given the choice, will still play Double Bonus. Go figure.
Live Internet chat: Tonight's featured "chatters" at 8 p.m. on www.tunica-ms.com are John Robison and Frank Legato. Robison is the author of "The Slot Expert's Guide to Playing Slots." He is also a commentator on The Goodtimes Show on WMC, 790 AM in Memphis.
Legato is the author of the very funny book, "How to Win a Million Playing Slots... or lose trying." He's also one of my favorite columnists for Casino Player and Strictly Slots Magazines. Tonight's topic: Slot machines, love 'em or hate 'em, they've taken over.
One final reminder: Don't forget: gamblin' grandma Jean Scott will be at the Copa Casino's Coral Room (off the buffet) from 1-3 p.m., Sunday, Oct.19.