PartyPoker presents WPT Super Satellite - $300+$25!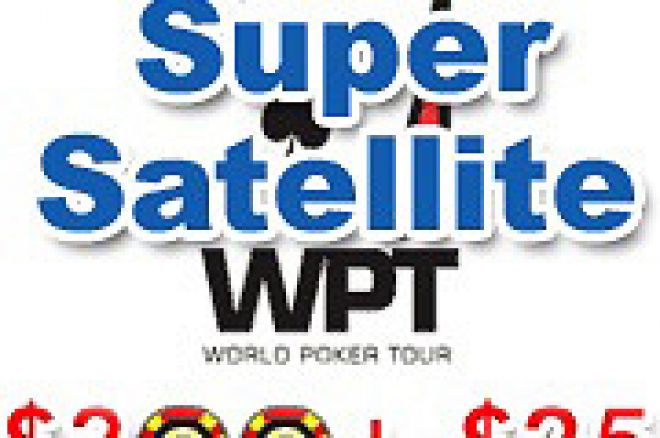 PartyPoker again invites all fans of poker! Now you have a real opportunity to get on World Poker Tour (WPT). All that to you need, it is take part in selection games and you will receive not only the free-of-charge permit on the championship, but also can win money!
Here is some detail:
When: Tuesday (9 PM ET).
Game: No Limit Hold'em
Buy-in: $300 + $25
Qualify by playing any one of the "Qualifier to WPT Supers" tournaments held every day.
Prizes: As many $27,000 WPT Packages as possible. Any extra money will be paid to the next 3 places (50%, 30% and 20%). One 'WPT Package' will be awarded for every 90 participants. (If there are less than 90 entries, the money will be paid out according to our standard Multi-table Payout Schedule.) Each WPT Package will contain a paid entry into the WPT championship tournament ($25,300 entry fee), 5 nights accommodation at Bellagio (April 18-22) and $1000 in cash, Package value = $27,000.
Remember: Registrations for all qualifiers will close 5 minutes before the Tournament starts. Players winning the "Qualifier to WPT Supers" will be registered automatically for the WPT Super Satellite to be held on the subsequent Tuesday. Entries into the WPT Super Satellite $300 + $25 cannot be carried forward to the next week. Winners of Qualifier to WPT Supers finishing after close of registration of the WPT Super Satellite $300 + $25 in that week will be registered for the WPT Super Satellite $300 + $25 in the subsequent week.
<a href=""http://partypoker.com/news/events/wpt-supersatellite-feb04.html?wm=2014741"">Click here</a> for more details on the WPT Super Satellite $300 + $25.
To download free software and join game, click here.