The Biggest Freeroll Poker Tournament in History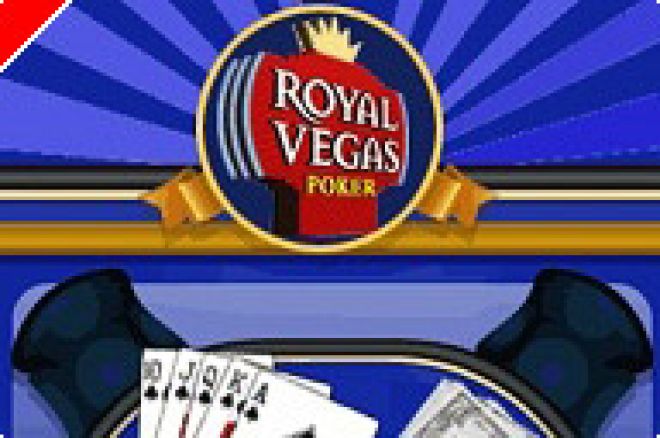 The amazing growth of online poker is poised to cross another threshold with the poker world's first freeroll tournament to offer cash prizes totaling $100,000. Yes, that's right: a hundred-thousand dollar freeroll prize pool - there's no entry fee required - and all you have to do to win your share is play.
While tournaments with prize pools of $100,000 are rather commonplace these days, prize money is always contributed by the competitors, along with a fee that goes to the internet site or land-based casino that's hosting the event. But there's a big difference here: All of the money in this tournament - except for five-dollar rebuys during the first hour of play and a five-dollar add-on - will be contributed by the host site, Royal Vegas Poker, a leading Internet poker site.
If all this sounds interesting, and you'd like to be among the many players chasing all that money, here are the details you need to know.
The tournament is slated for Saturday night, December 18, 2004 at 8:00 PM EST, so mark your calendars and don't make any other plans. The game is no-limit Texas hold'em, and entry may be gained by meeting any one of the following requirements:
Become a first time Royal Vegas Poker account holder by registering an account between August 1st and December 14th 2004. You can do this at www.royalvegaspoker.com. There's no purchase required.[*]If you're a current Royal Vegas Poker customer, you can qualify by playing at least 2,500 raked hands between August 1st and December 31st.[*]You can also qualify if you play at least 1,000 raked hands in any one of the following calendar months: August, September, October, November or December 2004.[*]Fulfill any of the Royal Vegas Poker "special promotion" entry requirements.
There'll be an unlimited number of rebuys available at five dollars during the first hour of play and an add-on will also be available at the end of the first hour that can be purchased for an additional five dollars. Each player will begin the tournament with $1,000 in chips, although Royal Vegas Poker is contemplating providing $2,000 in chips to players who have logged 1,000 raked hands in the four month period between August and December. At this point, however, a final decision about variable starting chips based on hands played during the qualifying period has not been made.
This event will follow a traditional online tournament structure, with ten-minute breaks every hour, and standard 10-minute escalating rounds.
Only one entry per account is permitted, and only valid Royal Vegas Poker account holders, who have met at least one of the qualification requirements, are eligible to play in the tournament. Entries are not transferable and raked hand requirements are only met on tables with limits of $0.25/$0.50 and above.
If you qualify for the event, you'll have to "join" the tournament prior to the close of registration (7:59 pm EST on December 18th, 2004) in order to play.
That's all there is to it. Now all you have to do is show up, sit down, play flawless, error-free poker, have a bit of luck on your side, and you might walk away with one of the top prizes. The price is right too. It won't cost you a cent to play if you qualify for the event, and even if you purchase a rebuy or two along with an add-on for a total of fifteen dollars - the cost of a couple of movie tickets for a chance to win some big bucks - the prize is well worth the game.
So forget about Christmas shopping for just one night, and scratch any holiday parties you had lined up too. After all, one hundred thousand dollars out there for the taking doesn't come around every day, and besides, there's always another party and the stores will all be open late until Christmas Eve. So give yourself an early holiday present: This is your chance to win some serious money at little or no investment, and that's a hard deal to pass up, isn't it?
Join Royal Vegas today and receive $100 bonus.