Foxwoods on the box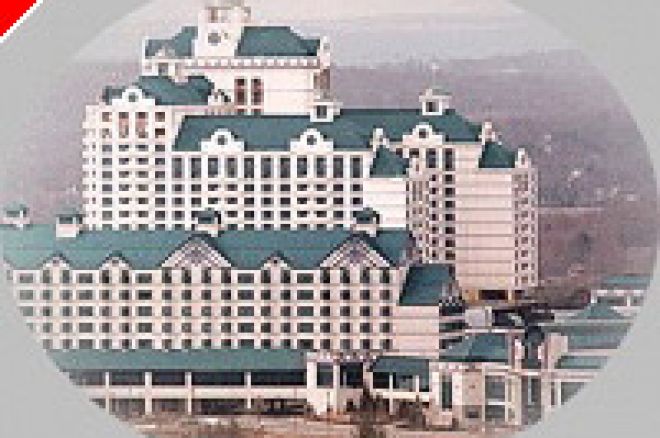 Foxwoods Casino in Connecticut has launched a six-month television advertising campaign, which highlights its status as the largest card room on America's east coast.
Called "Royal Flush" the initial advert opens with a shot of a bathroom door followed by the sound of a toilet flushing. A jovial king - draped in gown and crown - then walks out with a newspaper under his arm. His sigh and wide grin say he's clearly satisfied following a productive session on the "throne."
"Nothing beats a royal flush," flashes on the screen, and the scene cuts to poker tables at Foxwoods. The voiceover says, "Over 80 poker tables and a charter member of the World Poker Tour."
More "Royal Flush" spots and others called "Two Pair" and "Bluff Stud" will follow, each running for three or four weeks before the next is introduced, Linda Kaplan Thaler, chief executive officer of Foxwoods explained.
"Poker is hot," added Marty Kramer, director of advertising. "Poker is red hot, and we're a major player in the poker world. We want to leverage our strength in poker."
The first 30-second spot, "Royal Flush," debuted on the Fox Sports Network during the Boston Celtics' pre-season basketball game. It will also air on NESN.
Meanwhile, World Poker Tour Enterprises, who filmed the first ever WPT event two years ago, have announced their results for the third quarter of 2004.
The figures show the company revenue for the period amounted to $3 million, compared to $0.4 million in the prior year period. The figures also show a net loss of $0.5 million.
Revenue since the inception of the fledgling World Poker Tour has primarily derived from television license fees and the growth in turnover is attributed to an increase of programmes delivered to the Travel Channel, which broadcasts shows on Wednesday nights at 9pm ET/PT.
WPTE went public in the fall of 2004 with 4,600,000 shares of common stock realising $32.7 million. The companies' common shares are traded on the NASDAQ National Market under the trading symbol "WPTE".
Se also: Foxwoods World Poker Finals: 4th largest event in history of WPT