PokerChamps gives players a chance to share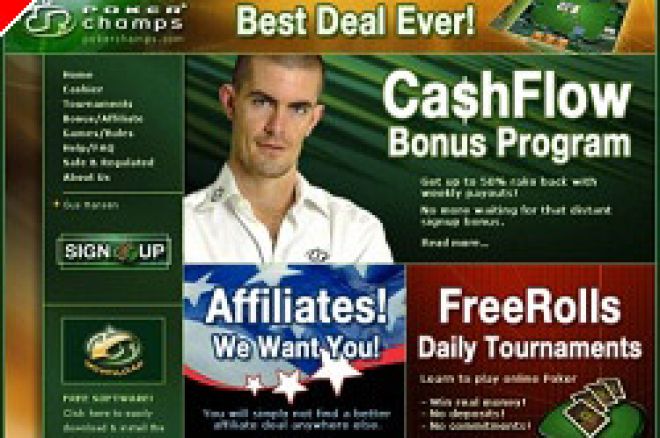 How can you get a website to pay for your poker? By introducing a lot of new poker players, that's how.
Gus Hansen's innovative new online poker room, www.pokerchamps.com, gives back part of all the rakes taken from "your" poker players as a reward for suggesting others. A proportion of the money spent by any players that they, in turn, suggest also goes back to you. So the more people you suggest - and the more they suggest - the more kickbacks you'll get. Every time you recommend a friend to this online poker room, you get a share of his rake - and of all the people's he or she introduces and so on, for all the generations of poker players that trace back to you.
Think of it as an inverted pyramid - or a tree, with branches growing from the trunk and other branches from those branches and so on. For every leaf on that tree you get a kickback!
When you sign up as a player at Poker Champs online poker room you automatically enter the PokerChamps CashFlow Bonus Program, which will earn you money from Day One. And you automatically become an affiliate. That means that when you get any other person to sign up at PokerChamps, you automatically begin to earn money from his play.
All you have to do is to give him your affiliate code, which is awarded to you when you sign up. If you have a web site or home page you can use any number of them to automatically get the sign-up under your name. There are no forms to complete, and once you agree to the conditions of being a player at PokerChamps online poker room, you automatically become an affiliate.
As those you sign up start signing up others, your affiliate tree will soon begin to grow exponentially. You will automatically receive bonus points from all players in your affiliate tree. You don't even have to play poker on PokerChamps to rake in money.
Sign up and download PokerChamps client!