Professional Poker Tour moments at Foxwoods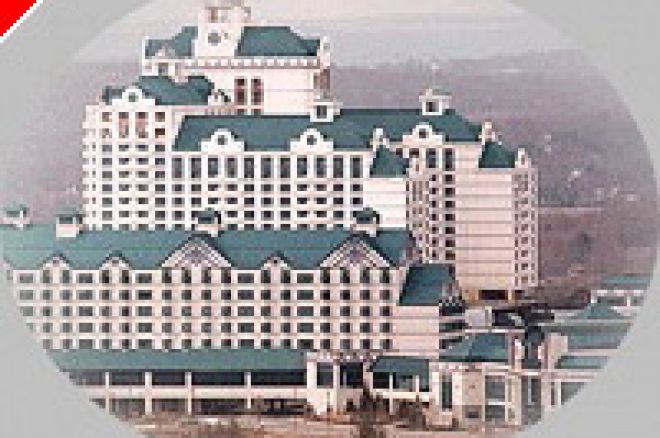 Juanda went all-in for about $700,000 with pocket 3s in the 108th hand of the final table. Bigler called and turned over As and 8d. The flop did not improve either player's hand and Juanda was the winner of the first ever event on the new tour.
Juanda played patiently to start the match - observing more than getting into confrontations - but got more aggressive as the day went on.
"I wanted to put myself to more decisions later in the match because I felt good I was making them right," he said after the match. "I wanted to win lots of small pots. I really didn't want him to call with the hand I had, but it turned out great for me. You could not make mistakes at this table."
Juanda and Bigler were the last two players from a diverse and strong final table that included Ron Rose (3rd), Dan Harrington (4th), Jennifer Harmon (5th) and Casey Kastle (6th). Juanda started the final table as the chip leader (436,000), with Bigler in second place (226,000). The tournament attracted 134 players.
The last few hands of the match between Juanda and Bigler had the two heavyweights playing exactly as they were expected to play - hard and aggressive.
In hand 100, neither player raised before a flop of 9s-4c-4h. Bigler bet $50,000 and Juanda called. The turn brought an 8h. Bigler bet $100,000. Juanda hesitated. The tournament had a 90-second clock on each player and Juanda was forced to ask for an extension. He called and the 3d came on the river. Bigler pressed with a $150,000 bet. Juanda again used his entire 90 seconds before folding. Two hands later, Juanda went all-in after a flop of 8s-4h-5c. Bigler folded. The next hand Bigler raised $100,000 and Juanda called. Bigler mucked his hand after a 6h-7h-10d-5s-Qc board.
In the final few hands, each player made big raises that forced the opponent to fold. Bigler, from Switzerland, expected Juanda's aggression, but was surprised by his final hand.
"I didn't think he had as good a hand as he did," he said after the match. "I figured him for King-Queen or something like that. I thought I had a pretty good read on him and put him on that hand."
Rose went out on the 86th hand of the final table. Bigler raised preflop $60,000. Rose called all-in with his last $54,000. Juanda called Bigler'sraise. The flop came Qs-3c-2c. Each player checked through the river with two more clubs showing. Bigler showed Kc-Jc for the flush. Juanda had Kd-5s and Ron didn't show his cards.
The tournament was the first of five freerolls that will offer a total prize pool of $2.5 million over the 2004-2005 seasons. The tournament has stops at the Commerce Casino (Los Angeles, Feb. 8), the Bellagio (Las Vegas, April) and the Mirage (Las Vegas, May 10). The last venue has not been designated.