ALL IN Magazine - The New Kid On The Block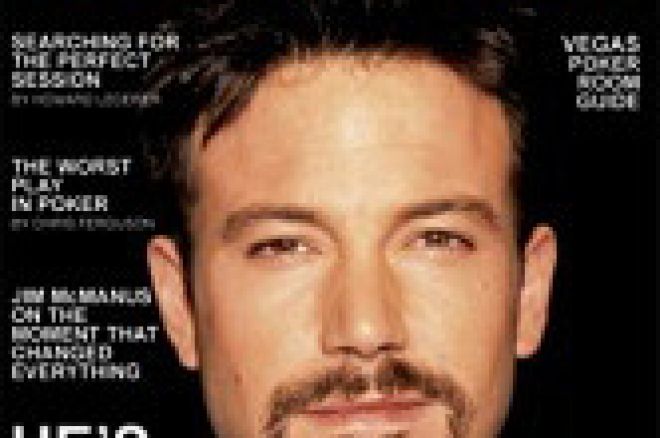 For nearly two decades, CardPlayer Magazine has been the bible of the poker world. Many have tried to knock the king from his mountain, and many have failed in this endeavor. There have been several new magazines that have hit the stands lately, but ALL IN Magazine looks like a serious contender.
Currently a bi-monthly publication, ALL IN Magazine's January/February issue is currently in your local bookstore at $4.99 US. Subscription rates are more than reasonably priced; a six-issue subscription (one year) is $17.95 and two years runs at $27.95. With CardPlayer Magazine's yearly rate running at $39.95 US ($79.95 Canadian and $99.95 International), many people may find this to be more palatable.
One of the things that may make ALL IN Magazine a winner is their ownership. Media conglomerate Time Warner owns the magazine, so they will definitely have the financial backing to weather any potential storms that may arise. It looks as well that they have the support of the major organizations (ESPN, the World Poker Tour and Harrah's) to provide content and material for publication.
The magazine itself is very professional looking. It has a great look, all color photography and its contributing writers include Chris "Jesus" Ferguson, Phil Gordon and Howard Lederer. With all of these things going for it, however, there are some items that may keep it away from the serious players.
While the players have contributed some great articles and observations, there seems to be a lack of current and upcoming tournament information. Likewise, there is no reporting of recently completed tournaments, due more than likely to the bi-monthly format of the magazine. The most recent (and thorough) tournament recap was of Annie Duke's victory at the World Series of Poker's Tournament of Champions, which happened over six months ago. There is an article on the Borgota in Atlantic City, with stunning photography and a report of the games played there. Finally, and for some inexplicable reason, there is a five page photo spread of WPT Hostess Shana Hiatt. Don't get me wrong; Shana Hiatt is a very attractive woman and the photos are tasteful and well-done. But for a publication that is billing itself as "The World's Leading Poker Magazine," it seems to be a little out of place. I think of Casino Player Magazine (which has featured spreads of the Coors Light Twins and the Borgota Girls) when I see something like this.
It seems that ALL IN Magazine right now falls somewhere in between CardPlayer Magazine and Casino Player. While it does show some potential, ALL IN also has the aforementioned drawbacks that might keep it from being considered a true poker publication. It remains to be seen what direction the staff will take it in.