Final Results: LA Poker Classic Event One - $300 NLHE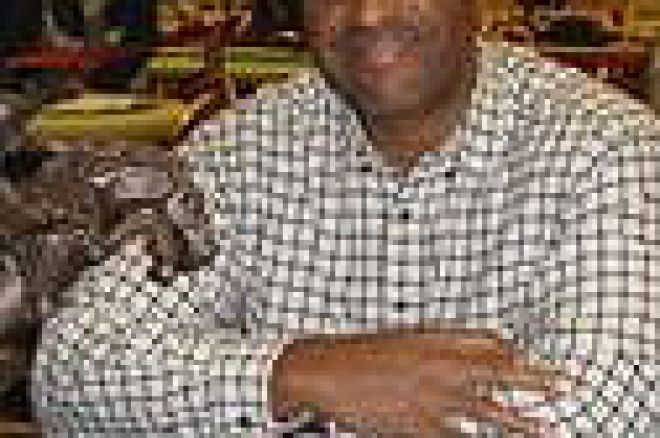 Last night Dannie Perry became what every regular guy rounder dreams of. Wednesday afternoon, Perry walked in to the Commerce Casino, and just like his 798 fellow competitors, he plunked down his $300 buy in, and dreamed of hoisting the trophy. But, unlike the other 798, Dannie's dream became a reality. Dannie Perry walked out of the Commerce Casino Thursday night with over $60,000 after winning event number one of the Commerce Casino's LA Poker Classic. Be sure to check out the interview with Dannie below.
The action at the final table began quickly. A few of the shorter players were eliminated in short order, and things started to get tense once the group got down to five. Play went on for a while five handed, while several of the players were really trying to get a deal done. Talks of deal were finally quashed, and it was clear play would go on. Shortly thereafter, Peter Nam opened for 24,000, and Dannie Perry quickly re-raised enough to put Nam all in. Nam reluctantly called with KQ, only to be crushed when Perry turned over AQ. An Ace on the flop made it all academic for day one chip leader Nam, who went out in 5th place.'
At that point, the four remaining players huddled up, and hashed out a deal that took longer than it probably should have. Final dollar amounts reflect the deal. Congratulations to all the winners.
<center>LA POKER CLASSIC – EVENT ONE - $300 NLHE – FINAL RESULTS</center>
1st – Dannie Perry $60,000
2nd – Henry Antanesian $40,000
3rd – Danny Morgan $30,000
4th – Noah Jefferson $23,000
5th – Peter Nam $ 9,300
6th – Van Nguyen $ 6,975
7th – Mike Leslie $ 5,812
8th – Frank Rite $ 4,650
9th – John Hoang $ 3,487
10th – Ross Kelly $ 2,557
Interview with the winner, Dannie Perry.
PN: Where do you live, and what do you do?
Perry: I live in the Valley, and I am an entrepreneur. Luckily, I have a wife who is a doctor. She's been dealing with me with this tournament pursuit for quite a while now, and it's caused her some grief at times, but I think she'll be happy that I made some progress tonight.
PN: Is this your biggest cash to date?
Perry: Yes. This is the first significant event that I have cashed in.
PN: Any key hands you can think of during the two days that stand out?
Perry: Yes, two actually. There was a hand yesterday. We were down to three tables, and I was in the BB. A gentleman made a significant raise. I felt like I needed to start taking risks. I looked down at QJ. For some reason, I felt great about the hand. Normally, I would throw that hand away. Something told me to call, and I did. Turns out my opponent had KK, and I was way behind. Luckily I flopped a set of Queens. The turn was also a queen. After that I knew I was home free to get to the final table.
Then today, a gentleman made a pretty significant raise. I had A4, and I took another risk, and called. The flop came A4X, and it turned out he had QQ. The turn was another Ace. I got very lucky in this tournament, but you have to get lucky to win. I'm not as good as a lot of these guys.
PN: Where you going to put the trophy?
Perry: I think I will leave that up to my wife. She deserves it more than I do.