Thunder Strikes: An interview with Thomas Keller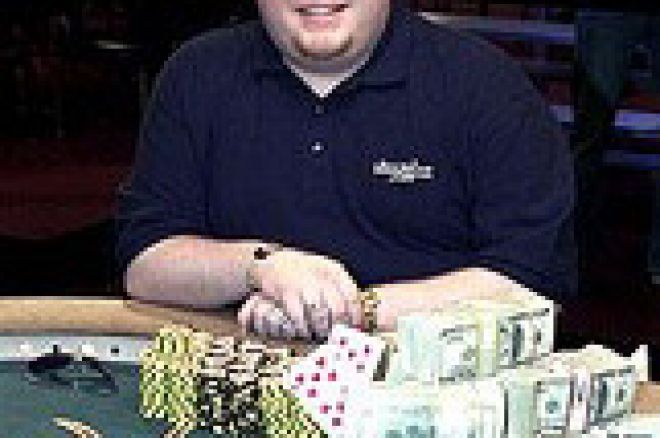 Thomas "Thunder" Keller has been known as one of the top young players in the game for a while now. His victory in the $2,500 No Limit Holdem event at the 2003 Bellagio Five Diamond Poker Classic put him on the tournament poker map for good. But it was his victory in the $5,000 No Limit Hold Em event at the 2004 World Series of Poker that put him in an elite group of bracelet winners, and put his skills on television, for all the world to see. At the ripe age of twenty-four years old, Thomas seems to have the poker world by the tail. I recently caught up with him to see how life has been the last year or so.
PN: What has been the biggest change in your life since you won a WSOP bracelet?
I think people perceive notoriety incorrectly unless they have actually received some of it. It changes the way people perceive you, but it doesn't change who you are as a person. A lot of people ask questions of me, or some people socialize with me who may not have before, but it hasn't been that different. I think a lot of people think when you become known, it changes you, but I don't think it has changed me.
PN: What has been the hardest thing to adjust to?
I haven't had a big problem with it. I have had things like people coming up to me, while I am at dinner saying things like "I can beat you at poker, let's play right now", but things like that have been pretty rare, and in general its been pretty smooth.
PN: You went to Stanford. Do you think your top shelf education gives you any kind of advantage over other poker players?
I don't really know. A lot of poker players are very intelligent even if they don't have degree. I think some people think having a degree has more value than it is really worth. I think the fact that I got into Stanford may be a better indicator that I am pretty intelligent than the fact that I have a degree.
PN: Palo Alto (city where Stanford is located) is not a huge town. When you were there, did you ever play with, or run into Phil H? (Hellmuth makes his home in Palo Alto)
I never met him then, which is funny because he said during the whole time he was writing this book he was at this coffee shop, which I had been to a number of times, because it is right near the university. He said he was pretty much there every day, but I never ran into him, no.
PN: Obviously, you are a poker player…But, do you consider yourself a gambler?
I'm definitely a gambler, but when it comes to finances, I primarily play poker, and I generally stay away from most other forms of gambling.
PN: Talk about UltimateBet, and why you choose to affiliate yourself with them over any other site?
I'm really good friends with a lot of the people at Ultimate Bet like Annie Duke, and several of the other team members like Antonio Esfandiari. I've played on there a long time, and I really love the software, and the customer support is great. Also, they have the fastest shuffle you will see on the internet. For instance, if you are playing heads up, sometimes you can get in close to 300 hands an hour, which is amazing.
PN: In the last year, do you find yourself trending toward more online play, or more toward live play?
When I'm playing tournaments, its almost always live. I try to hit most of the big 10k events. Outside of tournament play, I usually seem to be ending up playing online. Once you get used to the pace of online play, you can play so much faster than live, its kinda tough to make the transition and go back to live play.
PN: So, do you tend to not play much side action when you are at a tournament site?
Not much anymore. I used to, and now I don't. Even if I am at a tournament and I busted out, or it's the night before the event begins, and I want to play...You can usually find me upstairs in my room playing online rather than playing the live action. It's a combination of several of things – to play the really big limits, you need to carry a big roll around, and I don't like to do that. I can play very big online, and play a bunch of different games, and all I need to do is carry my laptop, which is nice. Also, the speed factor is important too, live play can seem so slow by comparison.
PN: What are your goals as a player in 2005?
I'd love to win another big tournament this year. But, its tough because you want to make goals, and you want to be realistic, too. With the size of the fields being so big, and given the fact I will only play 12-15 events this year...realistically, what are my chances of actually winning one, even if I am one of the better players? Also, I don't hit every tournament, and I don't play in smaller events.
I try to do well outside of the tournaments, and I try to have fun when I play the big tournaments. It seems like so many people take poker so seriously, and get so bent out of shape from it. At the end of the day, I still see poker as a game, and I try to have fun with it. I figure I'm a good player, and it will work out in the long term. You will go through stretches of months, or maybe a year or more where you will run bad, and I think you just have to take it with a smile I think. I know a lot of people who have been driven pretty crazy by poker.
PN: You recently participated in the WPT's "young guns" episode. What was that experience like?
It was a lot of fun. It was extremely competitive, and I think that a lot of us wished the blind structure wouldn't have gone up quite as fast, but that's the way it works for TV.
PN: Any young players you know that you feel like could have been at that table also?
When I walked in, I was a little surprised that Gavin Griffin wasn't there, as he had just won a bracelet also. Also, my twin brother, Shawn who is a professional too, but he doesn't play as many tournaments.
PN: In 2004, you got married. Talk about what effect having a stable home life has had on your poker game.
I think having a strong foundation at home is very important, and very helpful. The life can be pretty grueling, so its nice if you have had a bad day to have someone to go home to who will understand.
PN: What do you think the biggest challenge is facing the business of poker as the explosion continues?
That's a great question. I think one of the biggest challenges is to take poker away from other forms of gambling, and showing it more as a game of skill. I think a lot of people still have a perception of poker like blackjack, craps, or whatever where anyone can win, but its mostly luck. In the short term, that may be true, but I think in the long run we all know that that is pretty ridiculous. I don't know how much that would help the business aspect of it, but I think it would help the competitive side, and the TV side would be helped a lot if it was shown more as a game of skill.
Readers can find out more about Thomas "Thunder" Keller, and contact him by going to his website www.thunderkeller.com