Doyle's Room Splashes the Pot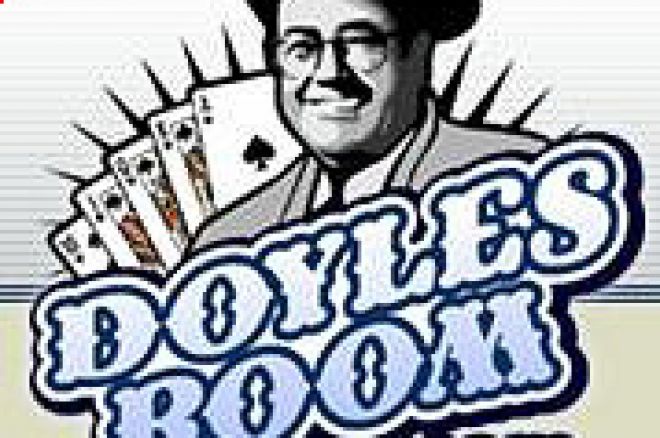 Doyle Brunson: poker champion, classy gentleman, and living legend. There is much more to be said about Mr. Brunson. However, his recent foray into the online poker world is quite an achievement in itself. DoylesRoom may not currently be considered one of the big online rooms, but it certainly should be. DoylesRom.com offers a wide variety of No Limit Holdem tournaments, both single table and multi-table, two bonuses including receiving Mr. Brunson's Super System 2 for free, both real money and play money, plenty of freerolls, No Limit Holdem and both Omaha and Omaha 8, a personal profile, buddies list, plenty of avatars, a main chat room, and a great interface.
The best feature of Doyles Room is the plethora of available tournaments. They boast more than 60 tournaments held every day. In addition to that, they hold a $50,000 guaranteed tournament and a $100,000 guaranteed tournament once per month. They hold a few different super satellites each week as well. One great thing for many of the less-than-wealthy players in the world is that they have daily tournament with buy-ins as low as 25 cents. That's right, 25 cents! Actually, the also have frequent freerolls with the possibility of winning a bit of cash. Some of the freerolls require a certain number of Action Points, which are accumulated by playing real money hands, and still others are test tournaments with no money or points required. That provides ample opportunity for the poor to build a bankroll. It also provides the already successful player to enter into tournaments with hefty rewards. The room certainly can appeal to every player throughout the spectrum.
The many amenities offered by the DoylesRoom.com software are extremely attractive. As I mentioned, the first thing of notice is the main chat room. Here you can chat in real time with the other poker players on the site. In fact, today someone was hosting a quiz game in the chat, apparently offering cash prizes. Included with the chat room interface is information about special tournaments and the like. The buddies list is also a nice feature, so you can keep track of both your friends who play at DoylesRoom.com, and those 'buddies' who you would love to play every day for the rest of your life. The profile section allows you to let others know a little bit about yourself and some of your favorite things in life. They even have sections to brag about your kids and pets, and tell your favorite poker story. They have a huge amount of avatars to choose from to bolster your table image, or just for fun. Unfortunately, you cannot upload your own image, but that fact is offset by the scantily clad women avatars, in my opinion.
Ring games are not lacking either. They range from 2 cent/4 cent limit games to $50/$100 limit games, 5 cent/10 cent no limit games to $5/$10 no limit games, and everything in between. Again, no matter how small your bankroll you can find a game to play, no problem. Currently there are 2,936 players logged into the room at 2:07 PM EST. That may not be as many as some of the big rooms, but that is a decent amount of opponents for two in the afternoon.
DoylesRoom.com is an excellent place to play poker. If you have never even seen the software, it is certainly worth a download if for nothing else than to look at and browse. You have to appreciate the interface and the low priced games and tournaments, if nothing else. So go! Give it a try! Now!
O, good luck and good odds!