LA Poker Classic - Event #15 - $1,000 buy in 7 Card Stud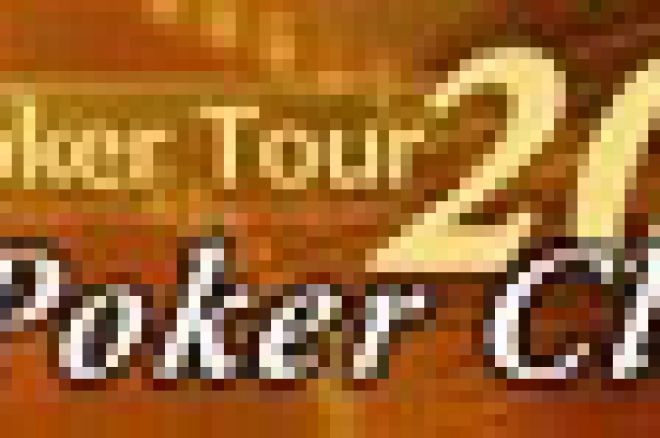 A clinic was put on Thursday night at the Commerce Casino. I'm not talking about the "learn how to play Caribbean Stud" clinic they put on to teach new players how to put the dollar in the little slot. No, I'm talking about the 7 Card Stud clinic put on by Mel Judah upstairs in the ballroom, as the final table of event #15 was playing out.
For the second night in a row, a player on a short stack came roaring back, and took the whole thing down. Mel Judah played masterfully, and showed everyone at the table why he is truly a world-class champion player.
There were two Joes at the final table tonight, but Joe rhymes with go, and neither of the Joes lasted very long. Joe Baron was the first to hit the road. Joe made Jacks up, but Esther rivered an 8 for trips, and tripped up Joe's plans. Joe Baron finished 8th place, and took home $2,155.
The next Joe's exit was pretty ordinary. Joe Rocco was pretty much down to the felt when he found a pair of fives, and decided to go with it. Bad news time for Joe, as he was free to go get a cup of Joe as Mel Judah found kings, and they held up. Joe Rocco finished 7th, and took home $3,230.
Talk about being crippled. George Rechnitzer was down to a chip, and a chair after obviously missing a draw, and folding with his last chip in his hand, and about 20,000 in the pot.
George couldn't even make his ante on the next hand, and everyone folded around to Mel, who had brought it in. Cards were flipped up, and George, and his chip were no longer a couple. George Rechnitzer finished 6th place, and now had lots of chips - $4,307 worth to be exact.
On the next hand, Spring got cleaned out. Spring Cheong, who made a nice surge early, ran out of steam, and was forced to put all her chips in. She wound up with absolutely nothing, and Dan Torla made queens up, and put Spring out of season. Spring Cheong finished 5th, and picked up $5,384 which is nice any time of the year.
Next out was Esther Rossi. Esther started the day second in chips, but didn't have a whole lot of luck along the way. She lost a couple key pots to Mel, and ran into a run of dry cards. Esther chose to put all her money in with Aces up, only to discover that Dan Torla had made a flush on 5th street. Esther Rossi finished 4th, and walked away with $7,106.
Now the extent of Mel's brilliant play became really obvious to the others at the table. Down to about 6,000 chips no more than 45 minutes ago, Mel now had almost 100,000 of the 160,000 or so chips in play. After the tournament, Mel said he had noticed when he was down to 6,000 that the other short stacks were just trying to survive, and move up the money ladder. He said that was his cue to go for it, and go for it he did. Mel began going after a lot of the pots, and the other players didn't have the cards to contest him.
Down to three now, and Ted Forrest was beginning to get short stacked. Ted started with 4567 with three spades, and felt like this was going to be his best chance. So, Ted kept firing, as did Mel, and at the end of the hand, Ted could get no further help, and Mel had made Kings up on fifth street, so Ted had to go. Ted Forrest is a world-class player, who didn't have a lot of luck today, and it should be noted that he actually played pretty well. Ted Forrest finished 3rd, and won $10,767.
But this was Mel Judah's day – plain and simple. When it got down to two players, Mel proposed a deal that Dan Torla took immediately. Dan had seen the carnage that Mel had wrought upon the table, and thought a deal would be best. The players shook hands, and event # 15 was over.
Mel is a gentleman, and a class guy, and this was a pleasure to watch. Stud is not my favorite game, but any game being played this well will thrill the avid poker fan. Mel's opponents were worthy, if unable to stop him this day. Final results are below. Be sure to check back tomorrow, as a healthy field of 406 players plunked down $1,000 to play some No Limit Hold Em. The top prize is $145,000, and many top players were still in as I left the ballroom Thursday night.
Final Results
1st – Mel Judah $36,000
2nd – Dan Torla $27,000
3rd – Ted Forrest $10,767
4th – Esther Rossi $7,106
5th – Spring Cheong $5,384
6th – George Rechnitzer $4,307
7th – Joe Rocco $3,230
8th – Joe Baron $2,155