L.A. Poker Classic Event #20 - $1000 No-Limit Holdem Shootout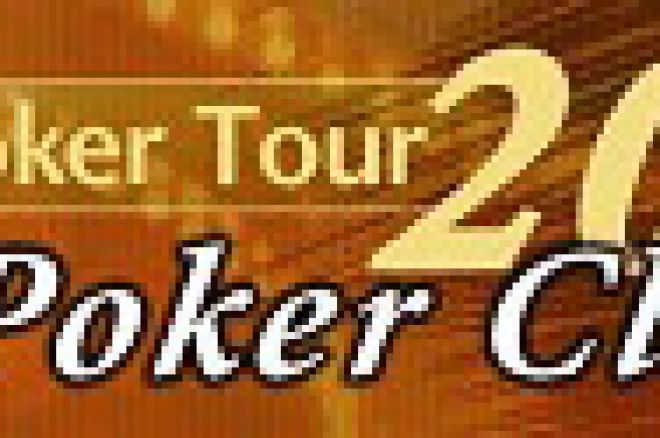 Shootouts are supposed to be over quickly, right? That wasn't the case as we came to the final table for Tuesday night's Shootout event. One hundred and ninety players had begun the event, which basically are one table playoffs that play down to one player before consolidation, making the prize pool a nice $184,300. With the blinds at a minuscule 25/50, we settled ourselves in for a long evening. The table set up as such:
Seat 1: Captain Tom Franklin, 2,975
Seat 2: Ramzi Daniel, 1,225 (short stack)
Seat 3: Chip Leader Paul Pirrone, 6,725
Seat 4: David Stroj, 2,425
Seat 5: Derek Bukowski, 2,975
Seat 6: Alan Smurfit, 2,350
Seat 7: Alex Golshanara, 1,625
Seat 8: Former WPT Champion Mel Judah, 2,175
Seat 9: Tony Cousineau, 3,125
Seat 10: Binh Do, 2,900
From the start, it was evident that the players were all going to play the event very tight. Several hands went by with raises unchallenged, even when the shorter stacks made their stands. The blinds increased to 50/100, and we nearly had our first casualty of the evening. On Hand 23, Do made a raise to 300 and Alan Smurfit called. The flop came down Qh-10h-5x and both checked. The turn came with a six and after Smurfit checked, Do fired a 500 chip bet into the pot. Alan decided it was time to gamble and raised all in. Binh quickly called and, after Smurfit turned up a nut flush draw with the river to come, he had to feel good about his set of sixes that he had hit on the turn. The river card turned the draw into a made nut flush for Alan as it was the four of hearts. Binh disgustedly turned away from the table before coming back to count out what he owed Smurfit. When he was done, Do was left with only about 500 chips.
"Honestly, I did not even think of him on a set," Smurfit, with his clipped British accent, commented to me later. "I thought he was trying to make a play and did not expect him to call me. I definitely got lucky!"
Do slowly began his comeback, going all in twice. He picked up the blinds the first time and, after being called by David Stroj, had his A-J outdraw Stroj's pocket nines. He climbed back up into the fight as Stroj was crippled to 200 chips.
David Stroj was soon to go after that. On Hand 35, found an A-5 he felt was good, until Derek Bukowski called him and flipped up pocket sixes. When the board provided no help, Stroj went home in tenth place.
Just before the first break on Hand 46, Tony Cousineau raised from the button and Binh Do called from the small blind. Do checked a flop of 2-Qd-7d to Cousineau, who fired 250 that Do called. A four of diamonds came on the turn and Binh opened up with 400, which Tony responded to by going all in. Do went into the tank for some time, eventually prompting Cousineau to call for the clock on him. With a reluctant flip, Do showed the table the Ace of diamonds and folded. Tony turned up a seven to the table. "I wanted to push him off the draw," Tony remarked. Binh, though, had him covered, as I found out at the break. "I had top pair, top kicker and the nut flush draw (Ad-Qh)," Do said to me. "He (Cousineau) is a good player, and I put him on pocket kings," he shrugged as he returned to the table after the break.
The blinds moved up again to 75/150, and everyone was so tight that the table squeaked. It was an excellent display of discipline as the players gave due respect to their opponent's raises and stayed out of the way. Paul Pirrone, who had come to the table as the chip leader, said to me, "I tried to get some action going early, but it was obvious that everyone was going to play tight. I decided after not getting anything going to sit back and wait out the small stacks.
And a long wait it would be! The combatants played over fifty hands before we lost our next player on Hand 89. Alan Smurfit made it 500 from the cutoff, only to find Tony Cousineau going all in from the big blind. Smurfit called and was dismayed to see Cousineau's pocket queens against his A-10. The board four suited with spades (including the Ace), and Cousineau locked up the pot with his Queen of spades. A river Ace only offered Alan Smurfit a chance to think "what if..." as he left the game in ninth place.
We would go nearly another fifty hands before we saw another player exit the Crowne Ballroom. On Hand 124, Paul Pirrone had been severely crippled in a hand against Derek Bukowski. After our second break, on Hand 137, Pirrone found Presto in his hand and decided the time was now. He moved all in, and Tony Cousineau gambled and called. His pocket sixes put the jinx on Pirrone's pocket fives and, with no magic from the board, Paul was gone in eighth place.
With the blinds at 100/200 and a 25 ante, the remaining players still had very healthy stacks in respect to the blinds. It wasn't until Hand 159 that Ramzi Daniel raised a pot up to 1100 that Alex Golshanara decided to take a stand, going all in with pocket Jacks. Ramzi called him with a smaller stack and A-K and, with no help from the board, Ramzi Daniel was gone in seventh place.
Binh Do, after being on the brink of elimination earlier in the evening, quietly and effectively climbed back into the tournament. He bluffed extremely well, pushing Captain Tom Franklin off a large pot, then flashing a gutshot straight draw to the table. He also attacked with strong cards and made himself an enigma for many at the table.
On Hand 198, Binh raised all in from the button and found a willing participant in Alex Bukowski. Bukowski was a huge favorite as he turned up A-J against Do's suited Q-10. The board was not cooperative with Alex, however, as a queen fell on the flop and, by the river, no help came. Binh eliminated Alex in sixth place.
Do claimed another victim on Hand 202. Mel Judah, who had been battling a rash of cold cards, went all in and Binh called. Judah's J-6 of hearts was dominated by Do's A-4 off and, when a four hit and nothing came for Mel, he went home in fifth place. "I just could never catch a hand," Mel said to me after he was eliminated. "I think I saw one hand in two hours that I would consider playable and, in a tournament, that spells your death."
Another hand was played, then discussion of a deal commenced. After a fifteen minute deliberation, the talks were scuttled and play continued. The very next hand we saw a familiar situation. On Hand 205, Tony Cousineau pushed all in with his A-J against Binh Do's Q-10 (sound familiar?). Binh once again drew out to his hand as a queen fell on the flop and Tony was done for the night in fourth place.
Talks began again for a deal, and this time they went through. After a six hour battle, Binh Do, who was down to the felt early, turned it around to take the championship of the Shootout event!
Final Results
Binh Do, Vancouver, WA $67,820
Captain Tom Franklin, Fresno, CA $35,017
Alex Golshanara, San Jose, CA $17,324
Tony Cousineau, Daytona Beach, FL $11,058
Mel Judah, London, England $7,372
Derek Bukowski, Los Angeles, CA $6,451
Ramzi Daniel, Los Angeles, CA $5,529
Paul Pirrone, San Marcos, CA $4,608
Alan Smurfit, Miami, FL $3,686
David Stroj, Chula Vista, CA $2,949
The final table lasted so long tonight that there were only twenty six players left in the Limit event for tomorrow night's final table. It should be another interesting battle as we approach the Main Event in the L. A. Poker Classic.