L.A. Poker Classic Event #22 - $2500 No-Limit Holdem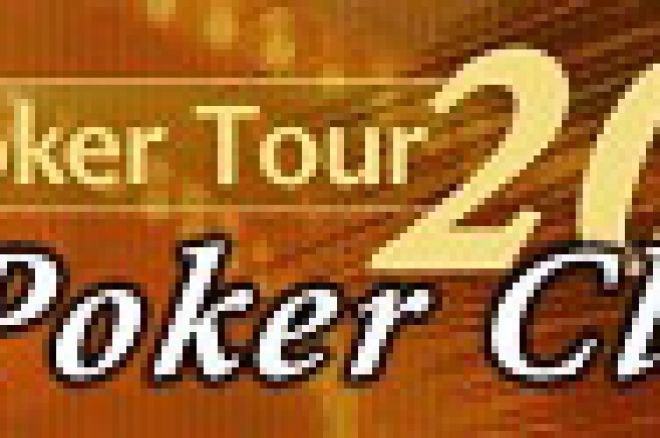 With the World Poker Tour's Main Event starting on Friday, you would have figured that the tournament on Thursday would be a quick event. Everyone would want to get their rest as they prepared for the $10,000 WPT event. The table even attempted to comply, as we started the night with nine players, after chip leader Max Pescatori took down two players, Sam Grizzle and Eulises Sandoval, on the final hand of play early Thursday morning. Alas, however, it was not to be.
Three hundred thirty five players started off the event, making for a very nice prize pool of $812,375. With first place paying over $300,000, maybe the combatants would be more interested in playing than we thought. The table broke down as such:
Seat #1: Professional player Hon Le, 126,500
Seat #2: Ben Johnson, short stacked at 37,000
Seat #3: William Thorson, 169,000
Seat #4: David Cai, 106,000
Seat #5: Professional player John Phan, 107,000
Seat #6: Chris Bell, 104,500
Seat #7: Tobias Persson, 124,000
Seat #8: Bill Henson, 177,500
Seat #9: Chip Leader Max Pescatori, 227,500
Business quickly got going with an ante of 500 and the blinds at 2/4K. Just after we completed the first round of the table, we lost our first player. Hon Le was the victim of a tremendously unfortunate draw out by the hand of twenty two year old William Thorson. In reflection, perhaps it was the slowplay of his hand that costs him his tournament. He limped on Hand 11 and was followed into the hand by Cai, Thorson and both blinds. The flop looked innocent, coming down 3d-9-10d. Le fired a 20,000 bet into the pot which was called by Thorson and, after a turn king, Hon dropped the rest of his stack into the pot. Thorson was more than happy to call, as the turn had completed his straight and he showed Q-J. Le was disgusted as he turned up pocket Aces and, with a rag on the river, went home in ninth place.
After a blind raise and nine more hands, another man was out of the game. Ben Johnson had been short stacked coming to the table and felt fortunate to have moved up a spot with Le's departure. Johnson decided it was time to make a stand and pushed all in, where David Cai was waiting with his call. Oddly enough, Johnson had chose the wrong moment to make a bluff at the pot as he turned up only an 8-5. Cai's A-J had him totally dominated and, with no help from the board, Johnson was done for the evening in eighth place.
William Thorson, along with his compatriot twenty three year old Tobias Persson, made quite a bit of early noise. He challenged John Phan early, on Hand 25, and forced the veteran to lay down his hand to take the chip lead. Both Thorson and Persson wore hats emblazoned with the logo of Martinspoker.com, the online poker site of reigning World Poker Tour Champion Martin de Knijff. De Knijff was close at hand on the rail with several other members of what I learned was a ten player contingent from Sweden (nine men, one woman) who were there to play in the WPT event. "They are both excellent players," Martin remarked after I commented on the cool composure and excellent play of the two young guns. I suggest you remember their names; we should be hearing from them again.
On Hand 28, it was time for another casualty for the event. Bill Henson had been slowly working his way up and decided to move his 97,000 chip stack into the center. David Cai went into the tank to consider his options (something that happened at the entire table throughout the evening) before making the call with A-K. It was not what Bill wanted to see when he turned up his A-Q. A board of rags came, and Henson went out the door in seventh place.
Just before we entered the first break, Chris Bell decided it was time to play. He limped in on the small blind to take the flop with Persson and, after the flop came 8-5-8, called Persson's 15,000 chip bet. The turn came with a six and Chris went all in. Tobias quickly called him and turned up a pair of nines. Chris turned over an open end straight draw with his Q-7. The river Ace spelled the end for Bell and he was out in sixth place.
That was the last time we would see that for almost two hours. Play was excellent, albeit definitely on the slow side. There were only approximately 20 hands played per hour and the clock was called on one player or another around a dozen times. John Phan was one of the most deliberate players, but everyone had the clock counting on them at one time or another. There were, however, more turns in the game than a Formula One racetrack, with no one definitively capturing the chip lead throughout the tournament, which was the cause of the methodical and intelligent play.
As we neared our second break, Thorsen was having some troubles. He tried to eliminate his fellow Swede Persson on two different occasions, failing to draw out to his hand against Persson's pocket pairs and doubling Tobias up twice to take the chip lead. On Hand 71, William tried his luck against another opponent, Italy's Max Pescatori, only to fall victim with A-9 against Max's pocket Jacks. When the saving Ace did not come, Thorsen was out in fifth place.
For the second night in a row, there was no discussion of a deal. The idea might have been bandied about by Pescatori, who remarked about the time and getting some rest for the Main Event, but everyone else was in the mood to play some cards and Max quieted up about a deal.
Action after the break, with the antes at 2K and the blinds at 6/12K, was punctuated by all in moves and no callers. A short stacked Pescatori tripled up on Hand 94 when both David Cai and John Phan called his all in. When he hit the Ace in his hand on the turn, he was back into the game. He did this twice in a row, the second time only against Cai when Max (A-9) spiked a nine on the river to get a pair over David's Big Slick.
Another break came and went, and we were beginning to wonder just how long the final four would go at it. The lead had shifted among all four players at one point or another and no one could seem to keep a rush going. When we reached Hand 138, Max Pescatori made a move on Tobias Persson with A-2. Persson called with a K-Q and was rewarded with a queen on the flop. Max could not catch up with either the turn or the river and was done with the match in fourth place.
All three of our survivors, Persson, Cai and Phan then proceeded to swap the lead around for some time. Cai, perhaps, was the least fortunate of the three. With a large stack he attempted to eliminate Tobias Persson on Hand 153. Persson's stack was similar in stature (so close, in fact, it was difficult to tell who had more chips) as his pair of sixes faced off against Cai's pocket queens. The unbelievable happened to Cai as a six fell on the flop and a queen did not come down the board. After the counting was done, it was found that Tobias had more than David did and Cai was the recipient of the third place prize.
We went to still another break to color up the chips, and John Phan was at a distinct disadvantage. He then went on the attack on Hand 164, going all in with A-5 against Persson's K-7. The ace came on the flop, as did a king, but nothing else and suddenly Phan was back to equal with Persson. The end came six hands later as the two clashed again. After a raise from Tobias, John called to see the flop come 7-4c-3c. After a check from Phan, Persson fired off 100,000 chips and Phan went all in. Persson, perhaps believing Phan to be trying to steal the pot, called and showed a Q-3, giving him the bottom pair. Phan turned up the top pair with A-7c. Two more clubs came on the turn and river and Phan dispatched of Persson to take the first place check and the "Bronco Buster" trophy after a very long night!
Final results:
John Phan, Long Beach, CA $300,578
Tobias Persson, Sweden $154,351
David Cai, Alhambra, CA $77,176
Max Pescatori, Milan, Italy $48,743
William Thorsen, Sweden, $36,557
Chris Bell, Raleigh, NC $28,433
Bill Henson, Bell Gardens, CA $20,309
Ben Johnson, Oakland, CA $16,248
Hon Le, Bell Gardens, CA $12,998
(tied) Sam Grizzle, Las Vegas, NV $9,749
(tied) Eulises Sandoval, Bell Gardens, CA $9,749
The World Poker Tour now takes the center stage in the Crowne Ballroom as the $10,000 event begins Friday afternoon, with the WPT Invitational and the Professional Poker Tour's final table both next week. This was the last points event for the L. A. Poker Classic, so we should have an idea who the All-Around Champion is tomorrow. What isn't finished is the fantastic action that the Commerce Casino and the L.A. Poker Classic have provided!