LA Poker Classic - Event #5 - $500 buy in - 7 Card Stud Hi/Lo Split - Final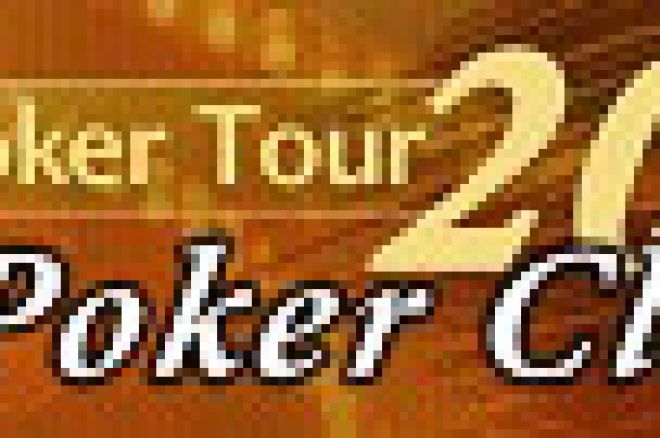 When I woke up this morning, I got the final table chip counts for this event. They looked like this.
Paul Darden 77,100 in chips
Liz Heim 68,300
Saundra Taylor 15,300
Dr Max Stern 11,100
Roberto Flood 11,100
Paul Honas 5,400
Brian Hegstad 4,200
Henry Uranga 2,400
And I thought to myself "Hmmm...I wonder if Darden will carry the trophy out in his left hand, or in his right hand?" Then, I discovered that the limits were at 2,000/4,000, and realized that five of the eight players on the table couldn't play one hand out fully without being all in, and I thought to myself "Hmmm, so the tournament starts at 7, and I wonder if we'll be heads up with Heim & Darden by 7:30, or 7:45".
Both those questions were answered Monday night at the Commerce Casino. And while it took longer than 7:45, at least one of my assumptions came true.
As you might imagine at a table with such short stacks, it took hand one to eliminate player one. Henry Uranga tossed his chips in the middle so fast, I didn't have my pencil out yet to record the cards. But it was Darden who made Kings and 9's, besting Uranga's 3's and deuces to eliminate the first player. Uranga's seat was not yet warm, and he was heading to the tournament director's desk to collect his $1,892 for finishing 8th place.
Not surprisingly, hand number two produced elimination number two. Brian Hegstad, who literally looked fourteen years old (it should be noted that with all the young faces at No Limit tournaments today, it is refreshing to see a really young guy playing Stud/8) was all in on hand # 2, and again it was Paul Darden knocking Brian out of the tournament. Paul again made two better pair, as his Aces up bested Brian's 8's and 4's to send Brian packing, and back to school. Brian Hegstad finished 7th, and collected $2,837 for his efforts.
Next to go was Paul Honas. With the blinds, and the bring ins so high relative to his stack, it should be noted that Paul had four of the first seven bring ins, which crippled him even further. On hand 8, Honas got his fifth low card, and decided he could do nothing but throw his remaining chips in. Three other players joined him in the pot, Darden, Saundra Taylor, and the affable and respected Dr Max Stern. Chips flew into the center, as three players built a huge side pot. Darden decided to bail out after 6th Street, and Dr Max was all in on 6th street. The result was Dr Max and Saundra chopping a huge pot, as Dr Max's 8 low was good for a chop with Saundra's Aces up. Unfortunately for Honas, he could not quadruple up, and was sent packing. Paul Honas finished in 6th place, and collected $3,783.
The first scoop occurred five hands later, as the two short stacks, Roberto Flood, and Saundra Taylor played a big pot. Saundra scooped both halves of the pot as she showed her eight low, and her spade flush. Roberto mucked his hand, and was severely crippled at this point. Roberto doubled through Darden on the next hand, but was still so short that it was only a matter of a couple hands before he was eliminated when he missed his low draw on the river, and Saundra's pair of Kings sent Flood out into the streets. Roberto Flood finished 5th place, and earned $4,729.
Play continued for about an hour, with a few chips changing hands, but mostly chopped pots, and uneventful poker. The players went on break, and at that point the rough chip counts were Heim – 72k, Darden – 65k, Dr Max – 39k, and Saundra Taylor – 21k. Upon returning from the break, Saundra announced "OK, no more breaks, let's play. The very next hand, Saundra lost a small pot to Darden when she mucked on 4th street. The next hand, Saundra got all her money in with J 5 4 5, Liz Heim called her with A 7 2 8. There was no low to come for Heim, but she spiked a seven to best Saundra's fives, and sent Saundra home with 4th place prize money of $6,282.
It was now about 8:45, and my prediction of heads up play by 7:45 was long gone. But the assumed showdown between Darden and Heim was about to come to fruition, as Dr Max was crippled when Darden's Q's and 5's beat Dr Max's 8's and 4's. Three hands later, the Doctor was out as Darden made a straight on 6th street that beat Dr Max's 10's and 6's. Dr Max Stern finished 3rd, and took home $9,458, which will buy a lot of tongue depressors.
The heads up match that seemed imminent was now upon us. At the beginning of heads up play, Darden had a slight chip edge, but it was basically too close to call. One thing that was nice about this final table is there was not one mention of a deal. Not with four players, three, not even heads up. First place was going to get first place money, and that was that.
The first significant pot of the heads up play came when Darden made a straight on 6th street, and took a pot of about 30k down. A chip change allowed me to take a quick count, and I put the chip counts at about Darden – 115k, Heim 80k.
The next significant hand of the tournament proved to be the turning point. Liz Heim made trip 4's to best Darden's two pair, and took down a pot of about 60,000 chips. The dam broke about five hands later when Liz's Aces up bettered Darden's Queens and sixes for another huge pot. At this point, Darden was on life support, and it was looking bleak.
Everyone expected it to end right then and there, but Darden held on for about another 20 minutes, fighting like the champion he has proven himself to be. Heim had Darden all in on at least five occasions, and in fact at one point the chip count was Heim 192k, Darden…3k. But Heim proved herself to be a tough player, and kept the pressure on Darden. Finally, Heim made a club flush on 6th street that was good enough to send Darden packing. Paul Darden finished 2nd, and took home $18, 915. Liz Heim was the LA Poker Classic 7 Card Stud Hi/Lo Champion. Below is a quick interview with the champ.
PN: What do you do for a living, or did I just watch it?
Heim (smiles): I am a Sergeant in the LAPD.
PN: Is this your biggest tournament cash to date?
Heim: Yes.
PN: Is stud/8 your best game?
Heim: As far as tournaments, yes. I do play hold em a lot in the cash games.
PN: Obviously, you and Paul came into the day with a huge chip lead on the rest of the table, how do you approach that mentally.
Heim: I think you have to sit back, and let the short stacks beat on, and eliminate each other.
PN: It seemed inevitable that you and Paul would be heads up. Did you approach him differently than you would any other opponent because of his great record in this game?
Heim: Not really, you have to be mentally prepared to play, regardless of the opponent.
Paul is a terrific player, but I'm pretty good too.
PN: Any significant hands come to mind?
Heim: The trip 4's definitely…That was big.
PN: Lastly, where are you going to put the trophy?
Heim: We have a bar area in our living room. It will look nice there.