LA Poker Classic - Event #7 - $500 Pot Limit Holdem - Final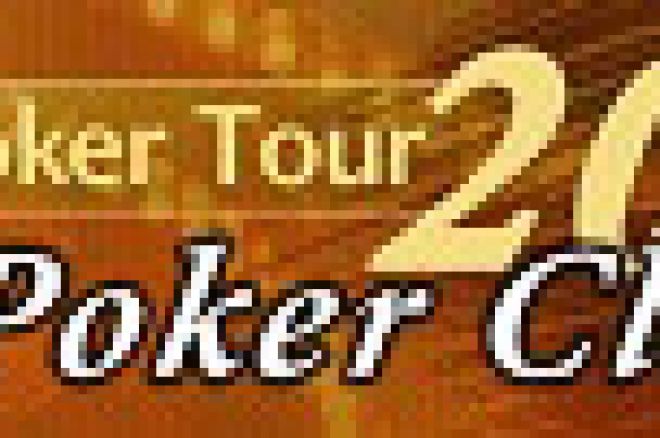 Driving to the Commerce Casino tonight, I knew I was in for a chatty, fast paced and fun final table. Men "The Master" Nguyen is always entertaining, and fun to watch. In addition, I saw Freddy Twin would be there as well (Freddy put on a big rally to finish 2nd in the $300 NLHE w/rebuys earlier in the week), and I knew from earlier in the week that Freddy's posse would be raising as much hell as Freddy would be raising pots. I put the over/under on Coronas consumed at the final table at 10. To add a twist, we had an NHL Hockey player at the final table. Unfortunately, Travis Green of the Boston Bruins has plenty of time to play poker these days, as it appears there will be no hockey season. Eventually, I would not be disappointed in the atmosphere – although things started very.........slow.
The Master was not the only Nguyen at the final table. In fact, there were three players with that last name. The Master himself, his apprentice Minh, and Vinh rounded out all the Nguyen's at this final table. It was clear early on that at this final table, you were going to have to know when to say Nguyen. That's because two of the three players with that last name were the first two to go.
Vinh was first out as he raised the pot with 77. Saul "Action" Eskin called him in the big blind with AJ of spades. Saul flopped a straight draw, turned a flush draw, and made his straight on the river, causing Nguyen to ask why. Vinh Nguyen finished 10th place, and pocketed $2,532 on the way out.
Even with Twin, Men the Master, and the very aggressive John Murphy at the final table, the action man, at least early on was Saul Eskin. Saul was throwing chips around the table, and mixing in a wisecrack or two here and there. Saul fit the fabric of the final table very well. Three hands after we lost our first Nguyen, Jay Yu raised from the button, and Saul re-raised the pot, putting himself essentially all in. Yu went in the tank, but eventually called flipping over 77. Saul proudly flipped over QQ, and his ladies were good to double him up, and put him right in the hunt.
Two guys at this table just always seemed to be at the wrong place at the wrong time. One of them was the well-liked long time player Mickey Mouse, and the other was Jay Yu. Four hands after Jay's 77 ran into QQ, he made a move on Men's big blind. Men re-raised the pot, and showed AA when Jay layed his hand down.
Lady luck always plays a major part in poker, and she was very prevalent in the quick end to Minh Nguyen's night. Minh raised from the small blind, and Freddy Twin re-raised. Minh came back over the top, putting Freddy all in. Freddy called, and flipped over A6 of clubs. Minh happily flipped over A10, but his happiness turned sour as a 6 came on the flop. Freddy Twin doubled up here, and the hand crippled Minh. Minh knew he had to hustle, so on the very next hand, he put his few remaining chips in with A10. Unfortunately for him, Saul woke up with JJ, and there was no Ace for Minh. Minh Nguyen finished 9th, and took home $3,376.
Next out was our pro hockey player. Travis Green of the Boston Bruins was ready to check the Master hard into the boards after his all in with KK was called by Men with A6. A6 was again the magic hand at this final table, as the first card off was an Ace. Travis took his $4,220 for eighth place home, no doubt wondering when he would play hockey again.
Next the "wrong place at the wrong time" thing reared its ugly head again. Mickey Mouse raised with A10, only to have Jay Yu, to his left, come over the top of him all in. Yu was a bit short stacked, so it was an automatic call. Unfortunately for Mickey, our chip leader when the day started, he ran into another monster hand as Yu flipped over QQ. No Ace for Mickey, and it was Yu who was in the magic kingdom, having doubled up his short stack. It was soon Mickey's turn to double up his now short stack, as he re-raised the Master's opening bet with 66. The Master could only flip over 86, and there was no miracle 8 for the Master, thus Mickey survived.
The next player out was Steve Dunning. This was Steve's first ever Pot Limit tournament, and he survived until his JJ ran into Men's AK. The flop of AK6 sent cheers through the crowd, and there was no miracle J for Dunning, who picked up $5,274 for his 7th place finish. Not too bad for your first Pot Limit event ever.
Finally, one of the "wrong place" guys had to go, and it was Jay Yu re-raising John Murphy for his few remaining extra chips. Jay had KQ, Murphy 99, and there was no K or Q to keep Yu's hopes alive. Jay Yu finished 6th place, and carried $7,384 out of the tournament room.
The very next hand, the other "wrong place" guy had to go. Mickey Mouse had people
come over the top of him, and had his big hands run into bigger hands all day. But, like the wily veteran he is, he hung on as long as he could. Mickey's pocket 9's ran into Freddy Twin's AK. Two Aces on the board made the Mickey's day end, and the Mouse was no longer in the house. Mickey collected $9,494 for his fifth place finish, and a nice round of applause for his trouble.
At that point, a deal was cut, and it was decided that the remaining players would play for a small amount of cash, and the trophy.
For about the next 15 minutes, the chips flew wild & recklessly around the table, and even more Coronas were consumed (by the way – did you take the over, or the under on the number of Coronas consumed at this final table – The over? You win!). After a serious amount of gambling was done, both Saul Eskin (4th place), and Men the Master (3rd place) were out.
It came down to a battle of the two posses. John Murphy's posse was reserved, if vocal. Freddy Twin's posse was….well, just plain vocal. In fact, Freddy's brother showed the crowd repeatedly that he only knows one line from one song (a line from a Lloyd Banks song that cannot be repeated here), as he repeated the line over….and over….and over.
The two groups of supporters went back and forth, causing rawkus laughter, and a fun time for all. Oh Yeah….John Murphy won the poker tournament, as his pocket 3's caught a third three on the flop, and Freddy was drawing dead with his Q7. It should be noted that in between the fracas of the two players groups of friends, John Murphy played good poker down the stretch, and made some key calls when he needed to.
The atmosphere post tournament was that of a big party, and John Murphy was buying the drinks – Corona please. Final results are below, and be sure and check back tomorrow, as the $1,000 NLHE shootout final table will be one to watch!
<center>LAPC Event # 7 - $500 Pot limit – Final Results</center>
1st – John Murphy $78,056
2nd – Freddy Twin $40,085
3rd – Men "the Master" Nguyen $20,043
4th – Saul Eskin $12,659
5th – Mickey Mouse $9,494
6th – Jay Yu $7,384
7th – Steve Dunning $5,274
8th – Travis Green $4,220
9th – Minh Nguyen $3,376
10th – Vinh Nguyen $2,532