L. A. Poker Classic - World Poker Tour Main Event - Day Two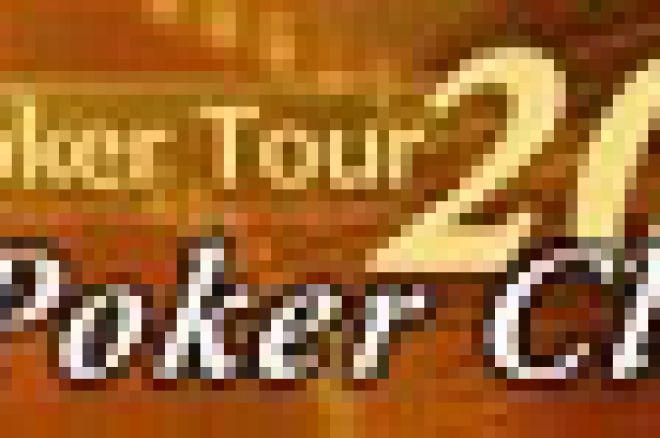 The clash at the Commerce Casino continued into Day Two on Saturday, as there were about 200 survivors from the first day of action in the World Poker Tour Main Event Championship in Los Angeles. There were some losses that were unexpected in the final moments of Level Six. Daniel Negreanu, who had been playing very well, decided at the wrong moment to take on Freddy Deeb and Freddy relieved Daniel of his chips and his tournament in one hand. Mel Judah also exited as did, surprisingly, Evelyn Ng, who had a decent size stack during the action on Friday, but come the bell Saturday, she was gone as well.
The top ten chip counts were as follows:
Eli Balas, 162,075 chips
CardPlayer Magazine's Barry Shulman, 123,600
Alan Goehring, 93,625
Eric Kesselman, 89,075
Peter Tran, 87,375
Tommy Hang, 81,450
WSOP World Champion Phil Hellmuth, 78,050
"Action" Dan Harrington, 69,975
Patrik Antonius, 63,900
Jani Sointura, 63,850
Some of the other professionals, however, were not doing so well. Far below the 26,900 average for the field were Paul Phillips, Men "The Master" Nguyen and former WSOP World Champion's Johnny Chan and Chris Ferguson.
There were still some excellent matchups around the room. One table in particular drew most of the railbirds' attention. Table 4 had Chan and Hellmuth squaring off against each other as well as reigning WSOP World Champion Greg Raymer. Johnny Chan was able to start the day off right as he doubled up through Bryan Kim. A flop of A-Q-10 rainbow looked good to Kim and he called Chan's all in, turning up A-Q for top two pair. Chan had played it masterfully, though, as he revealed the nut straight with K-J. Unfortunately for Kim, he would leave the Crowne Ballroom the very next hand after that.
Chris Ferguson could not resurrect his chip stack and was out of the tournament at 4:15. As we approached Level 8, with the antes at 100 and the blinds of 400/800, there were still sixteen tables in action.
Another interesting table featured two of last year's final table at the Main Event of the World Series as Josh Arieh and Dan Harrington traded stares across the table. On the down side, though, all three WSOP Champions on Table Four were eliminated. Greg Raymer could not draw out an Ace to beat Nam Le's pocket queens and was done. Phil Hellmuth had nearly an identical situation when his A-K could not conquer pocket sixes. Chan had been able to hang in the game but eventually "The Orient Express" was derailed at 6:15.
The women players in the field began to dwindle, too. Allyn Jaffrey Shulman was knocked out on this second day, and Kathy Liebert was seriously crippled at 6:25 when, after a tremendous amount of deliberation, she put her opponent on a flush draw and called with a Q-J and a Q on the flop. Unfortunately, her opponent turned up a K-Q and took her down to around 1750 chips. Twenty five minutes later, she was done for the night. As we moved closer to the 100 player mark, only two women, Renee Wexler and Jenny Kang, remained in the event.
To increase the action, tables had been worked down to where there were nine players per table. This move seemed to accelerate the elimination process and, literally minutes before the dinner break, Freddy Deeb took the "Thunder" out of Thomas Keller. Deeb's pocket kings stood up to Keller's pocket queens and we were down to 117 players at thirteen tables and everyone left to eat.
Freddy Deeb has put on an amazing exhibition of great poker and great composure. He suffered a couple of bad beats that would have sent many players over the edge and out of the tournament. The lifetime poker professional also was sent away from the tables for a verbal indiscretion, which kept him out of action for twenty minutes. None of this fazed him and, with a calm composure and an excellent display of poker knowledge, he continued on the march towards the top of the leaderboard.
Erik Seidel made plenty of noise as, at Level 11 with the antes at 200 and the blinds 400/800, he doubled up and, on the very next hand, knocked out Costa Rica's Humberto Brenes to move up the chip list. There were several of Seidel's friends from FullTilt Poker that were still in the tournament and going strong, including Erick Lindgren, Andy Bloch, Paul Wolfe, Ted Forrest and, perhaps with the largest stack in the tournament, Victor Ramdin.
Another great young player who was among the chip leaders was Michael "The Grinder" Mizrachi. Time and time again, players came up against him and left feeling like hamburger. "The Grinder" is also looking to make a unique event happen here; he was at the final table at the Jack Binion World Poker Open Main Event, another World Poker Tour stop, so he has a great chance to make it into two WPT Final Tables in just over a month. While Michael said he was proud of what he has done at the tables in 2005, he mentioned to me, as his wife stood by him during the break (and who cheered him on from the rail during play), he said his proudest achievement was becoming a father last year.
In other action, Martin deKnijff was able to double up through the assistance of Barry Shulman and David Chiu was whisked away from the game. Both Dan Harrington and Alan Goehring eliminated opponents when they had the weaker starting hand and drew out on them. We also came down to only one woman left in the field as Renee Wexler was eliminated before the break.
With fifty nine players left, there was the faint hope that we might get down to the cash positions by the end of the night. With fourteen players left to go to get to that point and everyone wanting to make it to the Third Day, it is unlikely that will happen. It will set up for a tremendous Day Three of action as we find out the fortunate souls who will walk away from this event with a plus mark in their poker diaries!