L.A. Poker Classic - World Poker Tour Main Event - Day Three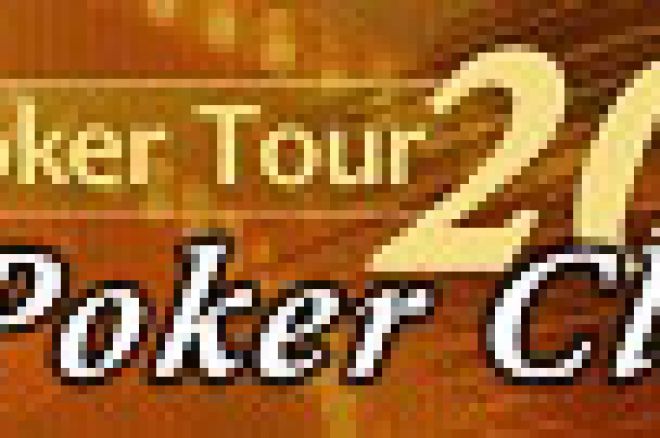 When we came to the tables to start Day Three of the Main Event of the L. A. Poker Classic, we had whittled the field down to only fifty three players. The plan for the day was to make it down to the final three tables, then decide where to go from there. Most of the players, looking to get a good night's sleep after two days of twelve plus hour table sessions, were in the mood to end the night at the three tables. It was decided that tonight's session would be played down to three tables or the end of Level 17, whichever came first.
The top ten on the chip count looked like this:
Alan Goehring, 371,000
Allan Dean, 282,900
Greg Debora, 271,200
Michael "The Grinder" Mizrachi, 249,900
Kevin Song, 244,100
Freddy Deeb, 195,600
Glyn Banks, 176,800
Barry Shulman, 174,600
Greg "FBT" Mueller, 173,200
Dan Harrington, 158,800
Play started at Level 13 with the antes at 400 and the blinds at 1200/2400.
There was action to be found among all the six tables left. The monster table, Table Two, featured Erik Seidel, Juha Helppi, Erick Lindgren, Dan Harrington and Ted Forrest, and the table did not disappoint for action. Tony Ma, Barry Shulman and Andy Bloch were on Table One, and the final female in the field, Jenny Kang, and Victor Ramdin covered Table Six. Martin deKnijff and Michael "The Grinder" Mizrachi went to war at Table Four, Hung La and occasional CardPlayer Magazine columnist Steve Zolotow sat at Table Three and Freddy Deeb was the captain of Table Five.
Very quickly into the round, we lost Keith Sexton in 53rd place, as Tommy Hang caught him trying to steal a pot and, with pocket Jacks, took down Keith's Ac-8c. We raced along, and lost Juha Helppi in 51st, Lyle Berman out in 50th, and Michael Woo in 48th. Jenny Kang leapt into the air as her pocket queens lasted in her all in battle with Greg "FBT" Mueller, putting her over the 100K mark. We had three players to go to the money, and action was frantic.
Greg Mueller was the hard luck story of the early going. Twice he attempted to eliminate opponents (Jenny Kang and, soon after, Mike "Hubs" (what his wife calls him) Hauptman), only to see his efforts fall short and double up two very dangerous opponents. He never was quite able to recover from the double whammy. Meanwhile, Michael "The Grinder" Mizrachi was putting his adversaries through the machine, going up over the 300K mark.
We colored up the chips and moved up to Level 14, with the ante at 500 and the blind 1500/3K. Forty six players were left to go; the next man (or woman) out would get nothing, while the player leaving the Crowne Ballroom after that would have a hard earned 15,499. With no one wanting to be the one who burst the bubble, we ground to a halt with hand to hand play that lasted an hour and forty five minutes. We found our Bubble Man, and unfortunately it was a blinded out Richard Tatalovich who was the man who left the game in 46th place. A cheer went up from the remaining players as they all realized that they were, at the minimum, guaranteed the lowest payout available.
We took a dinner break, and I had a chance to talk with one of the survivors, David Slan. "The Pianoman" is a forty five year old owner of a St. Louis, MO Steinway dealership who has been playing poker since he was in college. He spoke to me regarding how close he had been to not making it to this point. "At one time, I was down to 4000 chips," he remarked. "I just had to get back into my game, and it slowly came around. I suffered a pretty good setback against Phil Laak and, afterwards, I asked him if I could get his picture on my cellphone for my son to see after he had beat me. He did, and I talked to my son a little bit later (who was in a poker game at home) and asked him if he got it and he said 'Yeah, Dad, I did...but where's Gus (Hansen)?'" We laughed as he told of the road that he had to travel to make it to the riches that were awaiting.
Once we were done with dinner, and with the field loosened up by the realization that all left would cash now, the action went much quicker. Greg "FBT" Mueller could not recover from his earlier losses and went home in 45th place. Tony Ma, Eli Balas and Ali Alahawadi (who had told me before the day started "I will make it") were soon to follow. Peter Moore was ushered from the battle in 40th place and Nam Le clocked out of the game in 39th.
Naseem Salem was out in 38th place, and, in a stirring hand, Alan Dean and David Slan clashed. Slan had checked into Dean with a flop of Q-J-10 and, when Dean went all in, took a few moments to make sure before he called and turned up his flopped nut straight against Dean's open ended straight draw with top pair. There was no save for Dean and he was out of the tournament in 37th place.
We motored on through the round, losing Prahlad Freedman and Raffi Krikorian almost back to back. Barry Shulman and Andy Bloch went toe to toe and Barry decided it was time to move. He went all in with a top pair of tens with an eight kicker against Andy's nut straight draw and was crushed when Bloch completed it. The hand pushed Bloch to the top of the leaderboard and put Shulman out in 34th place.
"Hubs" decided it was time to act and, unfortunately, it was not to be. Mike Hauptman went out in 33rd, with 32nd going to Robert Roter and 31st to David Wells. Down to thirty players, we were moving quickly and looking to have an early night!
Just before another color up and the move to Level 16, Refugio Quintero was out in 30th place. Once we completed the color up, it only took about an hour to eliminate Alex Prendes and Jose Rosenkrantz to get down to the twenty seven players to start play on Monday.
Here are the final twenty seven:
Andy Bloch, 560K
Ted Forrest, 379K
Freddy Deeb, 350K
Tommy Hang, 340K
Erik Seidel, 327K
Erick Lindgren, 319K
Glyn Banks, 267K
David "Pianoman" Slan, 246K
Martin deKnijff, 240K
Greg Debora, 225K
Kevin Son, 223K
Haralabos Voulgans, 188K
Babak Razi, 177K
Dan Harrington, 159K
Eugene Todd, 156K
Alan Goehring, 153K
Hung La, 133K
Michael "The Grinder" Mizrachi, 132K
Jenny Kang and Steve Zolotow, 128K
Steve Brecher, 99K
David Rubin, 95K
Ben Johnson, 92K
Sammy Morcos and Victor Ramdin, 87K
Brian Anderson, 73K
Harley Hall, 37K
And a final requiem to those who have gone:
45th Greg "FBT" Mueller, Germany, $15,499
44th Tony Ma, S. El Monte, CA $15,499
43rd Mark Dickstein, New York, $15,499
42nd Eli Balas, Nevada, $15,499
41st Ali Alahawadi, Florida, $15,499
40th Peter Moore, Florida, $15,499
39th Nam Le, California, $15,499
38th Naseem Salem, Spring Valley, CA $15,499
37th Alan Dean, Orange, CA $15,499
36th Rahlad Freedman, Richmond, CA $20,666
35th Raffi Krikorian, Glendale, CA $20,666
34th Barry Shulman, Las Vegas, NV $20,666
33rd Mike "Hubs" Hauptman, Marina Del Rey, CA $20,666
32nd Robert Roter, Rancho Palos Verde, CA $20,666
31st David Wells, $20,666
30th Refugio Quintero, Mexico, $20,666
29th Alex Prendes, Miami, FL $20,666
28th Jose Rosenkrantz, $20,666
The clock was stopped tonight with 36:59 to go in Level 16 and play will pick up with three tables to go Monday afternoon. Everyone headed off into the rainy California night to rest and prepare for the audacious task of working down to the Final Six for the World Poker Tour final table, to be played out on Tuesday night. Tomorrow my esteemed colleague John Caldwell, fresh off his trip to France and his play in the European Poker Tour, will take over and carry us into the Main Event Championship and we will find out who takes the $1.8 million first place prize!