LA Poker Classic - World Poker Tour - Final Report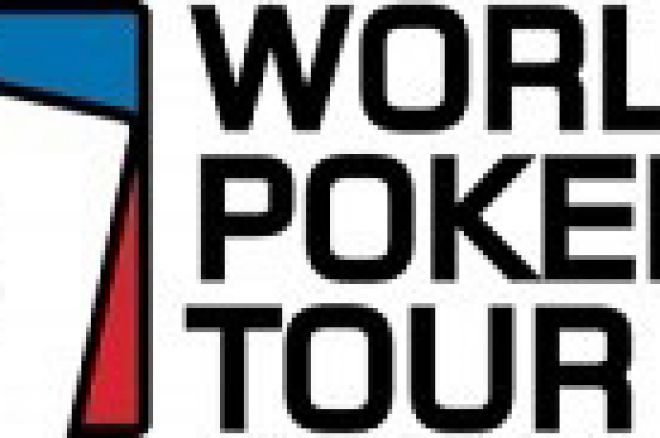 I walked into the hustle and bustle that can only be found at a TV set five minutes before a taping is set to begin. Stressed production assistants, whose blood pressure is way too high for their young years are running around screaming things like "What do you mean Harley's having a tuna sandwich....We need him NOW!!".
Thus begins another final table broadcast of the World Poker Tour. People frantically dashing like mad around the set, while in the middle of it all, WPT creator Steve Lipscomb sits calm as can be, chatting up a sponsor, players wife, or whomever...grinning like the proverbial Cheshire cat.
The Commerce Casino ballroom has been converted into a modern day poker coliseum. Today, this Coliseum seats just over 300. But, it is the six gladiators in the middle of this Coliseum that are the center of attention today.
With a top prize of over $1.8 million dollars, this event had not only the ability to change a players fortune, but indeed their lives, and maybe make them poker's next superstar. Consider this: The number of first prize purses in the history of poker over $1.5 million prior to 20 months ago: 1 (Varkoni). By contrast, the number of 1.5 million first prizes in the last eight weeks – 3 (OK – so Tunica was $9,000 short – so shoot me). The point is…in the new world order of poker, once a month a new legend can be made. Today, six players were looking to grab that brass ring.
The WPT tapings always begin with Linda Johnson leading the crowd through a series of "cutaway" shots - where audience members simulate happiness, clap at different times, and other things to simulate different things have happening at different times. This crowd was particularly boisterous, and indeed the crowd would become a factor at the end of the night.
Speaking of the crowd, this was Los Angeles, and as you might imagine, the stars of the poker world, and even one or two from the film world came out to see the hottest ticket in town. Throughout the night the following people were spotted watching the action. Gus Hansen, Men the Master (taking drink orders, no less), Doyle Brunson (who brought his friend Robert Duvall), Chip & Karina Jett, Andy Bloch, David Williams, and Tobey Mcguire all saw some, or all of the action.
It was poker they were all here to see, and poker we were about to have. When the final table began, these were the chip counts.
Seat 1 – Ted Forrest 895,000 in chips
Seat 2 – Michael Mizrachi 2,190,000
Seat 3 – Erick Lindgren 1,140,000
Seat 4 – Hung La 325,000
Seat 5 – Haralabos Voulgaris 710,000
Seat 6 – Harley Hall 120,000
The good news for Harley Hall was that the blinds had been "reset" back to the prior level for TV. The bad news is that the level was 10,000/20,000, and Harley was going to have to make a move. Make a move he did, as Harley moved in several times, doubled up once, even tripled up another time, but with the rest of the field having healthy stacks, it was Harley's tournament to finish 6th. And finish 6th he did, as Harley chose to move in one more time with 22, only to run into Michael's pocket Jacks. No deuce for Harley, and he was riding into the sunset, collecting a little camera time, an interview with Shana Hiatt, and $154,992 for sixth place.
Speaking of Shana, she spent a good portion of the first half of the tournament doing her liners "We'll be right back", etc about three feet from the back of my head. Normally, I wouldn't comment on something like this in a poker story, but let me just say that the reality lives up to the hype in the case of Ms Hiatt. Nice work.
Oh yeah, this is a story about a poker tournament. Let me tell you a story with a very sad, and unlucky ending for one Erick Lindgren. Erick really liked his A9 when the board read A 5 3 A, and called immediately when Hung La moved in. Unfortunately for Lindgren, he fought the La, and the La won. Hung had A 10, and the kicker played. Not only did Hung have Erick slightly out kicked, he had him slightly covered (by $5,000 chips at that point), and Mr Lindgren's night was over. Erick Lindgren – 5th place - $206,657.
The WPT set was in full regalia, as the lights are flying all over the place, camera people scurrying about, and Vince and Mike doing their thing. By the way, I am always surprised that you can't hear them when they do their commentary, as they are only feet away.
Vince and Mike had a lot to comment about on the next elimination, as again one of the top players in the world just ran into some bad luck/poor timing. After a raise, and a re-raise, Ted Forrest moved in with his pocket tens. The Grinder woke up with Kings (as he did three times yesterday), and sent Ted out into the forest. Ted Forrest – 4th place, $263,487.
After Ted's elimination, the chip counts looked like this
Mizrachi – 3,500,000
La – 1,089,000
Jaralabos Voulgaris – 768,000
Next Jaralabos doubled through Mizrachi when he moved in with A5, and got called by Grinder with a 66. This was significant, because it was the first time Mizrachi had anything happen to him that didn't add chips to his stack in about 16 hours.
Hung La had hung around for quite a while, but ultimately, as is so often the case in poker, he made one error, and his tournament was over. The board read 8366, and Hung held K10. Hung decided to move in here, and try to pick up the pot. Bad timing, as Jaralabos was slowplaying a flopped set, and a turned full house, and Hung's tournament was over as he was drawing dead. Hung La – 3rd place - $444,312.
Several hands later, after a couple re-raises, someone other than Michael Mizrachi held the chip lead. The heads up play proved to be a macho contest, with each player coming over the top of the other, and making bold moves. Speaking of macho, Mizrachi had a posse with him that was about twelve strong, all sitting in the front row of crowd, right behind him. Repeatedly throughout the heads up session, Mizrachi's posse would taunt Jaralabos, and make comments that quite frankly do not belong at a poker tournament. The posse was warned no fewer than six or seven times by Linda Johnson on the mike to chill out, but each time it only had a temporary effect. One of the posse was actually removed from the crowd for repeated taunts.
I had spent some time with Mizrachi the day before, and I really got the impression that he was a good guy, and had some class, and showed the game the respect it deserved. But on this day, his posse showed zero class, and spewed garbage comments that do not belong in this arena at all. At one point, I turned to a fellow journalist, and commented "Is this the WPT, or the WWE?". I can only hope that the WPT edits this so that hundreds of posses all over America don't watch this, and think this is how they should conduct themselves at a poker tournament. The whole incident was completely disrespectful to the game, and I feel for Jaralabos, and in a sense for Mizrachi.
On to the poker, as the macho contest continued. Mizrachi moved over the top of Jaralabos one more time, and this time he got called. Mizrachi showed KQ, Jaralabos A4. The board had no help for Michael, and the chip counts were down to.
Jaralabos – 4.1 million
Mizrachi – 1.1 million
Jaralabos, dressed in a suit, was incredibly cool throughout the entire process. He had the vibe of a guy going for a walk on a Wednesday evening, instead of a guy who just risked $900,000 on an Ace Four. He was the picture of calm, to the point where it was almost eerie. He definitely didn't show his age (24) throughout any of the evening.
Now with the blinds going to 100,000/200,000, it simply became an all in contest. Mizrachi won three straight all in confrontations, that went like this.
Mizrachi 10 7
Jaralabos 55
Board: 2Q787
Jaralabos – 3.7 million
Mizrachi – 1.6 million
Jaralabos moves in with K2, Mizrachi wakes up with AK. A couple of bold re-raises later, Jaralabos was on the ropes.
Jaralabos – 940k
Mizrachi – 4.4 million
Ultimately, Jaralabos moved in with 10 3, and ran into the Grinder with A 9. An Ace on the flop made it all but over, and when a turn paired the board, it was over. Mizrachi's posse stormed the stage, and mobbed him like a scene out of Family Feud. Security restored order, but one thing was forgotten in the storm of macho that poured in from the crowd - a handshake from the winner to the loser.
At that point, the television niceties took over, and Shana came down from her perch, and they all toasted the winner with Michelob Amber Bock, etc. Even though I did not have any Amber Bock, I couldn't help leaving the studio with a bitter taste in my mouth. Congratulations to Michael Mizrachi, and shame on his friends. Here are the finishes, with final money (remember – NO deals on the WPT).
1st – Michael Mizrachi $1,859,909
2nd – Jaralambos Voulgaris $ 904,122
3rd – Hung La $ 444,312
4th – Ted Forrest $ 263,487
5th – Erick Lindgren $ 206,657
6th – Harley Hall $ 154,992