The Swanky Room from London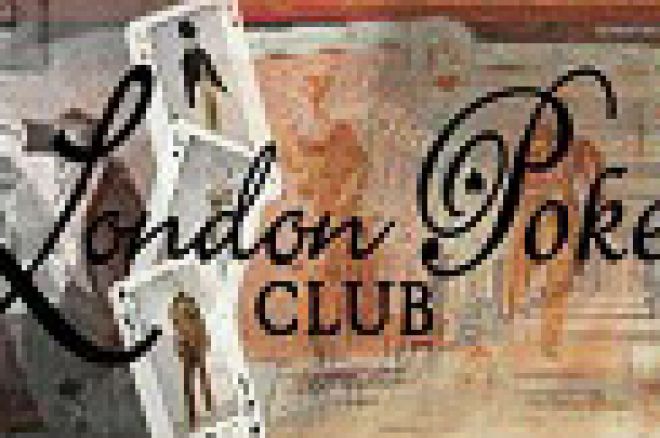 The poker craze is definitely not limited to the United States borders, whether some would like to think so or not. Although the hot spot for poker is in the U.S., the European World Series of Poker (E-WSOP) boasts some of the games most dangerous players (not to mention better legislation concerning the legality of playing poker that exists in most other countries). These facts considered, one of the newest online poker rooms' name should come as no surprise: the London Poker Club.
The London Poker Club is a skin of the Poker Network software, and quite a refreshing skin at that. It is a pretty classy setup, with a tabbed interface that is unique to the London Poker Club. The Club has many attractive features in its poker room. The tabbed interface mentioned is very classy and easy to understand, with the support tab offering three different ways to find the answer to your question, including a live chat with a real person. At the tables, you have options as to what limit and what type of game to play, including both a single table tourney section and a multi table tourney section. The true highlight of London Poker Club's room is its multi table tournaments, which I will get to later.
The tabbed interface is really nice, as is the look and feel of the London Poker Club overall. Another unique feature that I have not seen elsewhere (yet) is that under the "Settings" tab, you have the option to specify a folder containing MP3 or MIDI files, and the software will play the files in random order while you play. You could then create a folder full of your 'poker music' and whenever you start the software it will start playing that list. What a nice touch!
I can not stress enough how nice the skin really is. At the "Tables" tab, you have the option of clicking 4 buttons: Texas Holdem, Seven Card Stud, Single Tourney, Multi Tourney. After clicking one of these options, links appear below those buttons allowing you to filter the tables and tournaments according to your preferences with a single click. That is nice when you do not want to wade through all the NL tables to find the 10¢/20¢ limit tables. That's right, as low as 10¢/20¢! There are some very cheap games to be found at the London Poker Club, as well as very cheap tournaments.
In fact, the first thing I noticed that is attractive about the London Poker Club is that they boast weekly freeroll tournaments. There are many qualifier freerolls throughout the week for a chance to play in 1 of 2 $50 freeroll tournaments that are held each Sunday. For the poor, or the people that do not want to deal with transferring money from one site to another at the moment, this allows the person to play a couple freerolls to gain a bit of money without using any money. Sure, the freerolls are very much all-in fests, similar to playing the 'play money' Sit 'n' Go's on PokerStars, but I think it is worth giving them a shot, since they cost nothing.
Aside from the freerolls, there is just about every type of buy-in tournament you can think of, with one exception: there is not a whole heck of a lot of large buy-in tournaments. That being said, there was an E-WSOP Online Final and a WSOP Online Final in registration mode, with buy-ins as high as $625+$45. There were also some VERY cheap buy-in multi-tables, as low as $1+10¢. This is better than government subsidizing for those of us who are poor.
The verdict? London Poker Club boasts a very classy interface with a good set of tournaments. Sunday at nearly 5 PM EST there were around 1400 players online – which is not the highest I have seen, but if enough people are putting their money into the tournaments, who cares how many total people are actually there? Check out the London Poker Club, it is another room worth considering.
Good luck and good odds!