Poker and a Drink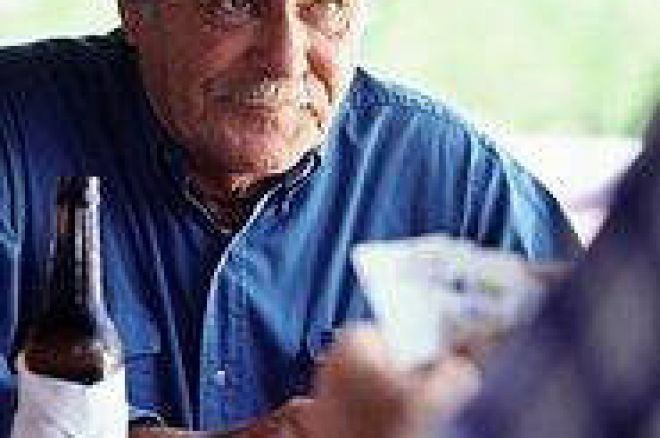 As poker moves into the living room and out of the basement, bars across the country are bringing poker into their main rooms. Poker players are likewise now able to find more places to play their favorite game. The bars never benefit directly, although the increased traffic and bump in drink sales are a plus. The players often times are not rewarded with cash, but rather with prizes or points towards qualifying to play in cash tournaments. It is an innocent enough event, but unfortunately is gaining negative attention.
In Minnesota a bill has been presented that would legalize Texas Holdem tournaments, as long as prizes do not exceed $200 in value. This comes after bowling alley was raided for holding weekly Texas Holdem tournaments. The charges have since been dropped, thankfully, and the bowling alley has resumed its weekly tournaments. The bill has also since been cleared by a Senate gaming committee, and will likely face a House committee next week.
Many bar owners are checking things out with local and state law enforcement agencies before hosting any tournaments. Most agencies do not mind, considering many tournaments these days are based on points and chips that do not hold any monetary value. For instance, WorldTavernPoker.com helps tavern owners to run their own tournaments, where players register on their site, and will receive points depending on how they finish in their local tournaments, with the possibility of qualifying for tournaments that can win them money, or a seat at the World Series of Poker.
Some cases are getting a bit uglier, unfortunately. In Laramie, Wyoming, the city attorney is contemplating charging several bar owners for hosting Texas Hold 'Em tournaments over the past few months. The bars could face the revocation of their liquor licenses and a $750 fine. Something I have run into locally is that bars might run into a few officers arriving at their tournaments to ensure that no side cash games are active, which is certainly a grand possibility for those seasoned players that do not have a casino within a few hours drive.
One of the most interesting cases in recent weeks is happening in Connecticut. There, a bill has been introduced that would legalize poker tournaments in bars and restaurants. Many business men are salivating at the idea, because, although they would not directly derive any profits from the games, again their traffic and food and drink sales would soar. There is a large road block, however, and it is not from the religious right or that type of interest group. It is actually the much larger force of the Mohegan tribe, who runs the Mohegan Sun Casino in Connecticut, and who gives over $400 million per year from their slot revenues to the state. They see the bill as a threat to their livelihood, despite the fact that they closed their poker room a few years ago. The sponsor of the bill, State Representative Brian O'Connor, has been considering changing the bill to instead allow for 'prizes' rather than cash. That will evidently have no affect on the Mohegan Tribe, as they say it is still a violation of their agreement with the state, and will still pull their money from the table. It is hard to say what the solution to this problem is. Chances are that the Mohegan tribe will get their way, especially with that wad of cash to hang on a stick in front of the legislators. It has been suggested that the state open state-run casinos, giving them the ability to make much more of the slots than they are currently making from the Mohegans, but that hand is likely drawing dead in the current political climate.
All in all, the attention, although some times negative, could possibly turn out positive for the poker world. More and more states are going to be looking at poker in terms of legality and more and more people are going to be letting their representative know how they feel. The popularity of poker should help to see many of these smaller bills through. The smaller bills will build a base for which to expand the laws relating to poker and gambling, with the current target being legalizing and regulating online poker.
To poker players far from casinos: Good luck and good odds!
Drinks are not allowed (and impossible) in online poker rooms. Check out our directory.