Professional Poker Tour, Day one - Commerce Casino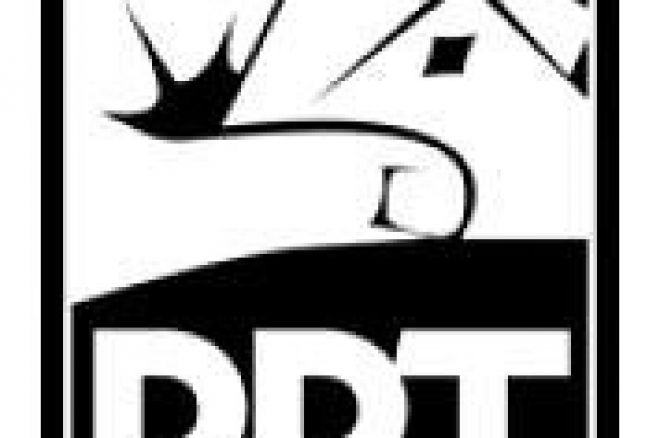 The first PPT event started off with a bang, be it a belated bang as cards were in the air a little over an hour late, as TV people, and tournament officials hustled to get the event underway.
Pokernews writer Tony G was hustled off to the featured TV table to start the tournament. Tony was joined by the likes of Huck Seed, Alan Cunningham, actress Mimi Rogers, last night's NLHE event winner Ken Goldstein, Randy Jensen, David Oppenheim, "Swiss" Chris Bigler, and WSOP main event runner up David Williams.
The room was filled with the clattering of chips, and the kind of murmur only present in a poker room. These players had a tremendous amount to talk about, as everywhere you walked, players were talking about their deals, what kind of logo they could wear, where they were playing next, and for how much, etc, etc.
One table where there was a lot of chatter about deals and logos, endorsements, etc was at table 20. Perched in the corner, about as far away from the TV table as possible was a murderer's row of poker talent. For a short time, table twenty was playing six handed. Phil Ivey, Jesus Ferguson, Ted Forrest, Phil Hellmuth, AND John Juanda occupied five of the six seats at table 20...Yikes…check please!
Another table notable for its star power was the table right next to the TV table, as it housed such luminaries as Daniel Negraneau, Howard Lederer, Mel Judah, and Scotty Nguyen...heady company indeed.
I am looking forward to seeing the way this PPT plays out on television. The way the coverage was done was interesting: When a player was all in, a camera crew would rush over, and they had a pretty young hostess, who would literally call the hand play by play. The hostess would put a mic in the players face at the table, and talk about the hand as it progressed. Luckily, this is a free roll for the players, because I can't imagine sticking a mic in a lot of these players faces after they had just taken a two out beat in a real WPT, or large buy in event. As the day wore on, the hostess and the camera crews let more all in plays go unfilmed as it was simply too hard to be too many places at once in the room. The coverage was significant though, and being in "showbiz" in my other life, I can't even imagine the sheer amount of editing that must go into producing this program. It will be interesting to see how it is presented, and if it is a single two-hour episode per event. My guess from the way they are covering it, it is will be a multi-episode per event thing, as there are simply too many cameras, and too many people to try to condense this into one two hour program.
The PPT event is made for television, but it is also a poker tournament, and that means somebody's gotta go. In this case, the first bust out of the PPT season happened to none other than the master himself. Men the Master moved in on Kristie Gazes with an open ended straight draw, and a flush draw. Gazes called in a flash with a set of nines. None of the Master's many outs hit, and Men the Master was the first out the door.
The names kept falling, as TJ Cloutier, who was crippled on the second hand of the event, finally gave way as his overcards got no help, and Carlos Mortenson's pocket eights held up.
Players kept falling as quickly as you could get over to their tables. Through the first break, we had 148 players left in, and notables with big stacks included chip leader John Murphy, Erick Lindgren, Andy Bloch, Kristie Gazes.
The vibe was definitely that of a free roll, and although players were trying their best, there was a lot of chatter, many smiles, and a lighter atmosphere than you will see next week in the $10,000 main event.
Notable events on this first day...
- Amir Vahedi was shown the door when his nines ran into Cecilia Mortenson's Queens, for most of his chips. Then Amir's AK ran into Cecilia's AQ for the rest of his chips. Amir's trademark unlit cigar went into his drink cup, and Amir strolled happily out the door.
- Hollywood Celebrity player Lou Diamond Phillips being shown the door by Ultimate Bet superstar Shawn Rice, as Shawn's Jacks were no match for Lou's sixes…especially after a Jack hit the flop.
- Carlos Mortensen not believing Victor Ramdin and calling a huge bet with a straight, and a flush on the board, then mucking his hand when Victor turned over trips, and walking out the door.
- Phil Ivey getting a constant massage (well into the third hour of play) until his pocket deuces lost. An Ace hit the flop, Ivey hit the road, and the masseuse could finally work on someone else.
- Phil Hellmuth needling the poor young player they sat down at table 20 before the kid's butt was even in the seat.
- David Chiu telling Gabe Kaplan he was not welcome back to table 14 after David's hand out kicked Gabe's, and it was over for Mr. Kotter.
- Bad beat of the day, nominee one: Doyle Brunson's J10 of diamonds making a straight against Dave Colclough's pocket Aces. Revenge was fast at hand however, as about an hour later, Colclough knocked Doyle out with... pocket Aces.
- Line of the Day: When asked by a spectator which one of the players knocked Doyle out, I replied "Dave Colclough, he's the blond guy right there". Without missing a beat, the spectator (who, I might add, was a brunette) said, "If he's blind, how can he play?"
- Bad Beat of the Day, nominee two: Stan Goldstein took his Kings up against Phil 'Unabomber' Laak's Jacks. A Jack was the first card off.
- Within about 5 minutes of Doyle going out, Amarillo Slim went all the way with AQ, and got called by Andy Bloch's pocket 7's. Nothing above an 8 hit the board, and Slim hit the road.
- Paul Darden moving back and forth between his Stud/8 final table, and his PPT hands. Playing two tables online is one thing, but playing two live tournaments at once? Scott Fishman was in the same boat.
- Bad Beat of the day, nominee three: Anh Tran doubling thru on an opponent when his A4 went against AQ. The river 4 doubled him up, and sent shouts across the table.
- Pokernews writer Tony G getting very unlucky being eliminated essentially set over set as his 5's full of 8's were beaten by last night's winner Ken Goldstein's 10's full of fives.
The original intent was to play to level nine, but when you have a world series style chip count to start (each player started with 10,000 chips), and you want to give the players some time to maneuver with a decent structure, you won't get down to the number you need to get down to in time. The camera crews even called it a night around 11:30, well past the anticipated stop time of 10pm. There were still about 50 left in at that point, and they felt like they needed to play down to around 36. So the crews left, and simply left the players to get on with it.
At the end of the night 38 players remain. Names in the field (though most of these people are names) include 2004 WSOP champ Greg Raymer (who has a mountain of chips), the amazing Daniel Negraneau (who was short stacked much of the day, and yet is now slightly above average), John Juanda, and Pokernews writer Dave Colclough. The average chip count is around 47,000, and the blinds for the next level will be 600/1200.
More from the PPT tomorrow, in addition to coverage of the final table of event # 14, another $1,000 buy in No Limit event.