Bay 101 Shooting Stars WPT tournament - Day One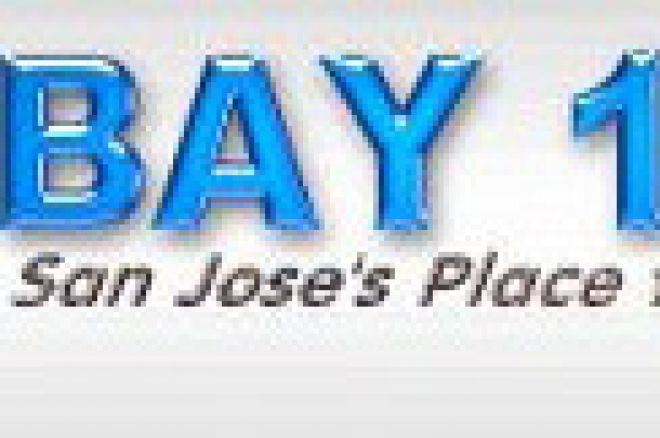 Bay 101 may be the most unassuming "High profile" card club in the US.  Every time I turn the corner of the street that it is on, I forget, and for a moment, I panic, as the club is barely noticable during the day...it could easily be a AAA office, or banquet hall.
But today, it is the focus of the poker world as the Bay 101/Shooting Stars event is underway.  This year, the event is a victim of the over scheduling that is becoming more and more a factor in today's poker world for top players.  Many of the top players were detained in Las Vegas because of the Heads Up Championship, which is still being played.  Six of the 22 'stars' (each of whom has a $5,000 bounty on their head, which makes this a special event) are not at their tables to start the event, and indeed many of them are apparently on the same plane on the way here right now.
To say the event started slow would be an understatement.  213 players started today, and the feeling in the card room was subdued.  For space reasons, this event is broken down into two 'flights', a day one, and a day two.
So, 22 tables started, each one of them with a star.  The brightest stars on day one were Layne Flack, Erik Seidel. Scotty Nguyen, Men the Master, Kathy Liebert, Chip Jett, Dan Harrington, Barry Greenstein, with many others to come.
Play picked up after an hour or so, and our first star was eliminated, and our first $5,000 bounty was picked up by the victor of the hand. Mimi Tran was in OK shape when she turned over her 56 of diamonds into a board that read A24, all diamonds.  Stewart Grant was in better shape, however with 79 of diamonds leaving Mimi one out (the 3 of diamonds for the straight flush).  Two blanks fell, and Mimi was the first star out, and Stewart Grant had made half his buy in back 48 hours before the tournament makes it to the paying spots.
On my way back to my perch after watching Mimi's hand, an eager young local newswoman came up to me, and uttered one of the funnier things anyone can say to you at a poker tournament.  "Um, excuse me, Mr. Hellmuth?"  The young woman asked.  One of the railbirds had pointed me out as Hellmuth to her as a joke, and she was eager to get a scoop after Phil's $500,000 win in the Heads Up Championship the night before.  For a brief moment, I thought of saying "Yes", but decided against it, and pointed her to the real Phil.  I can honestly say I'm sure that is the only time someone will come up to me, and say that.
Speaking of media, a sure sign of the new world order of poker was that the news crews were pulling players out of their seats while play was going on to capture interviews with them, because they "just couldn't wait" until the break.
About two hours into play, the car from the airport arrived, as did Jesus Ferguson, Carlos Mortensen, Gus Hansen, who immediately took their seats, and began play, albeit a few blinds short.
Carlos won the award for the most brief stay, as within 20 minutes of arriving, his pocket 6's were up against Ted Eisenstadt's pocket Kings.  Carlos got no help, and just as quickly as he blew into town, he blew back out, and Ted became the second person with a $5,000 bounty.
Layne Flack had done a high wire act since about the 20 minute mark of the tournament, when his stack took a huge hit.  Layne had doubled up twice, then tripled up, and still just couldn't get anything going.  Layne's two pair ran into trip Kings, and the high wire act was over, and there would be no Bay 101 for 'back to back' Flack.
Mere minutes later, we had our first 'star on star' all in, as Dan Harrington took his KJ into a three way pot with Jesus, and Randy Jensen.  The board came A43, and Jesus bet Randy out of the pot. Jesus produced 33 for trip threes, and earned himself ½ his buy in back, only 30 minutes after plunking his $10,000 down upon his arrival.
Kathy Liebert was the next star to go out, and she also had an opportunity to triple up.  Kathy held the 9 10 of hearts, and the board read Q23, with two hearts.  No more hearts came, and her opponents pocket Kings held up, besting Liebert, and another player who called with AQ.
Casey Kastle was the next player to double up, but not just with chips.  Casey collected his second bounty of the day by eliminating local legend, and 'star' Tahoe Andrews.   Kastle took down a huge pot by calling in the BB with J3 of hearts.  The flop came 33K, and the turn gave Kastle quads, and Casey was freerolling in the tournament, having made $10,000 in bounties.
The bad beat of the day award belonged to Phil Gordon.  Phil had flopped a set of fours on a board of 764.  With an overpair of 9's, Chau Vu felt like putting Phil all in was a wise move.  Phil called
instantly, and when another player announced he had folded a 9, there was only one card left in the deck to make Vu a winner.  The next card off was that case 9, and Gordon was fit to be tied, not to mention very tall.  Chau Vu picked up $5,000, which will buy a lot of chow.
The next candidate for the 'high wire act' of the tournament was Chip Jett.  Chip was all in on 5 or 6 occasions, and each time managed to survive.  This surpasses Layne Flack's mark of four, and Jett will be joining the rest of the field Wednesday in the next round.  Chip actually managed to get himself a decent stack toward the end of the day.
The next 'star' out was Vince Burgio.  Vince had been floating around all day with a medium to short stack, and had survived a couple all in bets.  Vince decided to put all his chips in with AK, and ran into a player holding pocket Queens.  No Ace or King for Vince, and he was out the door, having made his opponent $5,000 richer.
The silver medal in the bad beat of the day competition belonged to Chris Ferguson.  Jesus had been messianic only hours ago, coming in second to Phil Hellmuth in the Heads Up Championship.  Jesus felt great about his KK when the board read 397, and he moved in.  Amnon Fillipi felt like Jesus was making a move, and called him with Q3. Jesus could not walk on water this day, and he sank in the river when the river brought a Q, giving Amnon two pair, and five grand.  The only consolation for Jesus had to be that he could go get some sleep, as the Hellmuth match ended at 4am this morning.
Two more stars to go out today as Amir Vahedi's pocket tens ran into a flopped set, and he ran out the door.  Also, this was not the Dragon's day, as David Pham was eliminated when an Ace on the turn bested his pair, and sent him packing.
All in all, 67 players from flight 'A' will move on into day three play, and have a day off to catch up on much needed sleep.  The chip counts of the two biggest stacks, and all of the 'stars' left in the
tournament are below.  These counts are approximate, and the official numbers will not be released until tomorrow.  I will post a complete list in the morning.
Billy Baxter is the chip leader at 132,000
Joe Mayon – 107,000
Antonio Esfandiari – 56,000
Tom McEvoy – 55,000
Randy Jensen 54,000
Men "The Master" – 49,000
Scotty Nguyen – 46,000
Chip Jett – 39,000
Josh Arieh – 37,000
Gus Hansen 33,000
Barry Greenstein – 25,000
Erik Seidel – 12,000