Bay 101 Shooting Stars WPT tournament - Day Two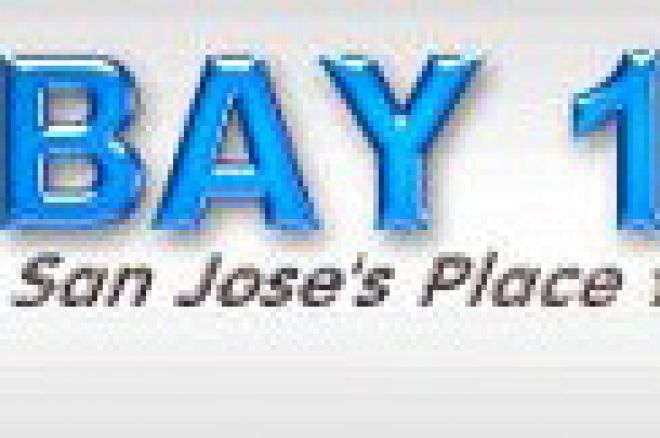 The second day of the Bay 101/Shooting Star event had a bit of a different feel to it. Unlike day one, nearly every 'star' in the field was in their seat when cards were in the air, just after the scheduled 11:15am starting time. Also in sharp contrast to yesterday, there were an abundance of stars in attendance. No fewer than six players who could have made a legitimate case to be a 'star' were also in attendance today. Players like Ted Forrest, Huck Seed, Alan Goehring, and Andy Bloch may have a claim to be a star, as would Hollywood celebrities Tobey McGwire, Gabe Kaplan, and Jennifer Tilly, but none of these players had bounties on their heads…which today was probably a good thing.
But alas, the 'stars' were set, and each of them had a $5,000 bounty on their head. The stars today were:
Paul Phillips
TJ Cloutier
"Miami" John Cernuto
Phil Ivey
Erick Lindgren
Johnny Chan
Paul Darden
Robert Williamson III
Phil Laak
Mimi Rogers
Evelyn Ng
Howard Lederer
Scott Fischman
Toto Leonidas
Annie Duke
Phil Hellmuth
James Woods
Daniel Negraneau
Jennifer Harman
Greg Raymer
John Juanda
David Williams
Chau Giang
All things being equal, I would probably rather have played on day one….
But day two was upon us, and there was a lot of poker to be played. We got our first star out early in level two. David Williams, who had been hurt in an earlier confrontation, took his AQ all the way to the river. When a Q fell on the river, he put his remaining chips in. Johnny Esposito had flopped a set of nines, and now had $5,000 in his hand from tournament director Matt Savage to show for his slow playing.
The early "Captain Suckout" award goes to Phil Hellmuth, whose QQ ran into Andy Gamboa's AA, only to produce a Q on the turn, and somehow Phil resisted chirping after his miracle card hit. Andy Gamboa headed for the door, with dreams of $5,000, and busting Phil H crushed.
Speaking of crushed dreams, Scott Fischman had dreams of a top finish at Bay 101, and when he had two pair of Aces and tens on a flop of A 10 4, he felt pretty good about his chances of doubling up. Peter Tran had AK, and after a Q hit the turn, he had four more outs. But the only out he needed was the one he had all along, as a K hit the river, $5,000 hit Tran's hand, and Fischman hit the road.
Next up, we had a first for a Bay 101 event…A split bounty. Greg Raymer moved in with a QJ into a board of 47Q. Both Maureen Feduniak, and another player called Greg with QK. No help came, and Raymer was out, and Maureen and another player got $2,500 each. No word on what they did with the "I busted Greg Raymer T-shirt"
The next star out was part of a double elimination. Mimi Rogers was getting a bit short, and threw her chips in with a pair of eights. Two other players called her, and then the action came around to Cardplayer honcho Barry Shulman. Barry declared all-in, and after a long think, one of the other two players called him. Player A turned over two nines, and Barry turned over J 10 spades. Two spades, and a Jack on the flop made it all but over, the Ace of Spades on the turn made it over. Barry Shulman had knocked out Mimi Rogers, and another player, and picked up $5,000 to throw on the pile.
Before I could get two tables over, Phil Laak was all in with AJ in another three-way pot. There were two hearts on the flop, and 10 8 3 on the board. Alan Goehring bet the third player out of the hand by moving all in, and a 9 of hearts on the river broke Laak's heart, and sent him home. A nice piece of consolation was his girlfriend Jennifer Tilly had her arms around him as the last card fell. Alan Goehring made $5,000 and the Unabomber made his exit.
Next, we had our first 'star on star'`bustout. Jennifer Harman made a heart flush, and flushed Chau Giang out of the tournament. Jennifer got $5,000, and Chau got a nice hug from Jennifer.
Seconds later, the great Johnny Chan had pocket Aces. He ran into a small problem when his opponent, Sanjay Malde made quad tens on the flop. Chan had his Aces cracked in a big way, and Sanjay was $5,000 richer. Always the picture of class, Chan went out of his way to shake Sanjay's hand, and wait for the presentation of the money to Sanjay.
Its now time for the bad beat of the day award, which could also be called "how to get aces cracked, part two", as minutes after Chan had his rockets cracked, Evelyn Ng had her pocket rockets cracked. A man known only as "Mr Wu" had pocket Jacks, and things looked great, as nothing to give the Jack any help at all came on the first four cards off. But the river was a brutal Jack, and Evelyn was out, and male players across the room breathed a heavy sigh. Mr Wu had $5,000, and decided to wear Evelyn's shirt…the "I busted Evelyn Ng" shirt that is…don't get any ideas.
Next to go was defending player of the year Daniel Negraneau. Daniel had his favorite hand, the 10 7 offsuit, and was thrilled when his opponent had only pocket deuces. Mike Lowenstien's pocket deuces held up, and he took his $5,000, and Daniel went off to find a nice vegetarian meal.
At this point, the bustouts were happening fast & furious, with at least five stars out in a span of 45 minutes. By the midpoint of level four, we had already lost nine of the 23 stars. In addition, many stars were getting short stacked. One player not short stacked was TJ Cloutier, who had doubled up with Quad Kings to a nut flush, and was feeling sassy enough to razz Phil Hellmuth on the mic about Phil's two out suckout that happened earlier. "I thought if it wasn't for luck, you would win them all Phil" chided TJ.
It was probably a good 90 minutes before we lost our next bounty player. Annie Duke was crippled the prior hand, and was down to 400 chips. She found a pair of deuces, and went all in. Dick Corpuz found AK, and called. No A or K on the flop, turn or river for Dick was good news for Annie. But a board with a 10, J, and Q was bad news for Annie, and Corpuz was a happy guy, having picked up $5,000, and busted Duke.
The high wire act of the day award belongs to Erick Lindgren. Erick was all in at least five times, and had managed to survive each time. The sixth time was not the charm for E-Dog, however, as he moved in with a heart draw. You gotta have heart to play this game, and in this case, Lindgren had to have a heart to survive. A heart was not in the cards for Erick, and Ken Seagle was very happy about it. E-Dog hit the door, and Seagle picked up his five grand for busting him.
The odd pot of the day featured two bounties, as Paul Phillips got in with the best of it against Phil Ivey. Paul had AA, Phil had KK, and the first card off was a King, which sent the crowd into a frenzy. The next card was an Ace, and we were back to square one. Phillips hand held up, and he doubled up through Ivey.
A few hands after that pot, Ivey put in his bid for bad beat of the day. Ivey took his pocket jacks in against the A7 of Jason Berilgen. Just like Annie Duke's elimination, it wasn't the obvious card that did Phil in. A board of 54Q8 still looked pretty innocent. But again, the river made Berilgen a straight with a 6, and blindsided Ivey. Berilgen picked up the $5,000, albeit sheepishly, and Ivey was free to go.
Next was our first double bounty boy of the day, as Ken Seagel knocked out his second shooting star, and made the tournament a freeroll for himself. Ken made trip sevens on the flop to James Woods 44. Ken did not need the fourth seven on the river, but he took it, along with his second $5,000 bounty. At least this way, James Woods can tell people he got knocked out by four of a kind.
At the dinner break, the initial field of 220 had been trimmed to 104. The real interesting number, though was that of the 23 stars to start the day, 13 had been eliminated, and only 10 remained. Being a star was an occupational hazard on day two.
The next 'star' out was movie star Tobey McGwire. Tobey did not have a bounty on him, and did not have many hands all day, as he was the 100th place finisher today. Finishing #99 was Paul Phillips. Paul got busted by Brunson - Todd that is as Todd had Queens, and Paul had K10. A Queen on the flop pretty much assured an end to Paul's night, and – stop me if you have heard this before – someone named Brunson won money in a poker tournament….as Todd claimed Paul's bounty.
Next out was the guy who managed to put up with Tom Leykis, and Kennedy for 7 weeks on GSN's 'Battle of the sexes', Robert Williamson III. Robert had to put his chips in with AQ, and was called by Noah Jefferson, who was holding 99. Nothing over a 10 hit the board, and Robert hit the road, with his lovely wife and sister in tow. Noah got five grand, which if memory serves is 100 Jeffersons.
An interesting situation came up next, as TJ Cloutier, who had been crippled one hand earlier by Tony Ma, moved in with less than the big blind. Toto Leonidas, also a bounty raised from the button. Billy Duarte, thinking about two bounties in one fell swoop, re-raised enough to put Toto all in. One might have thought Billy was on a move, but after Toto folded, Billy flipped over AK of hearts. Bad news for TJ, as he had two hearts also, a Jack, and a seven. The flop was nearly all big cards, an TJ was out of his seat by the turn. Billy Duarte picked up $5,000, and almost smiled as Matt Savage paid him.
Toto Leonidas was the next bounty to go. Dick Corpuz was there to pick up his second bounty of the day, and a nice side pot. Toto only had 1,000 chips left and threw them in. The board was Q7474, a third player made a big bet and Dick called, creating a nice side pot. The third player turned over Jacks, Dick turned over a Queen, and Toto mucked without showing. Dick won $5,000, and Toto won a ticket home.
At the end of day two (flight 1B), there were 66 players left, which means 131 players will begin day three, which is actually day two. A list of chip counts will follow in a different story. Of the 45 original shooting stars, there are 15 left, which will still make roughly one star per table. The entire field will begin tomorrow playing the final 30 minutes of level 9, which is 400/800 blinds, and an ante of 100. They will play down to 36 tomorrow, and then play six tables of six handed play on Thursday, to get down to the TV table number of six. The World Poker Tour takes over Friday, and shoots their final table at 5pm. See you there.