Ben Magee: "I started of as a craps dealer"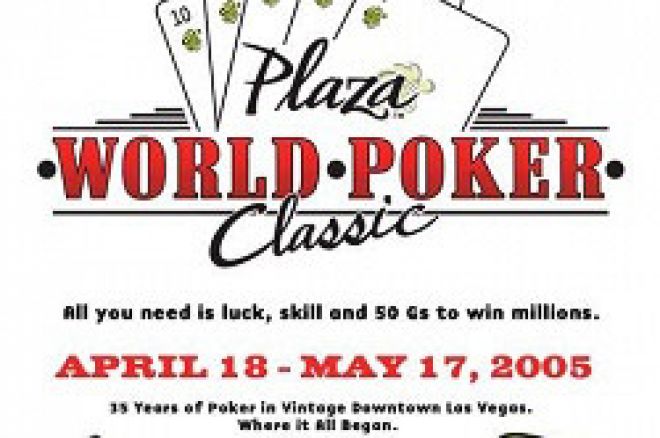 This week I got a chance to talk to the Tournament Director at the Plaza Hotel and Casino located in fabulous downtown Las Vegas. Ben Magee has been involved with many of the biggest events in the world including the 2004 World Series Of Poker, now he is the man behind the helm of the newest poker room in town to make waves in the industry. 
HUX(Poker News): Ben tell us about how you first got involved in poker?
BEN: I originally started of as a craps dealer in Mesquite. I used to work grave yard shift and a friend of mine was running the poker room on graveyard  at the same time. While on breaks I would wander on in to the poker room to check out the action and talk to my friend. After a while my friend began to show me the basics of dealing poker, and little by little he trained me in the art of dealing poker. Well before I knew it I was working in the poker room full time.
HUX: So you made the transition from the pit to the poker room.
BEN: Yes it was a good move, one that I have not regretted at all.
HUX: Do you have a nick name we can call you by?
BEN: NO, maybe you could give me one Hux?
HUX: I'll get back to you on that one Ben. I understand the Plaza is holding a 50K buy in event this April could you tell us a little about that?
BEN: Yes what we are planning is to have a word class event downtown Las Vegas. On the tail end of the World Poker Classic The Plaza will be hosting a 50K buy in event. With a buy in of 50k the event becomes self-limiting in the way of entries, not just anyone can plonk down the fifty thousand and say ok lets play. So we are trying to create a tournament where the end result will be the best player, not how big a field we can get or how many satellites we can run, you know.
HUX: The Ultimate Poker Challenge, Battle of the Sexes and Fox have all filmed poker shows at the Plaza, what makes the Plaza such a great place for televised poker?
BEN: The Plaza has actually been used for television movies quite a bit. Barrick Gaming try to be as accommodating  to television shows as they can. The Plaza has some nice scenery and plenty of extra room. All these factors make the Plaza a prime spot for television and poker.
HUX: There have been some big changes in poker in the last few years what would you say has had the biggest affect on the industry and why?
BEN: I think probably the biggest affect would be the introduction of online poker. The reason I would say this is because it allows people that would normally be intimidated to sit down at a poker table to get comfortable playing poker in their own home, and therefore make the transition into the casino. The difference is that in years past people would play in their little home games and the kitchen table games and never take that step to come and play in a casino.  I strongly feel that online poker has taken the kitchen table players and brought them into the casino.
HUX: What changes if any would you like to see in the industry?
BEN: I would like to see the more experienced players friendlier to the new players. Its really upsetting to me to see a new player that sits down and is trying to get familiar with the game, you know plays a small buy in tournament or a low limit game and gets berated by a player that plays all the time for playing a hand badly or something like that. So now these people rather than being comfortable and continuing to play and adding to the industry, instead  we've just lost a player. That is something I would like to see stiffer rules on industry wide.
HUX: Are there any big plans for the Plaza in 2005 other than your big tournament?
BEN: We have quite a lineup for 2005 for the Plaza, we are remodeling the area that we have now and expanding the poker room again. We also have quite a few new events planned for this year.
Check out
www.plazahotelcasino.com
This site will have all the updates and schedules for everything that we are planning in 2005.
HUX: Where would you like to see yourself in 2 years?
BEN: Still working for Barrick Gaming, they are a rapidly expanding company and I see myself staying with them for the future.
HUX: It looks like the plaza is a great place to work, are you hiring?
BEN: Yea would you like a job HUX?
<center>********</center>
Rob (Hux) Huxley is a top poker dealer based in Las Vegas.  Hux will provide coverage of many of the locals in the poker and casino scene in Las Vegas.