Bluff City Open Raises Over $90,000 For UCP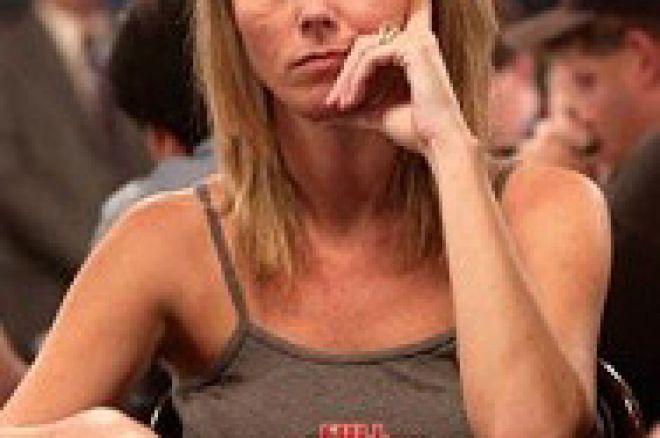 In a prime example of what can happen when poker comes together for a great cause, 480 players came together for two days of poker at the Bluff City Texas Hold 'Em Open, finished up Sunday night at the Grand Casino in Tunica, MS. In addition to battling it out for two seats to the World Series of Poker Main Event in July, the players got to test their skills out against 2003 World Poker Tour Ladies' Night champion Clonie Gowen. In all, $90,900 was raised by the $100 buy-in, multiple rebuy event to benefit United Cerebral Palsy of the Mid-South.
"We checked into it, and this is the largest field ever to play in a charity poker event in the United States," said Chris Decent, the Director of Development for United Cerebral Palsy. Indeed, on Saturday, there were actually 242 players in the capped field of 240 (a computer glitch had led to the extra two seats being sold) and everyone was ready for the cards to fly.
Clonie Gowen, a huge supporter of the cause of UCP, showed up resplendent in a white pantsuit and thanked everyone for attending the event. "I think it's great that you all are showing that poker has a heart and that we can come together to do more than just play cards," Clonie said as she encouraged the participants to give themselves a hand.
"United Cerebral Palsy is a great charitable organization, and I am proud to be associated with them, and I will support them whenever possible," Clonie remarked to me as she headed off to the tables for the first day. "It is also very good for poker to look at doing these events as much as possible."
While it was a charity event, the play would have made poker players everywhere proud. There were many rebuys and add-ons throughout the first 90 minutes of the tournament (with a huge percentage going towards UCP, but also to set up a pot for the final table players to earn something), but everywhere I looked, solid poker was being played.
In fact, the play Saturday became more like a marathon than a sprint. After ten hours of play, it came down to three Volunteer State citizens, Chris Wiggins and Scott Hughes of Memphis, TN and Dutch Qualls of Sparta, TN. Wiggins, while having a sizeable chip advantage over his two opponents, could not seem to eliminate either of them. Both Hughes and Qualls would not be eliminated, with the two of them shuttling chips back and forth in an attempt to be one of the last two standing.
I sat beside Tim Tillich, who made the final table and stuck around to see who would take the event. "This was my first live tournament," Tim, who has only been playing about eight months, said to me as we watched the events unfold. With a huge smile on his face, he told me about sitting at the tables at the start of the tournament when, to his amazement, Clonie Gowen sat at his table! "Imagine me, my first tournament, and I have to play against Clonie," he remarked, his eyes glowing. "It's everyone's dream to be in that position!"
Action began heating up as Qualls and Hughes clashed with strong hands and Qualls all in. He turned up Q-10 to go against Hughes' K-10 and watched as the board (Q-J-10) gave him two pair, but the river (9) completed Hughes' straight draw and eliminated Qualls in third. Not a few hands later in the heads up matchup, Wiggins was the one with the Q-10 and an all in Hughes held the advantage with A-5. A Queen on the river gave the Bluff City championship, and one of the seats to the WSOP, to Chris Wiggins!
As play started on Sunday afternoon, I had a chance to speak with Chris. "I've been getting calls ever since it all ended last night. People are all asking me 'When are we heading to Vegas,'" he laughed. He told me that he had kept text messaging his friends and relatives with the running tally of players remaining as he came closer and closer to the prize. Once he captured the title, he said, "I was done playing cards for the night!"
Sunday's battle was just as spirited as Saturday's had been, and a woman will actually be the second representative from the Bluff City Open to take the trip to the World Series. Krystal Nelson of Tunica, MS was the big winner of the Sunday tournament and, along with Chris, will carry the memories of their Tunica victories and, hopefully, create more memories during their stays in Las Vegas.
"Each day's tournaments were at capacity and we couldn't be happier with the attendance and contributions of Clonie and the rest of the players," remarked Brady Tanner, Director of Special Events for UCP-Mid South. "It was a great tournament and event for all of us!"
Maybe this could be the future of tournament poker. Like the PGA, where the tournament generates donations for individual charities along their tour, it would be extremely easy for either the World Poker Tour or the World Series of Poker Circuit to do something along that line for each of their stops. It would also show, as the Bluff City Texas Hold 'Em Open did, the heart, kindness and willingness of poker players to step up for philanthropic causes.
Please visit our online poker room directory to see the best bonuses on the web!