Inside The Tour, Vol 8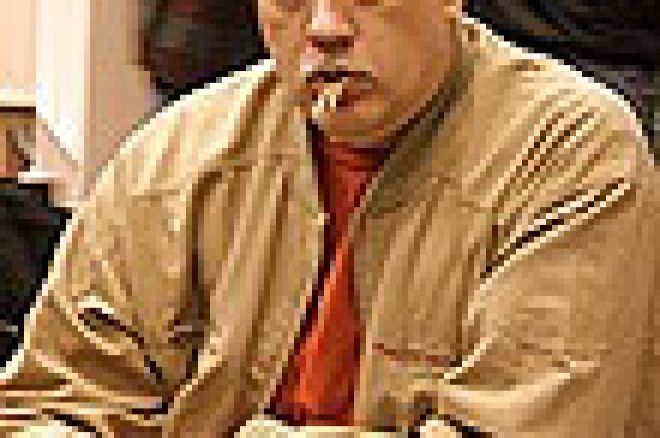 There are a lot of bad to poor poker books flooding the market right now and this compels me to mention a few poker authors that I can recommend to all readers.
In order to have a grasp of the basics (including math) the beginner through intermediate player must read David Sklansky.
The intermediate through advanced player will get insights into what passes through the professional's mind by reading the columns of Roy Cooke, and the books of Bob Ciaffone (Bob is an expert/master at backgammon, bridge, and chess. I believe that this background is great training for a poker player and will talk at length about why this is so in the future.).
The advanced player should read Barry Greenstein's book, which has yet to released, as it walks you through some hands and has also some entertaining stories. He showed it to Tuan Le before Foxwoods, and me before the Los Angeles PPT, so it must have the magic insights, no?
Most essential of all will be Dan Harrington's book[s] in a professional player's library. I am comfortable with recommending his books because of discussions that I have had with him over the past few years. Of course we are both chess masters and backgammon players so perhaps it is not surprise that we speak a similar language. Nonetheless the depth of analysis that he goes into and the insights he offers are unparalleled in all of the poker writings I have seen, and will likely ever see.
I hope to have my first book out this summer (perhaps it is 60% done as this is written) and expect to cover material that will be important to all poker players. In particular the importance of it will be my suggested approach to no limit holdem tournaments. It will explain why many cash players do not comprehend the success certain tournament players have--which then tends to lead the tournament players to think they can play in the cash games. By and large, they cannot. There are many cross-over possibilities within holdem but you have to read, study, practice, and play what makes a lot of sense for you in particular. I accept a student now and then and will not allow them to learn on the scatter plan. They have to choose pot-limit, or no-limit, or limit if their interest is holdem. Even with this restriction the differences can be great depending on the limits chosen, on the locale, and on the type and style of the competition.
In terms of reporting the mysteries and spinning atmosphere of high stakes poker and everyday gambling was there ever a better writer than David Spanier? I hope so, but if true, I have yet to see their work. This material is for the voyeur, for the person that enjoys imagining the stress of such an improbable way of making an 'easy' living.
All of the above is a preface for me to talk about an author that I think was gifted beyond description, Andrew Glazer. I have read and reread numerous reports from major events that he covered and every time I look at them I am impressed, no, more like astonished, that he can bring in every-day parts of our lives and renaissance themes from, well, out there somewhere, and still give us a taste of the moment, give us the excitement of being in the front row, waiting for the result as each card comes off the deck. There was only one Andy Glazer and I am at least as sad as many others that he is no longer with us, that his perspective and insight and wit and reporting skills will no longer travel from major poker event to major poker event as so many of us do.
I met Andy during an event at the Commerce Club some years ago in the infamous Cabana which hosted many events, and has since been torn down, not long after his famous meeting with Phil Helmuth in a hot tub at Esalen. We were seated next to each other as we approached the money and then were in the money in one of their enormous-field-300-with-rebuys limit holdem tournaments and so had plenty of time to talk (he was very socially open and approachable) about life, ethics, poker, games (he was especially interested in my backgammon history, and we agreed to play), and life. He talked about a book that he had in the pipeline about gambling, and another that he was writing with Phil tentatively called 'Poker Brat'. Now there is a title that is a natural!
During the following years the area of particular interest to him was ethics in poker. Roy Cooke has been writing about it, and the crusading Casey Kastle has also been very interested in this topic. Events occurred at the World Series of Poker in 2004 that Andy felt deserved more attention, as well as my long term knowledge and takes of what happens inside the tour, and so we agreed to write some articles together (at least two, and likely more) in May of 2004. As the World Series wound down we were both exhausted and agreed to get together in Los Angeles in June and write the articles for July publication. They did not happen and never will.
Not long after Andy's sudden death, which was hard for me to digest, Marlon Brando died and Larry King reran an interview with Marlon that inspired me to write a piece on how temporary it all is. I have also written about memories that I have of meetings with Henry Fonda and Ray Charles, among others that are no longer with us. Those events were not large if viewed from the eyes of the world, but what they make you think about is not easy to capture, nor to measure in common terminology.
The deaths of those we know can be inspiring, or at the very least, motivating. A hero's death, and our first heroes were usually our parents, can cause us to reflect on our own raison d'etre. The point here is that it has to be brought home to us, it has to confront us where we live, or else it is just another number in another headline that has been presented in the local newspaper, like "28 marines died in Iraq" today. Is that the whole story? Of course not. They have mothers and fathers and families whose lives are forever altered after the event.
We all have a bad case of temporary-itis. We can put our head in the sand and hope it goes away...or we can use it as a base which will enrich our lives. Interesting choice, don't you think?
So play good...and get lucky!
Please visit our online poker room directory to see the best bonuses on the web!