Poker creeps into the Network consciousness: The NBC National Heads Up Championship is here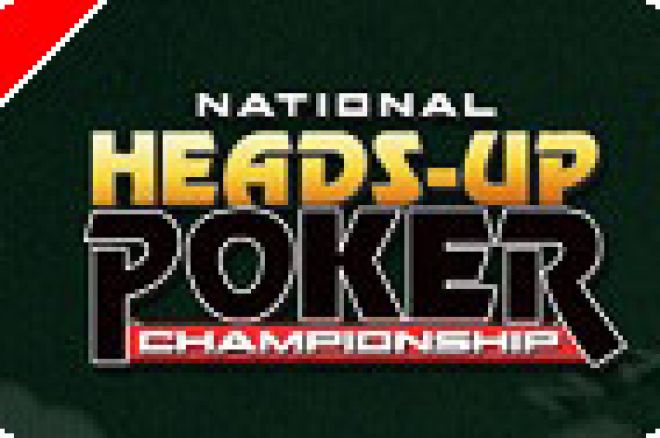 When I first heard NBC was doing a made for TV poker event, it perked my ears up. Even if it was poorly done, it would still be a good step for poker. The fact that a network was willing to shoot it meant that a network was willing to air it, and unless it was an unmitigated disaster, poker would creep a little more into the mainstream.
But it strikes me that NBC actually thought about this, and created an event, rather than just set up cameras at an existing tournament. Having six or eight heads up matches going at once was a really smart way to do it. OK, Johnny Chan is taking time to make a decision...fine, cut to Annie Duke's match. Annie folded? Fine, cut to Phil Ivey's match, and so on. One would have to assume that this was a nightmare to direct (worse than golf), but I am eager to see the end result this Sunday.
This Sunday at 1pm (check your local listings), NBC will air its first episode of the "National Heads Up Championship", which will run for six weeks in a row, sometimes on Sundays, sometimes on Saturdays. It may be interesting to note that a couple of the airings lead directly into major horse races. I can see some NBC exec going, "hmmm...gamblers like poker AND horses....Win Win!"
The heads up format, and the fact that multiple matches were being held at the same time seems like perfect television fodder. The names participating in this competition are as big as any event out there. The event includes Johnny Chan, Doyle Brunson, Chip Reese, Daniel, Moneymaker, Annie, and my personal favorite Rene Angelil, who is mostly known for being Celine Dion's husband/manager. It is mostly poker pros, but James Woods, and Lakers owner Jerry Buss played in the event also.
This marks yet another moment in time for the mainstream penetration of poker. I am interested to see how NBC handles it, and hopefully the commentary, and the coverage is as poker friendly as it will be TV friendly.
If you don't want to know who won this, don't read this next paragraph. The winner was Phil Hellmuth, and the only reason I mention this is that I find it interesting that Phil, who has not had a lot of luck in televised events these past two years suddenly comes out of hibernation, and wins the highest profile TV event yet (yes the WSOP, and WPT are bigger poker events, but cable is cable). Phil's stock will once again rise, and let's face it...somebody up there likes Phil.
The commentary is provided by Matt Vasgersian, with none other than Mr Kotter himself, Gabe Kaplan chiming in expert commentary. There someone called a "sideline" reporter (boy, this is network TV) named Lindsay Czarniak.
For more information on this event, feel free to go to headsuppokerchamp.com and let's hope this comes out good...
Please visit our online poker room directory to see the best bonuses on the web!