Poker News $5,000 Freeroll Is Back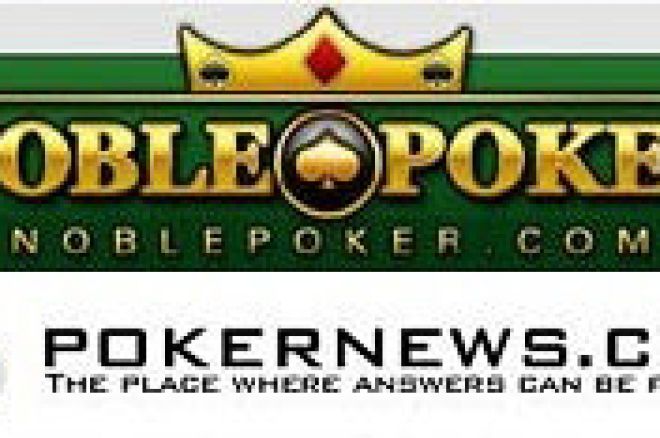 Following on from the hugely popular $5,000 freeroll in March, Poker News has once again teamed up with Noble Poker for another great night of poker action.
If you played in the Poker News / Noble Poker $5,000 freeroll in March you are probably wondering when you will get the chance to play in the next one. Well, it's back!
On
May 15th at 6pm EST
players will get the chance to compete for the $5,000 prizepool for absolutely nothing. To take part in this event you must join Noble Poker before this date and deposit at least $20. You will then be allowed to register and play alongside WPT superstar Tony G. plus other writers and staff from Poker News.
Matty82, March's $5,000 freeroll winner, took a whopping $1,250 1st place prize for his efforts. Well over half of the registered players won at least $12.50. Outstanding value I think you'll agree.
Signup today through this
to be eligible for the freeroll.
Want to know more about Noble Poker? Then read our in-depth Noble Poker review here.
Quick information:
<table width="100%" border="0" cellspacing="1" cellpadding="0">
<tr bgcolor="#ffffff">
<td width="35%" height="16">
Tournament:
</td>
<td width="65%" >Special Pokernews.com $5000 Freeroll</td>
</tr>
<tr bgcolor="#F0F0F0">
<td height="16">
Poker room:
</td>
<td >Noble Poker</td>
</tr>
<tr bgcolor="#ffffff">
<td height="16">
Time:
</td>
<td >6 pm EST on May 15th, 2005</td>
</tr>
<tr bgcolor="#F0F0F0">
<td height="16">
No. of expected players:
</td>
<td >200</td>
</tr>
<tr bgcolor="#ffffff">
<td height="16">
No. of eligible players:
</td>
<td >123 (April 25th, 2005)</td>
</tr>
<tr bgcolor="#F0F0F0">
<td height="16">
Prize Pool:
</td>
<td >
$5000
</td>
</tr>
<tr bgcolor="#ffffff">
<td height="16">
Minimum deposit:
</td>
<td >$20</td>
</tr>
<tr bgcolor="#F0F0F0">
<td height="16">
Qualifications:
</td>
<td >Till May 11th, 2005</td>
</tr>
<tr bgcolor="#ffffff">
<td height="16">
How to enter:
</td>
<td >Sign up via Pokernews.com only an you will be eligible to the freeroll automatically</td>
</tr>
</table>