Around the Water Cooler at Pokernews - Predictions for the WPT Championship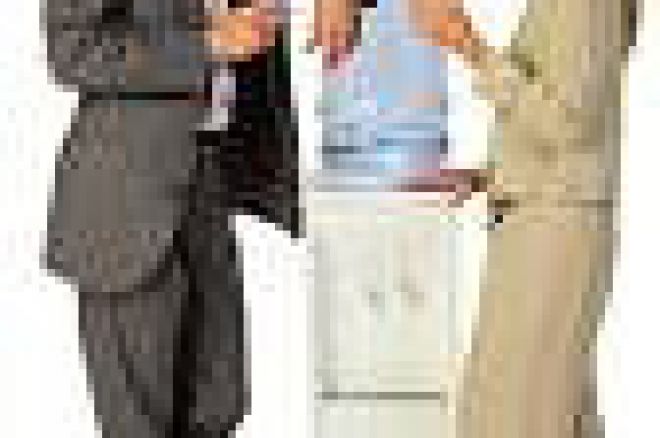 Here at the fabulously extravagant offices of Pokernews.com, we often sit around the coffee machine, or the water cooler, or wherever people who have normal jobs gather to talk about work. Since we work in the poker business, the talk is often of who is playing the best, and who is playing whom in the poker world.
So, we got to thinking today, and decided to have a contest. Earl, Mr Moves, and I will pick ten players that are going to be in the WPT Championship, which starts today. Whoever has the ten players between them who win the most money in the WPT Championship gets bragging rights around the water cooler, or the coffee pot, or whatever. There may be some money riding on this, but of that would be gambling, which is of course illegal.
To add a little spice to things, we'll let you participate. E-mail your ten picks to schecky@gmail.com The person with the highest dollar total gets to play me, heads up for $50. You win, I pay you. I win, you have to pay nothing (but you will be shamed for losing). The deadline for submissions is 3pm EST (8pm GMT). Below are our picks. Enjoy.
Mr Moves picks:
Daniel Negreanu
Chris "Jesus" Ferguson
Dave "Devilfish" Ulliot
Tony G.
Barny Boatman
Ram Vaswani
David Pham
Humberto Brenes
Barry Greenstein
Erik Seidel
Earl Burton Picks
1. Erick Lindgren
2. Scotty Nguyen
3. Daniel Negreanu
4. Antonio Esfandiari
5. Tony Ma
6. Jean-Robert Bellande
7. Paul Darden
8. Marcel Luske
9. Juha Helppi
10. Tony G
John Caldwell's picks
Daniel N
Erick Lindgren
Phil Ivey
Michael Mizrachi
Marcel Luske
Ram Vaswani
David Pham
Chip Jett
Gus Hansen
Ted Forrest
I will post an update later in the week. While you are here, help yourself to some coffee.
Please visit our online poker room directory to see the best bonuses on the web!