Warfare And Poker Together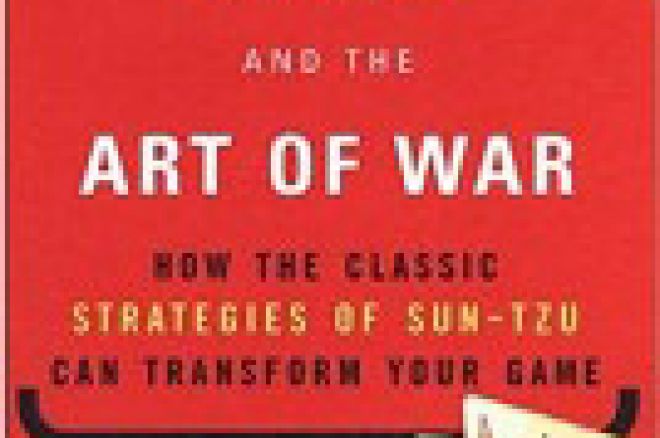 If you look at the fabric of a poker tournament, in many ways it is a reflection of warfare. Hundreds of generals marshal their troops into attacking the enemy forces that face them, with the ultimate end (world domination?) coming when one general (player) has captured the forces of all the other generals and is proclaimed to be the champion of the particular tournament.
For those of you with a military background, you will be familiar with the treatise that the great Chinese general Sun Tzu wrote over two millennia ago. His thirteen chapter book The Art Of War has been read and used by successful military leaders and businessmen since the early times of the Chinese dynasties. As a former military man myself, I have had the opportunity to study Sun Tzu's philosophies and, indeed, they are applicable in both the arena of war and in the business arena.
Poker player and author David Apostolico has made the leap between tournament poker and the classic Sun Tzu tome by coming up with the aptly titled book "Tournament Poker and The Art Of War". Himself an accomplished online and tournament player, Apostolico has come up with a book that is lacking in direction and thought, surprising for the material that he was working with.
While many of Sun Tzu's brilliant philosophies are presented here, Apostolico misses out on what could have been potentially a great book. He seems to take individual passages from Sun Tzu and then simply transcribe how what the Chinese great has said is applicable to tournament poker in its basest form. Rather than expand the knowledge of a player, Apostolico simply settles for a comparison of the philosophies of war to that of the philosophies of tournament play.
It doesn't happen often enough that there are any strategic demonstrations of the thoughts presented. When they are, they are fairly simplistic and easily identifiable by your middle to advanced player. What would have made for a better demonstration is to take big hands in major tournament play (easily doable in this Internet age) and demonstrate how Sun Tzu's philosophies used in the middle of action can be of a benefit for play. It would even be effective to show the opposite side, where the usage of a particular Art of War passage would or could have benefitted one of the players in action. Inexplicably, the last two chapters deviate from the Sun Tzu philosophies and offer up Apostolico's beliefs on getting started in live tournament poker and Internet tournament games, with neither chapter delving into any great detail.
What the book does do well is give a philosophical and mental picture to a player's game. Upon reading it, you may be able to see particular leaks that have developed in your game and what you are doing wrong. It doesn't offer any particular cures for your ills (which it was not intended to be), but it might identify why, in certain situations, you find yourself not either maximizing your potential or, on the other hand, why you are losing out when you have had the edge at one point or another.
It also does, in an odd sort of way, send you into a kind of Zen meditation. Your thought processes begin to look at many different ways of attack (and whether attack is good at all). It is beneficial in getting a player to analyze their game through a more near-mystical approach. For some, this could be a good thing!
It is priced decently at $12.95 (US) and should be easy to find at any local bookstore or library. What is questionable is where it would go into a player's library. While I do not regret having purchased and read it (and you thought I got these for free?), it is difficult to view it as a serious poker book, as it lacks the card demonstration that most look for. If you are looking for an alternate way to view your battles on the felt, it may be helpful to take a look at it. Additionally, if you are looking for a different grasp or theory on the sport of poker, you might find it useful.
The book mentions that Apostolico is looking at using the philosophies of Machiavelli in a poker strategy context for another book. While he has an excellent respect of military strategy and political thought, he needs work in applying the works of two great minds to the sport of poker as a whole. While I will be placing "Tournament Poker And The Art Of War" alongside the other classic poker books I have and I will consult it on occasion, it will be difficult for most to apply the words within. On the whole, most would not find "Tournament Poker And The Art Of War" to be of any great help or useful in any way.
Please visit our online poker room directory to see the best bonuses on the web!