World Poker Tour Championship - Day Two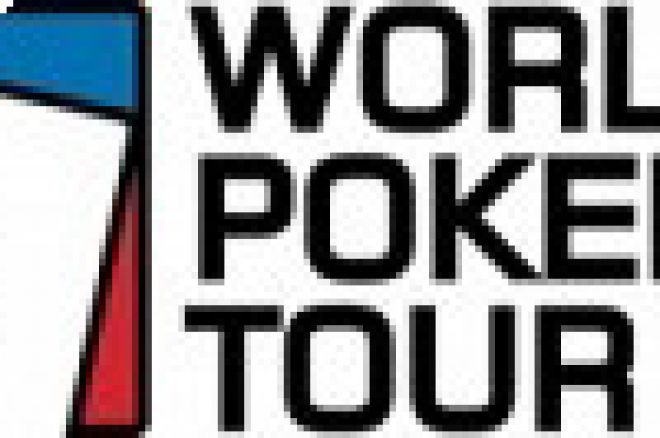 The weather was much better for this day two of the WPT Championship. The patio was beautiful, and the wind would now cooperate it seemed, so no sudden drenchings from the fountain. The laptop is humming, and the bustouts will be furious.
I commented yesterday that I thought today would be moving day, and we would lose ½ the field. Moving was indeed the order of the day, as a grand total of 50 players busted out in level one. Notable early exits were Men 'The Master' Ngyuen, Gus Hansen (though Gus had a moment of hope after doubling up in the first orbit), Howard Lederer, Harry Demetriou,
The 'color' moment of the day so far was Table 55. Sure, Tobey McGuire was there, and holding his own. But the fun began in the first orbit, when Bobby Hoff played a hand from his Big Blind. No big deal, except he was in the wrong seat. Luckily, Bobby didn't do anything an empty seat wouldn't have done....posted antes, and checked his Big Blind hand before the flop. The opponent bet, and Bobby folded...so no harm, no foul, but a laugh was had by all. Also, at table 55 was Young Phan....or was it. Young had decided to come in 'disguise' today. Young was wearing a bad Heavy Metal frizzy wig, and a hat that simply said "Billy Bob". It was a funny double take, but I don't think anyone was fooled.
This was going to be a difficult day to cover, as the "reserve" area, where the other tables were had 17 tables today, instead of the 4 or 5 it had the first few days. It's a good 5 minute walk to the other side of the tournament, and it makes for a bit of a tightrope act.
The 'fast early mover of the day' award goes to actor Will Wheaton, who started the day with 37,000 in chips, got the break of the early action when he tripled up in a pot with
QQ. Will as up against K K, and 10 10, and after the BB announced he had folded a Queen, will was thinking he would soon be a member of the last generation. The flop was all rags, but the case Queen on the turn gave will a triple shot of flavor, and a triple up of chips. It was smiles all around for Will. Everyone's favorite nice guy Lee Jones was sweating Will, and the two shared a moment after Will's good fortune took him from 37k to 125k.
Everyone's favorite star Daniel Negreanu was out fairly early today, and the story is kind of funny. I walked by Daniel's table, and realized he was on a big decision. I heard Daniel say "Well, I have five high, so I'm going to call". Oddly enough, since its Daniel, I actually thought to myself, "Hmmm...I like his chances". Unfortunately, Daniel was behind in the hand, and did not improve. Daniel had the rest of the day off to tell the story on his blog.
Eyewitness Mom reporting: Shirley Williams came bouncing out the door with glee after her son David had doubled up. The details of the double up showed that having your Mom at the table must be something the poker gods like. David took his AQ into battle for all his chips....Unfortunately, his opponent had AK, and the flop was no help. Shirley was welling up after the turn brought no help. The river was a Queen, however, and Shirley ran gleefully from the room, and out to the media area to tell us of her son's good fortune.
Through two levels, we had lost 99 players, almost one third of the field. I knew this was going to be moving day, but this is much quicker than I thought it would be, and we have basically lost a player every other minute.
The, "oh you meant THAT WPT Championship" award goes to Trent Martin, who won his seat online, and then didn't show up for the tournament. In case you are wondering how long you would last if you didn't play one hand, Trent was eliminated at the 15:53 mark of level eight in 229th place. Trent's empty seat was right next to Tobey McGuire, who was eliminated several hands later when he made a full house, nines over threes, and was eliminated by an opponent who made nines full of tens. Unofficially, Tobey finished 227th.
The bad beat of the day award goes to Steve Z. Steve called Max Pescatori's re-raise preflop, and when an Ace came on the flop, the rest of the money went in (Steve had very little left). Steve Z had AQ, and Max had a pair of Jacks. The turn brought no help, but the river was one of the two jacks, and the tournament had lost its last player, alphabetically speaking.
The 'luck bites back' award of the day goes to Will Wheaton, who after catching his case queen, and rolling for the next couple hours Will caught six minutes of bad luck, and six minutes was enough. First Will played a 238,000 chip pot with KK, and lost to AQ. A few minutes later Will got pocket Kings again, and threw his remaining chips in. Annie Duke had AK suited, and called. The river was the Ace of Spades, and fate had dealt Will two cruel blows in about six minutes. After the Ace fell, Will was beside himself, and no one wanted to stand by him.
My bold prediction came true, and we lost ½ the field today. We have 168 players left, and we should get into the money tomorrow. This is really a marathon, and not a sprint. Whoever can survive these seven days, and win has truly accomplished a major feat.
This was a furious day, and I am sure I have missed tons of player exits. Here are players I know have made their exits today, but this is less than 10% of the bustouts for the day. Chau Giang, Carlos Mortenson, Johnny Chan, Doyle, Huck Seed, John D'Agostino (eliminated in the pot of the day....Almost 400,000 chips), Thunder Keller, and many others.
Selected chip counts -
Dave Colclough - 381,100
Paul Testud - 369,400
Juha Helppi - 334,600
Scotty Nguyen - 312,100
Michael 'Grinder' Mizrachi - 307,800
David Chiu - 284,300
Victor Ramdin - 269,500
Max Pescatori - 223,400
David Williams - 220,700
Greg Raymer - 216,600
Hasan Habib - 201,300
Barry Greenstein - 190,000
Alan Goehring - 165,800
Surinder Sunar - 163,800
Annie Duke - 157,900
Barry Shulman - 157,500
Antonio Esfandiari - 155,200
Jennifer Harman - 152,100
Allen Cunningham - 151,900
Chris 'Jesus' Ferguson - 140,100
Tony Ma - 129,300
Erick Lindgren - 121,200
Isabelle Mercier - 120,300
David Sklansky - 113,500
Phil Ivey - 101,700
Tom McEvoy - 91,300
Joe Beevers - 87,600
Lyle Berman - 82,200
Kathy Liebert - 70,300
Josh Arieh - 22,000
Please visit our online poker room directory to see the best bonuses on the web!