Antonio Esfandiari - The Magician With The Golden Touch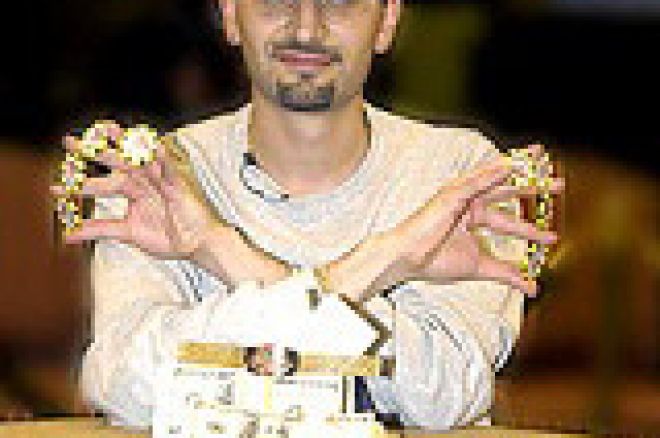 Antonio Esfandiari has it sweet. Not only is he one of the best poker players in the world, being the youngest player to ever pick up a World Poker Tour championship (the 2004 L. A. Poker Classic) and winning a World Series of Poker bracelet ($2000 Pot Limit Hold 'Em Champion in 2004), he is young and has the world at his beck and call. He travels the world for business as well as pleasure, and his tales can often be found on his website, magicantonio.com. Born in Iran and now calling San Francisco, CA and the United States his home, Antonio has come far in the world of poker.
I found out, however, when talking to the man that he has much more in mind, not only for himself and his life but for his poker career as well. We had a chance to catch up with each other, after playing phone and text message tag for a few days, just before he headed off on another one of his business trips.
PN: Hello, Antonio! Earl Burton from PokerNews...
AE: Earl! The man, the myth, the legend! (Laughs)
PN: (Laughing) You are a tough man to catch, Antonio!
AE: Ah, Earl, you wouldn't believe my schedule. I just wrapped up some work on my poker camp and I am off again on another business trip. Then it's back to Vegas for a tournament, and of course the World Series is coming up...
PN: I can just imagine how busy it is for you. You mentioned your Poker Camp...how is that coming along?
AE: I believe that my camp is the best one out there. We will be keeping the numbers small, probably around 40 or 50 or so. It keeps it intimate and I can stand up there and basically just educate the players through talking to them. The campers will be doing quite a bit, but the most important thing is to make sure that they have fun as well.
PN: Do you have the same thrill teaching poker as you do playing the game?
AE: It's funny, it seems that I have a knack for it. People tell me, and we were just running through some things for the camp this morning, that I do it very well. I guess that to be a teacher, you have to have a certain amount of charisma and be a performer of sorts to do it well.
PN: I always wondered about that. Did magic have anything to do with learning poker? I mean, there is a lot of discipline to both...
AE: Surprisingly, Earl, not really. With magic, I had an absolute desire to perform. It was almost a quest of mine to become successful at poker. My desire was for absolute perfection and winning. It seems to have worked pretty well for me so far. I finished at the final table in my first tournament, then won Los Angeles and picked up my bracelet at the World Series as well.
PN: I wanted to ask you about that. Which one for you personally was bigger, winning the WPT event or picking up that bracelet?
AE: Oh, by far, it was the WPT win. It was my first victory, I picked up 1.4 (million dollars, if you are wondering) for it. Don't get me wrong, the bracelet is nice, but the WPT victory was big for me personally.
PN: You also played well at the Heads Up Championship. How did you like playing in that.
AE: It was great! I made the Final Four in that tournament, and I really would have liked to have taken it. I play quite a bit of heads up poker and I would definitely like to play more.
PN: You finished in third at one of the Five Diamond tournaments. How does all of this set you up for this year's World Series?
AE: I feel like I am going to have a great year. I got a little crazy at last year's event, busting out on the first day. After that, I made a resolution for this year's World Series to play poker and play it strongly. I think that has helped me out tremendously in the other tournaments leading to the Series, so I think I am going to do well.
PN: You and Phil Laak are good friends. Do you ever trade notes?
AE: Phil is a great guy, and one of my best friends. He is a little crazy! You learn about someone when you've been living with them for three years! But, yes, we do have the opportunity to sit around and exchange ideas.
PN: Who are some of the other players that you respect?
AE: Gabe Thaler is a person that many haven't heard of, but I respect his No-Limit game very much. After him, it has to be Barry Greenstein and Daniel Negreanu, definitely.
PN: What other interests do you have outside of poker? I read somewhere that cooking interests you...
AE: Very much so! In fact, I was enrolled in culinary school before I won at poker. The restaurant business interests me very much, so I would love to get into culinary school and restaurant management and start my own business.
I don't want to raise a family on poker. I want to be around them and enjoy that life, when I get to that point. I don't want to be on the road all of the time and miss out on things. So, eventually, I will get into that business.
PN: Sounds like you have given a lot of thought to your life. How long do you see yourself playing poker for a living?
AE: At this point, with all of the attention and money that is there in poker, I can see myself going at it for about five years. I eventually want all the good things in life, the wife, kids, things like that. But, for now, poker is it for me!
PN: Is there anything else going on? You are already busy enough!
AE: (Laughs) Well, I have out right now a DVD series on poker. It's called "Going All In" and it is a four DVD set with lessons from Gus Hansen, Andy Bloch, Phil (Laak) and myself. You can check it out at beallin.com. There is some great information there!
PN: Sounds like it! Well, Antonio, I know you are off again. Have a great flight and take care!
AE: Thanks, Earl, you too!
I want to take the time to thank Antonio for squeezing in our conversation in his very busy schedule. I am sure he would have liked the downtime at the airport, but he was a great gentleman in agreeing to the interview and then doing it when he could have been resting. Be sure to check out the DVD series "Going All In" at beallin.com and to keep up with the busy Antonio, check out his very well done website at magicantonio.com!
Please visit our online poker room directory to see the best bonuses on the web!