Hot Nights At The Hard Rock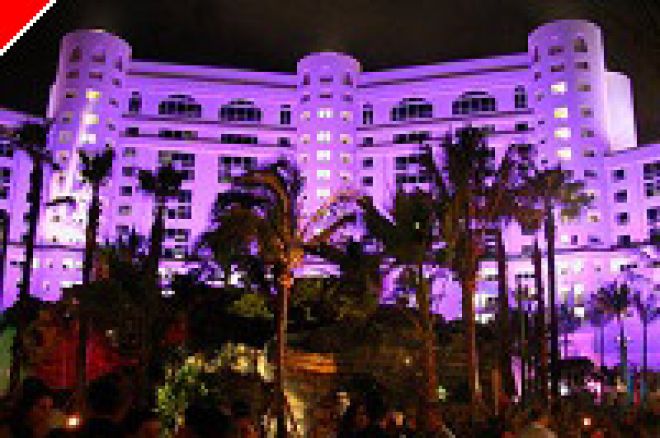 For those of you that sit down to consider vacation spots or gambling trips, you normally have to sacrifice one for the other. If you are there for the gaming action, you normally will have not much else to do after the thrill (or the bankroll) is gone. If you go somewhere to relax, but still want the chance to increase your wallet, most of the time it doesn't exist. While Florida has long been a hot spot for vacationers (and retirees), it could soon become a new mecca for the gambler in all of us with the Seminole Hard Rock Hotel & Casino in Hollywood, FL!
Upon arrival at the Hard Rock, you are first hit by the weather. Since you are fairly close to the Atlantic Ocean (about a fifteen minute drive from the Hard Rock), there is a bit of humidity to deal with, but otherwise the weather is fantastic, even in April. The grounds are well kept and, in a reoccurring theme, well protected by the security staff of the property. In fact, you will see the security throughout the grounds, ensuring the safety of the guests and other patrons as well (we'll learn more about that in a moment).
The staff of the hotel is more than friendly, attempting to make everyone feel special (and achieving that very well). From the front desk to the waitresses and bartenders to the food court employees, everyone has a smile and a kind word as you traverse the floor. The management of the Hard Rock must be commended for providing such a pleasant experience for the people who are there. It truly seemed that the staff wanted to be there.
We'll talk more about the hotel in a second, but the casino is the draw! There is a tremendous amount of space and it is covered by every form of slot machine that you can imagine! There are approximately 2000 machines spread around, with a small section of video poker machines in the mix as well. The interesting thing about the machines are they are not set at a mind numbing decibel level! You can actually walk around the casino and not have the ringing of the tumblers still with you for hours after you have gone to your hotel room. This, in my opinion, is something that many other casinos should look at and implement in their establishments.
The poker room is probably close to being one of the best on the East Coast, rivaling those found in Atlantic City, just short of those at Foxwoods and surprisingly better than those in Mississippi. There are forty eight tables waiting for action, but they really do not wait for long! By noon, most of the tables are full and, in the evening, there is a waiting list that can stretch for a while. This is perhaps one of the drawbacks is that you can sometimes have a pretty good wait if you are looking at getting into a particular game, but the action once you get there is worth it!
Action spread at the tables include $1/$2 and $2/$2 Texas Hold 'Em (Limit and No-Limit), Omaha and Seven Card Stud. The players can be a little on the loose side, with sometimes up to six players in the hands, but the action this generates is tremendous! The tournament action is fantastic, as they are spread 24/7. There are three levels of one table sit and gos ($135, $250, and $500, both nine and ten handed to start) and action on those is never ending. In addition to this, there are daily tournaments that go on, where some serious change can be made! The poker room at the Hard Rock is worth every minute that you can spend there!
Now, when you decide that you have had enough of the gaming for the evening, the Hard Rock doesn't stop there! There are locations around the casino that you can sit back and enjoy your favorite beverage while listening to a multitude of local acts as they perform. These musicians are way above average and the musical styles covered will eventually find your taste, be it rock, dance, jazz or 70's. The audio level of the acts, surprisingly, doesn't infringe on the game room, just as the game room doesn't violate on your enjoyment of the bands. You can easily sit for an hour just enjoying the music.
By far one of the draws of the Hard Rock must be what they call Seminole Paradise. Seminole Paradise is just outside the doors of the casino and, if you have a shopper or an eater in your group, this is where you will find them! Almost twenty restaurants (counting those inside the casino as well) will be waiting for you, with the choices too numerous to mention! If you want fine dining, it is there! Asian? You got it, there's "Tatu"! A sports bar to grab a bite and watch a game? No problem, there's "The Park"! Of course, there is a Hard Rock Café on the grounds as well as a Hooters. There is no way to hit every restaurant that they offer, unless you plan on spending all of your time eating!
Entertainment abounds in Seminole Paradise as well. There are (just to name a few) piano bars, "Legends In Concert" (an impersonators show), a discotheque, as well as The Improv Comedy Club, featuring nationally known comedians yukking it up for the audience (Mark Curry was set to perform there in May). Additionally, there is Hard Rock Live, featuring live concerts, sporting events, theater and more.
The nightlife is abundant at the Hard Rock, and the people are not just those that are staying in the hotel. It was obvious to me that it is one of the big nightspots for the local community as well. One thing I noticed was that it must be Florida law that women must have short skirts and high heels!
Everyone wants to take home a piece of where they were, so there are shops galore throughout the area. There are high priced jewelry stores, art studios, Seminole Indian shops and more where you can find that "special" piece to remember your stay by and, of course, there is a Hard Rock Store to pick up music related memorabilia. Anyone (not just the ladies!) will find something they like in these shops.
If you have exhausted yourself at the gambling, the clubs and the stores, you can take a stroll around the Hard Rock and just soak in the memorabilia that covers the walls. There are museum quality pieces that make up the Seminole Hard Rock collection and, once again, it covers all genres of music. Costumes, guitars, drums, shoes and much more decorate the Hard Rock, and you can easily spend an afternoon alone just marveling at the pieces that are on display (one which I kept coming back to was one of only five guitars in existence signed by both the legendary Jeff Beck and the late Stevie Ray Vaughan).
Once you tire of your evening, the Hotel beckons you. Again, security does an excellent job as you have to show your room key to just be able to access the elevators. They are very stringent on this requirement and it is something, as a guest, that I appreciated. Once in your room, you have everything at your disposal. It is comfortable and each room is fully equipped to meet anyone's requirements!
Room rates might be seen by some as a bit pricey (accommodations can start at $190 a night up to their "Apollo Suite", which goes up to $1000 an evening), but they are well worth what you are paying. If anything is needed, be it room service to a simple wake up call, the staff is a phone call away and excellent in speed of service and very pleasant. The concierge service is very knowledgeable and I must give a note of thanks to Donna and the rest of the staff for assisting me with many of my questions and requests!
If you want to get away from the Hard Rock, there are entertainment options everywhere. The beach beckons you with its salty scent, and if you want to step out, Miami, Fort Lauderdale and West Palm Beach are just a short drive away. There is even an amusement park nearby that the kids can have their fun at, if they have gotten tired of the huge Hard Rock pool with its island in the center of it!
All in all, the Seminole Hard Rock Hotel & Casino is a stop that any vacationer should make. As far as the poker action and the gambling, it is DEFINITELY a must. I know I will make another stop there myself!
Please visit our online poker room directory to see the best bonuses on the web!