LIPS Tour Crowns its Champion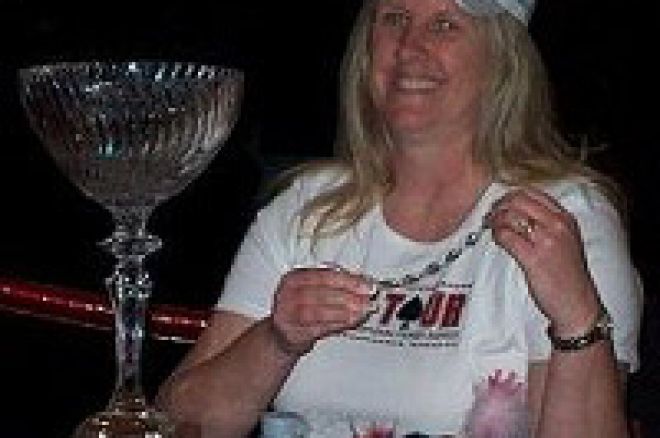 From its inception, we have followed the LIPS tour as the tour tries to promote our great game to women. The LIPS (Ladies International Poker Tour) gives women a familiar, non threatening, yet incredibly competitive environment in which to learn, and enjoy the great game of poker.
The turnouts, as far as sheer number of players were very impressive in for the fledgling tournament circuit. Companies like Gaming Club, and the host casinos should be commended for trying to help the tour along, and allow women their own forum in which to compete against each other.
The LIPS tour recently had its Grand Final at the Ocean's Eleven Casino, and the winner was Kim Fontes. Fontes is a resident of Oceanside, where the Casino is located, so it wasn't a long drive for her to capture her crown. Fontes was the last one standing out of 140 entrants. Fontes won $10,500, and a seat into the 2005 WSOP Women's Event at the Rio in about a month.
Making the win even more impressive is the fact that Fontes came to the final table as the short stack. Kim threw her chips around aggressively, and caught a few cards to put herself into position to win. Angel Word, who had won a LIPS tournament earlier in the season at the Jack Binion World Poker Open, took second.
The LIPS tour put together 15 events in its inaugural schedule, and had turnouts in the hundreds of players for many events, including a record 468 for the tournament at the Jack Binion World Poker Open.
The second LIPS season is upon us, as the first event of the second season took place last weekend at the WSOP Circuit event at Lake Tahoe. For more information on the LIPS tour, direct your browser to lipstour.com
Please visit our online poker room directory to see the best bonuses on the web!