Random Poker Notes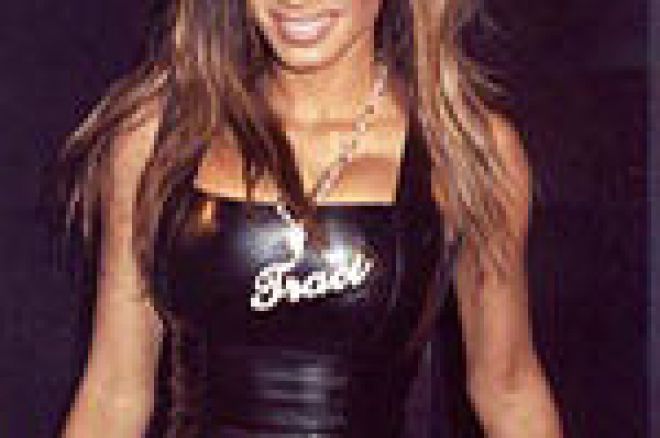 Traci Bingham signs on to be spokesperson for Empire Poker
Traci Bingham, known mostly for her roles on the beach, has signed with Empire Poker to be a spokesperson for the online poker room. The former Baywatch stunner will be featured on the Empirepoker.com front page, as well as make appearances on behalf of Empire at red carpet, and high profile events.
Citing that Traci appeals to Empire's "core demographic", which is "dominated by men aged 21-40.", a source at Empire stated that "Traci will be seen at high profile venues and poker tournaments wearing Empire Poker gear,"
For those who know of Bingham, the statuesque beauty will certainly be a very noticeable presence at poker tournaments. It is unclear if Bingham will attempt to play poker at events, but this seems unlikely.
Poker T-shirt manufacturer declares 'ban' on Wal Mart for his line of shirts...But are they buying?
A story recently ran on CNN.com about a man from Kansas City who declared a 'ban' on Wal Mart, and vowed he would not sell his poker themed T-Shirts to the retail giant.
It seems that Ace Kicker T-shirts, owned by a man named John Carlton out of Kansas City, manufacture a shirt that says "%&#ed by the river" (you get the idea). Obviously, this is not a shirt that a traditional company with middle America values could carry. So, Carlton thought he would take the bull by the horns, and declare his ban.
"It really worries me when big business starts dictating ethics to artists and other creative voices," Carlton said in a statement. "One of our poker shirts has an obscenity on it. And we're simply not willing to sacrifice our First Amendment rights, regardless of what sum of money we stand to make in return."
While I applaud Mr Carlton's sense of First Amendment freedoms, I really applaud his sense of self promotion. Mr Carlton got a ton of press for his T-shirt line out of this, and nowhere in any of the stories did it mention that....Wal Mart never asked to buy the T-shirts in the first place. Bravo, Mr Carlton.
A New Way To Pay For College
Many parents and their children look for ways to take care of the ever growing burden of college expenses. While they may have saved for years, in many cases, even with scholarships and grants, there isn't enough money to go to the school of their choice. Now a poker site is trying to give people the funding to attend college.
Online poker site Absolutepoker.com is holding a free "Win Your Tuition" No-Limit Texas Hold 'Em tournament. It is open to all university and college students and you have to open your account and pre-register before it begins on May 26th. While the winner of the tournament will win their fall tuition to whichever school they attend, there are other great prizes available for the final table finishers, including a Dell laptop for the runner-up and Ipods for the rest of the final table.
"We haven't forgotten how expensive college is," said Absolute Poker cardroom manager Gian Perroni. "We also realized how popular poker, especially Texas Hold 'Em, is among college students. This is a great way for students to have some fun and, for one, to alleviate his or her stress by having the fall semester paid for!"
It may be well worth a college student's time to take the shot at the tournament on May 26th and have their tuition paid for by Absolute Poker!
Ed note: If its good enough for Traci Bingham, its good enough for you - Empire Poker