Barry Greenstein wins second WSOP bracelet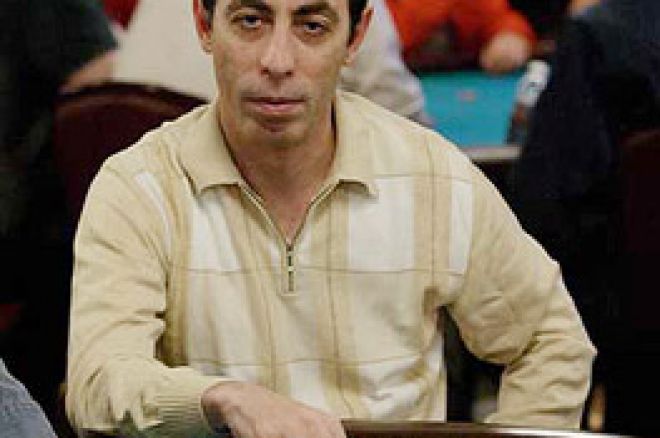 The $1,500 Pot Limit Omaha Event, Number #19 in this year's World Series of Poker, featured a star-studded field battling for the bracelet and the $128,505 first place prize. Out of the 291 players who started the event, there were some big names who made their way to the final table, which lined up like this:
Seat 1: Chris "Jesus" Ferguson, short stacked at 16K
Seat 2: Sam Silverman, 39.5K
Seat 3: Paul Vinci, 54K
Seat 4: WPT Championship runner-up Paul Maxfield, 67K
Seat 5: Barry Greenstein, 92K (chip leader)
Seat 6: Tim Martz, 72.5K
Seat 7: Toto Leonidas, 45K
Seat 8: Eric "Blue" Bloore, also short at 16K
Seat 9: Chris Lindenmayer, 35.5K
We started the event nine handed due to the double elimination that occurred last night. With a player all in ahead of him, former WSOP World Champion Phil Hellmuth called and had Tim Martz call behind him. A fortuitous flop found Phil pushing the rest of his stack in and Martz called as well. After Martz showed his set of Jacks off the flop (and with no help from the rest of the cards), Hellmuth was eliminated in tenth and launched into a classic tirade against Martz. The verbal assault Hellmuth unleashed, as well as the chair that took a fifteen foot push, was the type of thing that Hellmuth has assured all who listen he had overcome. It was obvious that, in this instance, it had not. Give twenty four hours and all is good, however. Hellmuth returned to the final table on his way to the $5,000 Pot Limit Texas Hold 'Em event, shook hands with everyone and especially was gracious and apologetic to Martz.
Play started off at 4:00 and the action kicked in nearly immediately. Only three hands in, Barry Greenstein raised the pot to 6,000 and found a caller in short stacked Eric Bloore, who pushed in his last 16,000. Greenstein called with his hand of A-5-2-2 versus Bloore's drawing A-K-10-9. Bloore struck first, hitting his King on the flop, but the river was dark for "Blue" as a deuce hit there. Eric went home in ninth place.
The dust had barely settled from that elimination when our second took place. On Hand 13, Sam Silverman tried his luck against Paul Vinci. Silverman was up and down with his 8-7-6-5, but was dominated by Vinci's pairs of Aces and sevens. An Ace came on the flop for Paul and there were no rescue cards available for Sam and he retired for the evening in eighth place.
The frenetic pace continued as, on Hand 24, our former World Champion was all in. Chris Ferguson, who was also in the $5,000 tournament as well (along with Barry Greenstein), made his stand with his remaining chips against newcomer Chris Lindenmayer. Lindenmayer was in the small blind and got the odds to call "Jesus'" all in with a less than stellar 9-8-7-2. Ferguson turned up a respectable standing hand of J-10-10-5 but, when the flop of 2-8-5 gave Lindenmayer two pair, Ferguson was unable to catch up. We eliminated one of our two Chris' as Ferguson went away from the table in seventh place and our other Chris had a story for his friends about how he eliminated a world champion.
Things settled for a bit after this, but two players were making strong moves. Barry Greenstein consistently came in for raises that went unchallenged, while Paul Vinci continued to climb the ladder with quality hands. The play was excellent, albeit tight, and it was some time before we lost our next player.
Greenstein continued to push the issue with players, although he drew a laugh from the assembled crowd when he mucked a hand and remarked, "I can't seem to get a hand." Paul Vinci was in Hand 44 when Paul Maxfield made a maximum raise. Vinci came back at him with a reraise that pushed Maxfield all in. When they turned up the cards, Maxfield (double suited with As-Ks-10d-6d) dominated Vinci (double suited as well with Ac-Qd-7c-3d). It seemed Vinci's only outs were the clubs that were in the deck and the flop was not promising with 6c-4-4. The turn and the river brought his saving grace with the 8 and 9 of clubs, administering the bad beat to Paul Maxfield and eliminating him in sixth place.
With that win, Paul Vinci took over the chip lead. As we headed into the next level with the blinds at 2/4K, the table stacked up as such:
Vinci 121K
Greenstein 109K
Lindenmayer 94K
Martz 88K
Leonidas 17K
Toto Leonidas began to make some moves in the new level. From his seemingly desperate situation, he rose to become a strong contender. On Hand 68 and all in, he drew out a wheel against Paul Vinci's set of sevens and on Hand 78, once again all in against Greenstein, he hit a boat on the flop to have Greenstein drawing dead. He continued to build his chip stack and his resilience was noticed by the appreciative crowd who gathered to watch the event.
On Hand 90, Toto took up the challenge of Tim Martz. Martz had played a steady and strong game and, after re-raising Leonidas' initial raise of 14K, found himself with the decision to go all in against Toto's triple bet. He did and turned up a drawing hand of A-Q-J-10 against Leonidas' A-A-K-J. There was no help coming on the board for Tim and he was done for the night in fifth place.
Down to four players, it was only thirteen hands until Toto's fortune ran out. Barry Greenstein and Toto had battled back and forth through much of the event and, with the board reading 4-9-J-3, Toto attempted to push Barry off the pot with a 54K bet. Barry responded by going all in, which was called by Toto. Barry had slowplayed his set of Jacks and had Toto praying for a ten, which would have given him a straight over Barry. It wasn't to be and Toto Leonidas' checked out of the game in fourth place.
Barry Greenstein had over a 2-1 lead on Paul Vinci and a struggling Chris Lindenmayer at this point. Vinci began to chip away at his lead and Lindenmayer was unable to pick up any chips from his competitors. On Hand 113, Chris found himself in a battle with Paul and, on a board of K-Q-5-6, chose that moment to stab at the pot with a 26K bet. Paul immediately fired back over forcing Chris all in. Paul turned up two pair (K-6) and the river delivered a boat with a King, eliminating Chris Lindenmayer in third place.
With that battle done, we were down to an almost dead even heads up battle:
Vinci 218K
Greenstein 216K
The two combatants battled back and forth over the course of the next fifteen hands until the major pot of the night occurred on Hand 130. Greenstein raised from the button to 18K, which Vinci called. On a 2-3-7 flop, Barry fired off 20K after a check from Paul, which Paul called. A 5 on the turn brought another check from Paul, and Barry fired again with a 50K bet. Once again, Paul called. The river brought an Ace and another check from Vinci. Greenstein fired a third time with 100K and, after deliberating, Vinci called the bet. When Barry turned up his A-4, Vinci disgustingly mucked his cards. The nearly 400,000 pot was the beginning of the end for Vinci.
"I made a stupid play," Paul remarked after the tournament concluded. "I knew he had hit the straight, but I felt I had to call...It was not my best moment," he ended.
Even though severely crippled, Vinci continued the fight. It took another nineteen hands for Greenstein to put him away. On Hand 149, Vinci was all in against Greenstein. Paul turned up the lead hand pre-flop with Q-J-8-8 and Barry revealing A-K-10-5. The flop was the end for Vinci with an Ace and a king there. While he had outs to draw to, none came home and Paul Vinci ended the night in second and Barry Greenstein captured the first place prize!
Once the tournament concluded, Barry asked for the microphone. Long known for his philanthropic heart, Barry said, "I wanted everyone here tonight to know about a special person. His name is Charlie Tuttle from Harksville, TN. Charlie is 26 and recently suffered one of the worst bad beats life can deal you (he has cancer and recently discovered tumors pressing on his lungs, I later found out)." Barry choked up as he continued, "I'd like to dedicate this win tonight to him. He has been in my thoughts after we spoke on the phone and I know hearing this will make his night." To the thunderous applause of the crowd, the "Robin Hood of Poker" put a touching moment on his second World Series bracelet win!
FINAL STANDINGS
1. Barry Greenstein, Rancho Palos Verde, CA $128,505
2. Paul Vinci, Shell Beach, CA $70,680
3. Chris Lindenmayer, Pickerington, OH $36,140
4. Toto Leonidas, Los Angeles, CA $28,110
5. Tim Martz, Butte, MT $24,095
6. Paul Maxfield, Stoke-on-Trent, England $20,080
7. Chris Ferguson, Pacific Palisades, CA $16,065
8. Sam Silverman, Las Vegas, NV $12,045
9. Eric "Blue" Bloore, N. Hollywood, CA $8,030
10. Phil Hellmuth, Palo Alto, CA $5,080
Ed Note:Noble Poker has 6 handed single table tournaments that we think are easy pickins...get in on the action