Erik Seidel beats tough field to win seventh WSOP bracelet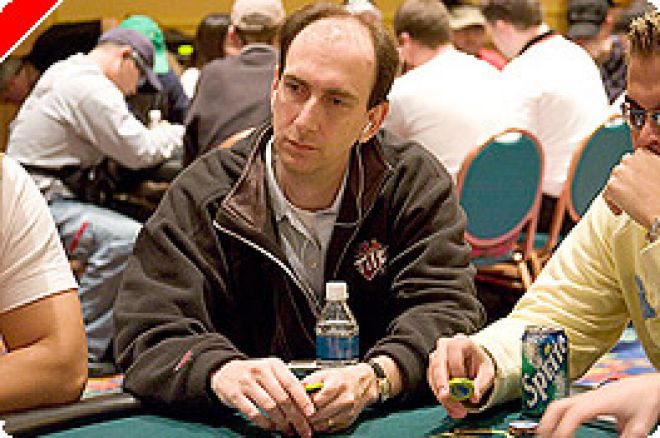 Only 1,403 players entered the $2,000 No Limit Hold Em event at the Rio hotel. This was only the third largest field in the history of the WSOP, but somehow, this field felt much more manageable. The ESPN mandated transition from two days to three has made the televised events a lot more manageable, and quite frankly, easier to cover.
When we entered this WSOP, the talk was about how pros were going to have a hard time navigating these huge fields, and we could very well have final tables filled with no name players. This has not proven to be the case, and once again, we had three bracelet winners among the final nine, plus top Euro pro Harry Demetriou. After two full days of play, the final table looked like this.
Morgan Machina 1,052,000 in chips
Paul Sexton 362,000
Erik Seidel 354,000
Cyndy Violette 305,000
Soulier Fabrice 224,000
Perry Friedman 219,000
Harry Demetriou 184,000
Chris Wunderlich 110,000
Bill Blanda 46,000
Seeing this list, it should be no shock that the first player eliminated was Bill Blanda. Bill had only 3 or 4 big blinds, and had to put his money in with A 4. Perry Friedman had pocket nines in the big blind, and called. A nine on the turn sealed Blanda's fate, and our 9th place finisher was walking back to Houston. Bill Blanda - 9th place - $51,630.
The wild ride award went to Paul Sexton, at least early in the match. On one hand, Paul committed about half of his chips on a re-raise of Erick Seidel. Erik came back over the top, and moved in on Paul. Paul layed his hand down, but in the process, had lost nearly half of his chips.
A few hands later, Paul got into a pot with Chris Wunderlich where Chris put all his chips in with AK. Paul Sexton had JJ, and made the call. A flop of J77 sealed Chris' fate, and Chris Wunderlich was eliminated in 8th place, and took home $77,495.
Next to go was French player Soulier Fabrice. Soulier is a French Television director, but he could not direct this telecast today. Soulier moved in with A 10 of diamonds, and Perry Friedman called with A J of hearts. When the hands were turned over Soulier could do little except exclaim 'Non!', and take his medicine. A flop with no tens, and no diamonds meant Soulier could go back to France, and ESPN could go to commercial. Soulier Fabrice - 7th place - $103,260.
Now down to six, the chip counts looked like this.
Morgan Machina 1,255,000 in chips
Erik Seidel 531,000
Paul Sexton 437,000
Perry Friedman 229,000
Harry Demetriou 204,000
Cyndy Violette 200,000
The next player to go was Harry Demetriou. Harry hadn't played many pots today, so it was a bit of a surprise that he turned over Q J after moving in. Chip leader Morgan Machina had called instantly with AK, and it appeared the rich would get richer. The flop brought a Q, but also brought an Ace. The turn gave Harry more outs, but none of them came, and Harry was out. Harry Demetriou - 6th place - $123,915.
Now down to five, and the counts hadn't changed much
Morgan - 1, 413,000
Erik - 441,000
Paul - 395,000
Perry - 343,000
Cyndy - 233,000
Just after we started five handed, Cyndy Violette moved all in for the second time. Cyndy had moved in once before, and shown KK which dominated Perry Friedman's fives. This time, Cyndy moved in on chip leader Morgan Machina. Morgan felt he had the chips to gamble with, so he called Cyndy with A 8. Cyndy again turned over pocket Kings, and the only time she had shown hands down thus far, she had shown pocket Kings. No Ace for Morgan, and Cyndy had again doubled up, and for the first time since the final table began, Morgan's stack went down instead of up.
Speaking of Morgan's stack going down instead of up, Morgan's stack was beginning to free fall, and you wondered when it would turn around. First, Morgan re-raised Erik Seidel to 180,000, only to lay down to Erik when Erik came back over the top all in. A few hands later, Morgan had his first misstep of the final table when he moved over the top of Paul Sexton on the turn on one hand. Sexton had turned a full house, and called immediately. At the end of that hand, Morgan Machina had gone from having the table covered three to one, to being third in chips in about twenty minutes.
After the dust settled, the chip counts were
Paul - 870k
Erik - 790k
Morgan - 655k
Perry - 332k
Cyndy - 200k
The feeling at the table changed greatly, and you got a feeling Erik Seidel was putting himself into great position to take his seventh WSOP bracelet.
But then, very suddenly another bracelet winner started to make her move for another bracelet. Cyndy Violette made a number of moves, and got herself back from her lowpoint of about 98,000 chips to almost 750,000 in chips. On her last double up, Cyndy won a coin flip against Morgan, and Morgan had gone from dominant chip leader to having less than 10 big blinds five handed.
After having virtually no action for an hour and a half, Cyndy Violette doubled up four times, and Perry put a bad beat on Paul Sexton, as Perry flopped a set of tens to crack Paul's pocket Aces. Paul was down to 130,000 chips, and with the blinds 12,000/24,000, he knew he was going to have to make a move.
And make a move Paul did. Paul moved from the button with K 9 of diamonds, and Erik Seidel called with pocket threes. A 3 on the flop brought Mr Sexton's wild ride to an end. Throughout this final table, Paul went from second in chips at the start, to sixth (when they were still eight handed) to chip leader (five handed) to out in fifth place. Paul Sexton - 5th place - $147,135.
Speaking of going from the penthouse to the outhouse, Morgan Machina made a move with K8, and the hottest player at the table, Cyndy Violette, woke up with AQ, and called. A King on the flop gave Morgan some hope, but an Ace on the turn, and Queen on the river gave Morgan a very hollow 4th place finish. Morgan Machina, 4th place - $170, 380.
Now down to three, the chip counts looked like this.
Cyndy Violette - 1,150,000 in chips
Erik Seidel - 912,000
Perry Friedman - 820,000
At this point, my fellow pundits on press row and I were discussing how with these three really experienced players, it was going to take either a big hand over big hand, or a semi-bluff that runs into a big hand for someone to be eliminated. We could not have been more correct.
With QQ in the big blind, all of Perry Friedman's money was going in, if he could get it there. Luckily for Perry, Erik Seidel obliged. Unfortunately for Perry, Erik had pocket Aces. Pocket Queens running into pocket Aces three handed is certainly bad luck, and Perry wins the bad beat of the day award, even though it wasn't a suckout. Perry Friedman - 3rd place - $196,455.
Now down to heads up between two top players, we kind of knew we were in for a treat. The chip counts when heads up started were:
Erik Seidel: 1,712,000 in chips
Cyndy Violette: 1,144,000
Heads up became a real pattern. Erik Seidel did a very good job of keeping the pressure up, and was grinding Cyndy down, and doing a very good job of it.
I'm actually going to give two bad beat awards for today. The first went to Perry Friedman when his Queens ran into Aces three handed. The next goes to Cyndy Violette, who put all her chips in with pocket nines. After a long think, Erik called with pocket eights. The flop came 855, and Erik Seidel had sucked out to win his seventh bracelet, tying him with Billy Baldwin, and moving him into an elite field that includes only Hellmuth, Chan, Brunson, Moss, Baldwin, and now Seidel. The level of play was very high once it got to three handed, and we saw some pretty good poker, even if we saw some pretty bad beats. Congrats to Erik Seidel.
Cyndy Violette - 2nd place - $295,970
Erik Seidel - Champion - $611,795
Ed Note:Party Poker has satellites every day to the main event of the WSOP, don't miss out.