Finally...Poker. Cards are in the air at the 2005 WSOP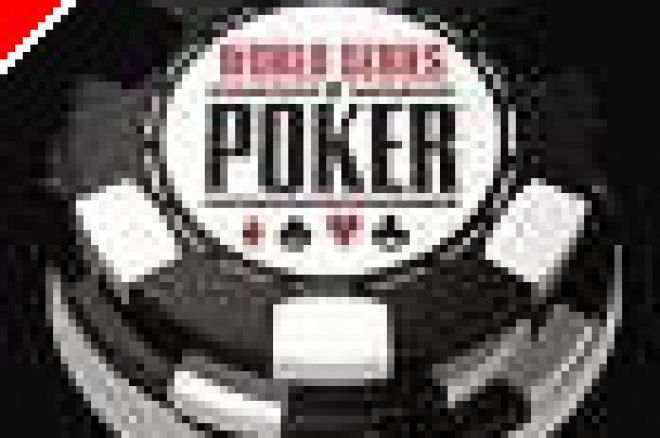 The madness continued from yesterday, and as I entered the room for event # 2 of the WSOP ($1,500 buy in NL), the throng of mass confusion set over the room. Tournament officials had changed seats on some players, as the tournament was now to be played 11 handed, and a sea of tables filled the convention room. The sound of 2,200 poker players shuffling their chips sounds a lot like a field full of crickets on full volume.
It is literally impossible to figure out every 'big name' player who is playing in a tournament with 200 tables, but I will mention just a few of the names I saw. Phil Ivey, Tobey McGuire, Jesus Ferguson, Annie Duke, David Williams, Mike Matusow, Antonio Esfandiari, Howard Lederer, Huck Seed, TJ Cloutier, John Juanda, and a cast of thousands saddled up to play some cards.
Although it would be expected for the start to be pushed back in an event with a field of this size, cards were actually in the air only about 28 minutes after the scheduled time. The rumor as I write this is that they will play until 3am tonight, and now that the event has been extended to a three day event, tomorrow they will play down to the TV nine.
By four o'clock the field had been trimmed by about a 25%, and you got the sense that the field would actually be in pretty manageable shape by 3 am. Play was fast, as you might imagine in a field of 2,200 people, and I would venture a guess that this was the biggest buy in tournament that about 50% of the field had ever played in. I didn't actually see a whole lot of poker, because there was so much poker to see...it was difficult to focus on any one table (or 10, or 100...).
For the first several hours of the tournament, there didn't seem to be any blind clocks visible inside the room. The one big screen I could see was actually being used to run the lists for the live games. Obviously, they were announcing when the increases were taking place over the PA, but it struck me as odd, that none of the field had any idea where they were with blind increases, unless they kept the time themselves. To make matters worse, some curious but overzealous spectator walked right up, and hit the button that said "number of players" right on the Tournament Director's computer, thus disabling the clock for a few minutes, and causing just a little more confusion.
Early movers include Mike Matusow, who I watched double up on a coin flip, and take all the chips of a very muscular fellow. The fellow responded by berating the poor drink guy, for carrying waters....or, uh.....something. Matusow got to 10k pretty early.
Play continued on through the night, and it was apparent that there still was a lot of fast play. I am going to estimate that between the hours of 2 and 8pm, we lost an average of two players a minute. It is incredibly difficult to follow any of the goings on, and you just have to be in the right place at the right time to see any action. It is definitely a challenge to follow a field of this size, and I never thought I would say this....I'm actually looking forward....to the Stud/8 event...Yes, I said it. At least that event will be confined to a reasonable area.
All thing being equal, I think you have to qualify day one of the 2005 WSOP as a success. I think the Harrah's staff did a fine job, especially with the way that they worked the alternate players in quickly, and efficiently.
All in all, 2305 players started day one with a dream. To be the first person in 2005 to win a WSOP bracelet in a full field event. The prize pool for this event is $3.2 million, and the first place winner will take home $725,405, or just under 500 times the amount of his or her buy in. That's one heck of a parlay. Just making the final table will net someone $54,075...again, not shabby for a $1,500 investment.
At the end of day one, of the 2305 players entered, 111 players remain in contention for the top prize of over $725,000 and the gold bracelet.
The top five chip counts going into the start of Day 2 are:
Daniel Monroe 130,700 chips
Mike Matusow 108,300
Andrew "A.J." Kelsall 107,900
Scott Fischman 82,100
Jim Plateroti 77,200
Other Notables:
Mark Seif 73,000 chips
Dave 'DevilFish' Ulliott 54,000
Greg Raymer 44,000
Allen Cunnigham 41,000
Cindy Violette 27,000
Phil Hellmuth 12,000
The "other notables" list should tell you all you need to know about the field. Out of the 111 left, I recognize maybe 15 names. In addition, of the 89 players who cashed, but have been eliminated, only one name player was on that list (Evelyn Ng).
Is this the future of the WSOP? Will every event have record fields, and as such, will it become difficult to the point of being uninteresting to the pros for them to try to wade their way through these massive fields, with novice players making 'unique' plays all day? I overheard a couple name pros talking, and one of them said (with a really sad tone in his voice) "This just doesn't mean anything anymore".
I think this will be the biggest field we see of the prelim events (something tells me the Omaha/8 event won't have 2,305 people in it), and hopefully, the size of the fields will be down to a manageable 1,300 or so (LOL).
Day 2 of play will start at 2pm with 800-1600 blinds with 300 ante. See you there.
Ed Note: Still plenty of time to win your way into the main event of the WSOP. Satellites running daily at Party Poker