Floridian Takes First WSOP Bracelet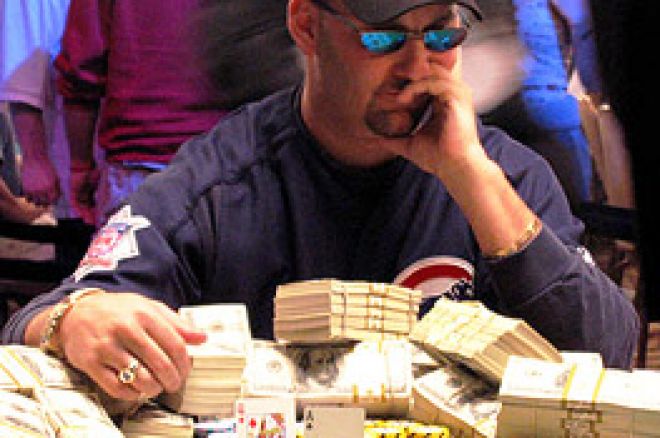 The Amazon Room at the Rio was buzzing on Wednesday night. Not only was the $1,500 No-Limit Texas Hold 'Em tournament, and its 2000 or so combatants, starting up but the twentieth event of the 2005 WSOP, the $5,000 Pot Limit Texas Hold 'Em was being contested. One of the events to be televised on ESPN, a raucous crowd surrounded the felt as the final table kicked off with the following players:
Seat 1: Joe Sebok, 159K
Seat 2: Cyndy Violette, 206K and the chip lead
Seat 3: Steven "Lucky" Liu, 193.5K
Seat 4: Brian Wilson, 193K
Seat 5: Derek LeForte, 36.5K and the short stack
Seat 6: Allen Cunningham, 131.5K
Seat 7: WPT Champion John Gale, 64.5K
Seat 8: Professional Tony Cousineau, 99.5K
Seat 9: Professional Burt Boutin, 116K
The blinds started out at a relatively low 1500/3K, so it seemed like we were going to settle in for a long evening. The action kicked in immediately, however, as on Hand 6 five players limped to see a flop of 9-7-6. Burt Boutin and Brian Wilson were the only ones to bet the turn card of a five and we went to the river. A scary Ace came on the board, and both players raised and reraised the pot until Boutin had all his chips in the center of the table. He was disgusted to see that Wilson had trapped him with an eight in his hand for the straight, defeating Burt's set of nines and sending Boutin home in ninth place.
Cyndy Violette has had an excellent 2005 Series. She has been battling with Chris Ferguson for the Player of the Year lead at this event, but has yet to capture that elusive second bracelet. She started with the chip lead, but let many of her chips go in a raising battle with Allen Cunningham until she released her hand. Then she ran up against John Gale on Hand 19. On a flop of 5-7-Q with two hearts, John pushed hard and Cyndy fought back as well. Gale got all in and they turned up their hands: K-Q for Cyndy and Ah-Jh for John. The turn was harmless, but the river ten of hearts gave the flush to John and removed Violette from the chip lead. Brian Wilson took over as the table commander.
Things calmed for a bit. On two separate occasions players were all in against an opponent, only to see both players turn up the same hands. It continued through the end of the level and we didn't lose our next player until the blinds were at 2/4K.
Joe Sebok is a name you might not recognize, but he has become somewhat famous for his dad, professional Barry Greenstein. Barry, the winner of Event #19 this year, was in the crowd as he proudly watched his son, who has only been playing for a year, battle at his first final table at the World Series.
Unfortunately, there wasn't to be a back to back father/son story to be told here. Joe found an A-J to be to his liking and, with a dwindling chip stack, chose that moment to chip leader Wilson. Wilson had woke up in the big blind with A-K, however, and when the board provided no help to Sebok he was out on Hand 72 in eighth place.
Ten hands later, Cyndy Violette was the one who was fighting for her life. She got all her chips involved in a three way pot with Allen Cunningham and Tony Cousineau and saw a flop of 4c-6c-Q. Cunningham and Cousineau both checked and, with a Queen on the turn, Allen bet the dry pot and forced Tony out. Violette turned up the nut flush draw with Ac-3c and Cunningham turned over Q-8 for a set of Queens. No club came for Cyndy on the river and she was done for the night in seventh place.
"I knew I was in trouble when there was three of us in there," Cyndy said to me afterwards. "Tony said at the table that he had been in on clubs too, so I knew it was going to be tough to get that last club on the river."
Shortly thereafter, Steven Liu said goodbye to the table. On Hand 86, "Lucky" decided to test his luck against WPT titleholder John Gale. He got his money in on the flop of Js-K-10s and turned up a pair of Jacks and a straight draw, Gale showed his nut straight draw and we saw the turn. "Lucky" wasn't to be tonight as John hit his third spade on the turn and eliminated Liu in sixth place.
One player who played tremendously through the event was the short stack beginning the night, Derek LeForte. He was able to parlay his stack from the felt to being in position to battle for the title. While everyone had more chips starting the night, Derek took his time and played excellent poker to climb up the ladder and stay in contention.
"I was playing a little loose when the tournament started," admitted Derek on a break from the action. "I always play well when I'm short stacked, so it really was a good thing for me when I found myself in that position. I simply clamped down on my game, locked in and gradually, I made my way back into things."
On Hand 120, our next victim was claimed. Tony Cousineau had been battling cold cards for the entirety of the final table and you could see the frustration in his face. When Allen Cunningham raised into him, Tony looked to see the Ac-10c and went all in. Cunningham called and turned up the Kh-10d. A big lead got a little better when the flop came down Ah-8h-4 and Tony had to be breathing a little easier. He saw the four of hearts come on the turn and, from his expression, you could see that he was dreading the river and the outcome. A fourth heart landed, laying the bad beat on Tony Cousineau as Allen Cunningham hit his miracle flush and pushed Tony out the door in fifth place.
After the dinner break, we moved up in levels again (4/8K) and the leaderboard looked like this:
Wilson 472K
Gale 404K
Cunningham 169K
LeForte 155K
It was obvious that LeForte and Cunningham were going to have to make some moves, but the chip leaders were the ones mixing it up. Gale and Wilson got involved in a huge pot on Hand 144, with Gale forcing Wilson off his hand and taking the chip lead away from Wilson.
Five hands later, Allen Cunningham's time had come. The winner of the second event of this year's Series made his move against a still-smarting Brian Wilson. After a flop of 10-4-10, Cunningham attempted to buy the pot with an all in move. Wilson debated, then called and turned up 5-4, giving him two pair. Surprisingly, Allen did not have a great starting hand as he turned up a measly K-3. No help came the rest of the way and Allen Cunningham's dream of becoming a multi-bracelet winner in this year's tournament ended with him in fourth place.
Derek LeForte's run at the championship ended on Hand 163. He had held his own at the final table and had made it from the short stack at the beginning of the night to the top three, but when he was all-in preflop with a K-9 against Brian Wilson's A-6, it was the beginning of the end. No rescue for Derek was coming and he retired from the event in third place.
It was now time for heads up action:
Gale 695K
Wilson 505K
John Gale made some great moves over the next fifteen or so hands. He continued to put pressure on Wilson, forcing his opponent out of hands and chipping away at his stack. John Gale became the first person in this year's tournament to crack the one million chip mark as he had a 10-1 advantage on Brian before the major turning point of the event.
On Hand 176, both players bet the pot furiously preflop until Gale had pushed Wilson all in. In a classic race situation, Gale turned up an A-J and Wilson showed pocket sixes. The flop was good for Brian with 8-4-7, but the turn gave John the lead when a Jack hit. Wilson was down to six outs for his tournament life when the miracle five hit the river, sending the crowd into hysterics and an excited Wilson back into the game.
The very next hand, the two clashed again. Once again, Gale got Wilson to commit his entire stack and had to be pleased when he turned up his pocket tens against Wilson's pocket fours. The crowd had barely calmed from the previous hand when the flop came 4-8-J. The crowd (and Wilson) erupted again as Brian's set stood up and he took over the chip lead.
The two took a needed break as we moved up to the 6/12K level. The two combatants battled over the next eighteen hands, swapping the chip lead back and forth throughout their battle. On Hand 195, both players pot bet each other preflop until Gale was all in. It was soon to be the end as he grimaced when he turned up his K-J against Wilson's A-Q. When the board fell rags, Brian Wilson, born in Illinois and now living in Fort Myers, FL, became the latest champion at the 2005 World Series!
FINAL STATISTICS
1. Brian Wilson, Fort Myers, FL $370,685
2. John Gale, London, England $204,440
3. Derek LeForte, Maple Ridge $112,330
4. Allen Cunningham, Marino Del Ray, CA $89,865
5. Tony Cousineau, Daytona Beach, FL $67,400
6. Steven "Lucky" Liu, United Kingdom $56,165
7. Cyndy Violette, Atlantic City, NJ $44,930
8. Joe Sebok, San Francisco, CA $33,700
9. Burt Boutin, Las Vegas, NV $22,465
10. Matt Lefkowitz, Carmel Valley, CA $15,725
Ed Note: Lots of new players playing at London Poker Club Join the club today.