Gracz outdraws to win WSOP No Limit Hold'em with Rebuys Event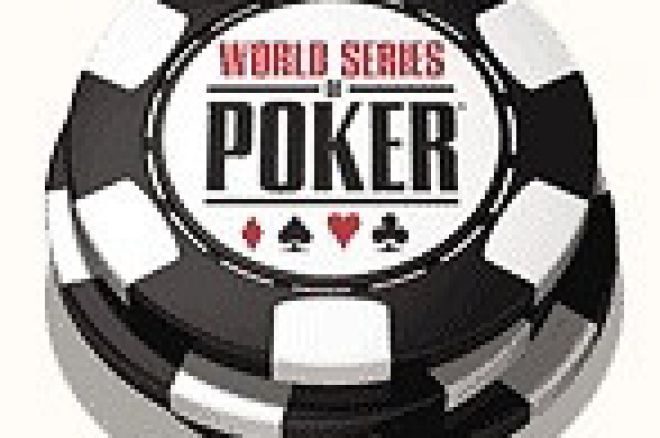 Maciek "Michael" Gracz of Raleigh, North Carolina won his second major poker tournament of the year by outlasting a field of 826 players at the World Series of Poker (WSOP) $1000 No Limit Hold'em with Rebuys event at the Rio Pavilion Convention Center.
Gracz won the first prize of $594,460 and the coveted gold bracelet.
In a heads-up battle that lasted 51 hands, Gracz eliminated C. T. Law of Middlesbrough, England, when Gracz outdrew Law on Hand 136.
With blinds at 10000-20000, Gracz opened for 60000 and Law called. On a flop of Jd 5c 8c, Law checked, Gracz bet 70000, Law raised to 180000, Gracz moved all-in and Law called his remaining chips. Law had Qd Jd for top pair while Gracz had Qs 8s for middle pair. Gracz outdrew Law with the 8h on the turn, and Law got no help on the river with the 6c.
Gracz had taken the chip lead from Law on Hand 93. With blinds at 8000-16000, Law opened from the button for 50000 and Gracz called. On a flop of Ac 2d 8s, Gracz checked, Law bet 60000, and Gracz called. Gracz check-called a 130000 bet from Law on the turn card of 3h. When the 4h hit the board on the river, Gracz checked, Law bet 200000, Gracz re-raised to 620000, and Law re-raised all-in holding Ace-Queen offsuit. Gracz called instantly with Ace-Five offsuit which made a "wheel" straight.
Adding to the $1.5 million he won at the World Poker Tour Cruise to Mexico in March, Gracz has earned over $2 million in less than two years in professional poker tournaments.
"I have been very fortunate and very lucky," said Gracz to ESPN commentator Norman Chad.
The 24-year-old Gracz immigrated to the United States from his native Poland when his mother accepted a postdoctoral research fellowship position 16 years ago. Now a professor of Biochemistry, Gracz's mother motivated him to finish his Bachelor's degree in Finance from North Carolina State University.
"I was spending more time playing poker than going to class," said Gracz to Chad. "My mom sort of kicked me in the butt to make me finish school."
Chuck Thompson of Santa Cruz, California was eliminated in 3rd place by Gracz on Hand 84. With blinds at 8000-16000, Thomas opened from the button for 50000, Gracz re-raised all-in from the big blind for over 400000 with pocket Eights, and Thompson called his remaining chips with Ah Jh. Gracz flopped a set with Kc Ad 8h. The Kd on the turn gave Thompson 4 outs with the two remaining Kings and the two remaining Aces, but Thompson missed when the 9d hit the board on the river. Thompson, who works as a host at Bay 101 Casino in San Jose, California, earned $176,145.
2002 CardPlayer Magazine Player-of-the-Year David "The Dragon" Pham was eliminated by Law on Hand 83. With blinds at 6000-12000, Law opened for 37000 and Pham called from the big blind. On a flop of A-Q-8, Pham checked, Law bet 25000, Pham raised to 105000, Law moved all-in, and Pham called. Law flopped a set with pocket Eights while Pham needed to draw running cards to stay alive when he turned over Ac 5c. Pham was drawing dead when the 6d hit the board on the turn and had to settle for a prize of $154,125.
Shane Schleger of New York was eliminated in 5th place by Gracz on Hand 69 when Gracz picked off Schleger's bluff attempt on the turn. With the board showing 8h 7c 3s 7d, Gracz checked, Schleger moved all-in, and Gracz called with Ad Th after thinking for 2 minutes. Schleger could only produce Ks Js and missed when the Tc hit the board on the river. Schleger exited with a prize of $132,110.
University of Chicago graduate Shae Drobushevich was eliminated in 6th place by Law on Hand 60. Drobushevich moved all in for 106000 with Ad 6s and Law called with Ac Qc. Drobushevich needed to draw running cards to stay alive when a Queen flopped, and was drawing completely dead when a Ten hit the board on the turn. Drobushevich collected $110,090.
French poker pro Pascal Perrault was eliminated in 7th place by Law on Hand 55. On a flop of 8d 6d 4d in a 3-way unraised pot, Perrault checked, Law checked, Gracz bet 35000, Perrault moved all-in for 203000, Law called instantly, and Gracz folded. Law turned over Ad 2d for a flush while Perrault could only produce 8h 5c for one pair. The turn card of 3h left Perrault drawing dead. Perrault took home $88,070.
2001 WSOP Main Event 4th-place finisher and 2004 WPT Bay 101 Shooting Stars champion Phil Gordon was eliminated by Pham in 8th place on Hand 16. With blinds at 4000-8000, Pham opened for 28000, Gordon moved all-in for 72000, and Pham called. Gordon's pocket Aces were cracked by Pham's pocket Tens when Pham made a set on the turn with the Ten of Diamonds. Gordon, the co-host of Bravo TV's Celebrity Poker Showdown, departed with $66,055.
Southern California-based poker pro Meng La, who started the final table as the short stack, was eliminated by Law in 9th place on Hand 11. La moved all-in for 41000 with Kc Qs and was called by Law with Ad 8d. La missed the board completely while Law made a full house with the board showing 7s 8c Jd 8h Ah. La took home $44,035.
WSOP Event 7 $1000 No Limit Hold'em with Rebuys Final Table Results
Place Player Hometown Prize
1 Maciek "Michael" Gracz Raleigh, NC $594,460
2 C. T. Law Middlesbrough, UK 311,555
3 Chuck Thompson Santa Cruz, CA 176,145
4 David "The Dragon" Pham Cerritos, CA 154,125
5 Shane Schleger New York, NY 132,110
6 Shae Drobushevich Moline, IL 110,090
7 Pascal Perrault Paris, France 88,070
8 Phil Gordon Las Vegas, NV 66,055
9 Meng La Torrance, CA 44,035
Michael also won the Party Poker Million earlier in the year, but qualifying on Party Poker